6-Banner Sunday: Brunk commitment and recruiting roundup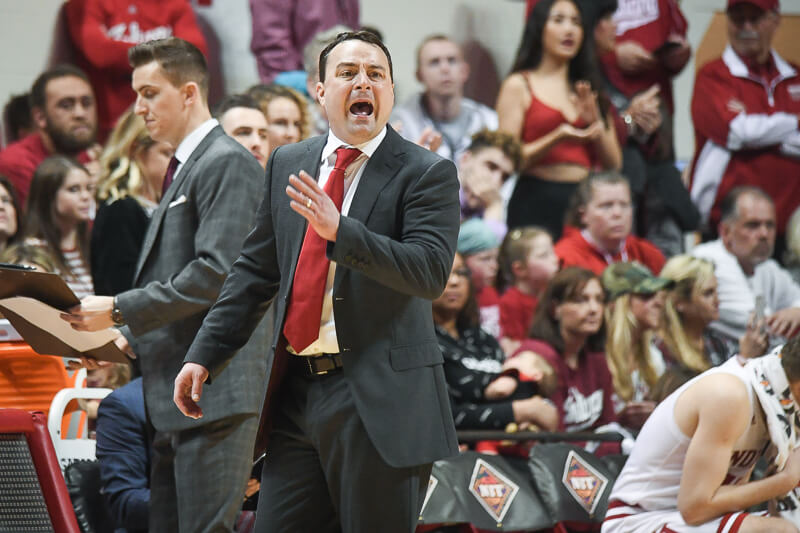 6-Banner Sunday is Inside the Hall's weekly newsletter in partnership with The Assembly Call. More than 6,000 Indiana fans receive the newsletter each week. In addition to appearing each week on the site, you can also opt to receive 6-Banner Sunday by email. A form to subscribe via email is available at the bottom of this week's 6-Banner Sunday.
Welcome to another edition of 6-Banner Sunday, a joint production between The Assembly Call and Inside the Hall where we highlight the six most essential IU basketball stories of the past week.
Between recruiting news, offseason analysis, and decisions with future implications for the program, hardly a day goes by this time of year without an IU-related headline to devour.
Indiana is in the midst of a significant personnel turnover, with much of its identity still to be figured out. In addition to losing graduating seniors, Romeo Langford will likely depart for the NBA while Devonte Green considers doing the same, and several players have already transferred. Archie Miller will have new faces in his rotation next season, though exactly which ones and how many has yet to be decided.
In this week's edition:
• Recruiting roundup
• Joey Brunk & Dustin Dopirak join Podcast on the Brunk
• Inside the Hall player wrap-ups
• 2020 Big Ten schedule released
• Hoosiers in the NBA: Playoffs Edition
• IU spring sports roundup
Banner #1
Recruiting roundup
These past few days were busy ones on the Indiana recruiting scene, and the weeks to come figure to be no different. Tuesday afternoon, Joey Brunk announced his transfer from Butler to Indiana. After spending three seasons as a Bulldog, the Indianapolis native has two remaining years of eligibility and figures to factor prominently in the IU rotation.
On Monday, 2019 target Trendon Watford, brother of former IU star Christian Watford, postponed his college decision date in light of the Jordan Brand Classic not being televised. Watford, a 6-foot-9 forward from Birmingham, AL, is a consensus top-30 recruit and a potential difference maker as a freshman, regardless of where he goes. He is deciding between Alabama, Indiana, LSU, and Memphis.
Lester Quinones, a 2019 guard from Florida, will announce his decision on May 10th, per his personal Twitter account. At 6-foot-5, Quinones is a capable shooter and ball-handler, with the tools to defend multiple positions at the college level if he adds weight. LSU, Memphis, Maryland, and Michigan are also in the running for the IMG Academy product.
Anthony Harris, meanwhile, took a visit to Bloomington on Saturday. The former Virginia Tech commit reopened his recruitment after Buzz Williams was hired at Texas A&M. He has another visit scheduled to North Carolina and has not announced when he will make a final decision on which school to attend.
Matthew Hurt, one of the top players in his class and a one-time IU target, committed to Duke this week, making him the second top-10 2019 recruit to join the Blue Devils' 2020 roster.
Banner #2
Joey Brunk & Dustin Dopirak join Podcast on the Brink
Dustin Dopirak, IU-Purdue-Butler beat writer for The Athletic, joined Podcast on the Brink this week to discuss Brunk's commitment to the program, how the transfer will fit with De'Ron Davis and Trayce Jackson-Davis, and how he might impact IU's culture.
Then, Brunk himself joined the POTB crew to discuss his transfer and the IU program before Jerod Morris & Alex Bozich answered reader mailbag questions.
You can subscribe to every episode of Podcast on the Brink here to keep up with everything IU hoops-related.
Banner #3
Inside the Hall player wrap-ups
Inside the Hall concluded its player wrap-up series this week with a final examination of Juwan Morgan and what made the senior such an integral piece of the program for the last four years. Still to come are the final look at the team's offense and defense, as well as an assessment of Archie Miller's 2019 season.
Catch up on reviews of the rest of IU's roster: Damezi Anderson, Rob Phinisee, Jake Forrester, Romeo Langford, Race Thompson, Jerome Hunter, Al Durham, Justin Smith, Clifton Moore, Devonte Green, De'Ron Davis, Zach McRoberts, and Evan Fitzner.
Banner #4
2020 Big Ten schedule announced
The Big Ten released its 2020 conference schedule on Wednesday. Indiana will play Purdue, Maryland, Minnesota, Nebraska, Ohio State, Penn State, and Wisconsin at home and away, while taking on Iowa, Michigan State, and Northwestern at Assembly Hall. Road-only opponents include Illinois, Michigan, and Rutgers.
All things considered, the Hoosiers received a fairly favorable draw, avoiding Breslin Center and Carver Hawkeye Arena. Dates and times for the games have yet to be announced.
Banner #5
Hoosiers in the NBA: Playoffs Edition
Only two Hoosiers will compete in this year's NBA Playoffs, and that list could be trimmed to just one depending on when the Toronto Raptors are eliminated. OG Anunoby underwent an emergency appendectomy on April 11, just days before the start of the playoffs. A timetable for return has not been announced, but the Raptors will likely need Anunoby's size and defensive versatility to mount a serious threat against the Milwaukee Bucks or Golden State Warriors. This is another unfortunate chapter in the second-year forward's star-crossed season, which has included his father's death, a host of minor maladies, and, understandably, a dropoff in his play.
Eric Gordon has been sharp in the Rockets' first two games of the playoffs – two blowouts of the Utah Jazz – averaging 16.5 points and 1.5 blocks on a blistering 54.5 percent shooting from three. Gordon spent the final few weeks of the regular season rounding into form, and if he plays at his peak in the postseason, Houston may be nearly as viable a threat to Golden State as it was last season.
Victor Oladipo, tragically, will not take part in these playoffs, a fact that has manifest painfully in the Pacers' three contests against the Boston Celtics. Indiana has next to no shot creation without Oladipo, and while its defense has been stingy, so much has been thrust onto Bojan Bogdanovic's shoulders as to weigh down the entire offense.
Noah Vonleh and Thomas Bryant both missed the playoffs by a long shot, but the two bigs made solid cases for themselves in free agency this summer. Vonleh finished the season with averages of 8.4 points, 7.8 rebounds, and 1.9 assists on 53.1 effective field goal percentage — all career highs. Bryant, meanwhile, averaged 10.5 points and 6.3 rebounds while leading the entire league in two-point field goal percentage in his second season. Neither will make starter-level money this summer, but both helped themselves immensely in contract years.
All stats current through April 19.
Banner #6
Update on Spring Sports Season
It was a huge week for sports as teams across the IU spectrum competed. Assembly Call covered 2 of these events, and many others were in action as well — with no less than 11 sports were in action across Hoosier Nation this week.
• Assembly Call was on site for the women's tennis match between Indiana and Rutgers Saturday. The Hoosiers won 5-2 vs. the Scarlet Knights. Those with a subscription to the Assembly Call Community can read about the match at the Assembly Call Website by going into the "Community" and selecting the "Spring Sports Topic". Included with the article about the game is a full interview with IU coach Ramiro Azcui and player Madison Appel. For those without a subscription the recap can be read here.
• Assembly Call was also on site for the women's volleyball exhibition match between Indiana and Miami (OH) Saturday. The Hoosiers first beat Butler 3-0 on Friday. Then on Saturday the Cream and Crimson lost 3-2 against the RedHawks. Like with tennis, those with a subscription to the Assembly Call Community can read about the game at the Assembly Call Website by going into the "Community" and selecting the "Spring Sports Topic". Included with the article about the game is a full interview with IU assistant coach Krista Vansant and player Victoria Brisack. Also pictures of IU's new facility Wilkinson Hall are posted.
• Baseball had another undefeated week and has now won 9 in a row. After the 5-0 win a week ago Friday, IU went on to sweep Evansville winning easily Saturday 5-1 and 9-3 before walking off 6-5 in extra innings on a rainy Sunday. The bats got even hotter Tuesday and Friday with easy 14-3 and 13-4 wins over Ball State and Michigan State respectively.
• Softball split a Saturday doubleheader with Maryland last weekend losing 4-3 in the opener before winning 10-1 in the nightcap. The Hoosiers then suffered a 5-0 setback to Wisconsin Friday.
• Soccer played its last spring game and rebounded from their 4-2 loss against Notre Dame to beat Louisville 2-1 on Friday. The Hoosiers finish the spring exhibition season with a 7-1 record.
• Indiana Rowing competed at the Big Ten Double Dual.
• Women's Golf won a rain shortened Lady Boiler Classic and currently sit tied for 2nd at the Big Ten Championships as of Friday.
• Men's Golf finished 13th in a rain shortened Boiler Invitational.
• Track and Field competed at the Tennessee Relays.
• Men's Tennis beat Nebraska, Iowa and St. Louis before falling to Penn State.
• Water Polo lost to San Jose State and California.
And with that, the joy of hanging Banner #6 is now one week closer.
Thanks for your continued support for The Assembly Call and Inside the Hall. We'll be back next weekend with a new roundup.
Now go enjoy yourself a 6-banner Sunday.
Filed to: