6-Banner Sunday: The latest on Romeo Langford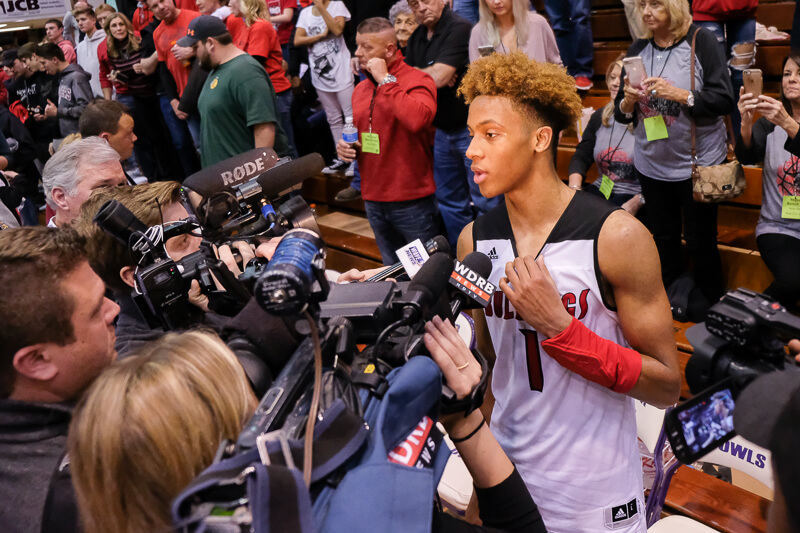 6-Banner Sunday is Inside the Hall's weekly newsletter in partnership with The Assembly Call. In addition to appearing each week on the site, you can also opt to receive 6-Banner Sunday by email. A form to subscribe via email is available at the bottom of this week's 6-Banner Sunday.
Welcome to another edition of 6-Banner Sunday, where we highlight the six most essential IU basketball stories of the past week.
With this year's Final Four now behind us, college basketball's offseason is officially underway. For Indiana fans, that means one thing: Romeo Langford's decision is coming soon. What's the latest on the state's top recruit?
In this week's edition:
· The latest on Langford
· That's a Wrap: 2017-18 Hoosiers
· What could shape the 2018-19 Big Ten race
· IU spends with the best
· OG shuts down Vic
· Anderson plays in North-South game + bonus links
Banner #1
The latest on Langford
Romeo Langford is coming close to making a decision on where he'll play his collegiate ball.
After months of speculation, rumors, and anticipation, there is beginning to be a bit of clarity. The five-star guard still has three finalists –- Indiana, Vanderbilt and Kansas –- but it'll soon be cut to one.
Langford is preparing to play in the Jordan Brand Classic at the Barclays Center in Brooklyn on Sunday. Yesterday, he spoke to reporters and updated his recruitment. Inside the Hall has the story. Below are some of the key details:
· Langford will not be taking any more visits and will not be having any in-home visits. He was scheduled to make another trip to IU, but a busy month traveling across the country put that plan to a halt.
· After playing in the Nike Hoop Summit in Portland on April 13, Langford will sit with his family and make his decision.
· The decision will likely be announced at the New Albany High School Gymnasium
So expect a decision sometime in mid-to-late April. Inside the Hall and Assembly Call will have you covered as the decision nears closer.
Speaking of which, on this week's Podcast On The Brink, Alex Bozich and Jerod Morris talked about all things Romeo Langford. It's one of the most popular episodes of the podcast in quite some time, so make sure to give it a listen.
Banner #2
That's A Wrap: 2017-18 Indiana Hoosiers
Archie Miller's first campaign in Bloomington ended more than a month ago. After taking a few weeks to process the roller-coaster of a season, Inside The Hall compiled its annual "That's A Wrap" series, where the site summarizes the contributions of each of the players. The links to each player profiled can be found below, as well as a few small nuggets from several of the pieces.
Defensively, Johnson grew into one of the Big Ten's best perimeter defenders in his final season. While defense was a strength of his game as times throughout his first three seasons, Johnson stepped things up to another level as a senior.

Archie Miller has zero tolerance for anything less than 100 percent effort defensively and Johnson's 34.2 minutes per game are proof that he consistently worked hard on that end of the floor. According to Synergy Sports, Johnson ranked in the 84th percentile nationally when defending ball handlers in pick-and-roll situations. As a junior, he ranked in just the 35th percentile.
Juwan Morgan, a complementary player in his first two seasons, emerged as Indiana's go-to option in his junior season and carried a major load on both ends of the floor for the Hoosiers.

Offensively, Morgan averaged a career-best 16.5 points per game. He was a high-usage, high-efficiency player. He scored well in post-up situations, and he was also great as the roll man in the pick-and-roll (1.29 PPP), in transition (1.58 PPP), and on offensive rebound putbacks (1.40).
As one of just a few players on last year's team that could create his own shot, Green often tried to carry the entire offensive load with mixed results. With an influx of playmakers coming in next season, Green will have to once again earn his minutes under Miller. But if he can manage to find consistency in his play and cut down on the turnovers, he'll remain a key cog in the Hoosiers' rotation.
More That's A Wraps: Collin Hartman, Freddie McSwain, Tim Priller, Josh Newkirk, Zach McRoberts, De'Ron Davis, Al Durham, Justin Smith, Clifton Moore
Banner #3
What could shape the next Big Ten race
The National Championship game was only a week ago, but that doesn't mean it's too early to look ahead to next season.
One theme of this offseason for the Big Ten is stability. After three programs brought in new head coaches the last offseason, there appears to be no changeovers coming this time. Still, programs will be dealing with losses via transfers and graduations while bringing in an influx of freshman and graduate transfers.
Inside the Hall took a look at seven factors that could shape the 2018-19 Big Ten season. One of interest to Indiana fans is what Purdue's roster will look like next year, and whether Carsen Edwards will be a part of it:
Purdue is losing four starters –- P.J. Thompson, Dakota Mathias, Vincent Edwards and Isaac Haas –- and sophomore guard Carsen Edwards has declared for the NBA draft without an agent.

The assumption here is that Edwards returns for his junior season, but he is on the draft radar as Givony currently ranks him as the No. 68 prospect for June's draft. It will be interesting to see if Edwards can earn a draft combine invite and if he does, how he performs. Purdue is already facing huge roster turnover for next season, but the loss of Edwards could turn a transition season into a total rebuilding year.
Banner #4
IU spends with the best
Is Indiana basketball still a blue blood?
It's a question that has been asked by pundits, fans and reporters for years. The answer, of course, depends on one's opinion. What isn't subjective, however, is that Indiana's athletic department budget puts them in the top tier of the country.
Zach Osterman of The Indianapolis Star has more details on IU's willingness to spend big bucks to compete:
According to NCAA financial reports obtained by IndyStar via an open records request and a USA TODAY review of those reports, Indiana reported greater men's basketball revenues in 2017 than any other Big Ten school, and greater expenses than every program in the league except Michigan State.

The financial reports are required annually by the NCAA from 13 of the Big Ten's 14 schools. As a private school, Northwestern is not obliged to share its report.

In most cases, the gap was significant.

In the Big Ten alone, IU was one of only four schools — Ohio State, Michigan State and Illinois being the others — to report expenses in eight figures. And only Michigan State and Wisconsin came within $5 million of the $24,909,573 in men's basketball-specific revenue IU reported to collegiate athletics' governing body.
Will Indiana's deep pockets lead to on-court results? Only time will tell. For the perspective of The Assembly Call crew, listen to the latest Assembly Call Radio.
Banner #5
OG Anunoby shuts down Victor Oladipo
It's no surprise to see OG Anunoby continuing to shut down opponents' biggest threats as a member of the Toronto Raptors. What wasn't expected was what happened on Friday night in Toronto, where Anunoby completely locked down fellow Hoosier Victor Oladipo.
With Anunoby's help, Toronto routed the Pacers to lock up the No. 1 seed in the Eastern Conference. In the first half, when the outcome was still in doubt, Anunoby held Oladipo to just two points. Raptors head coach Dwane Casey was thrilled with OG's performance:
"I thought he did a heckuva job," Casey said on Anunoby's work. "He didn't play against him the last time because his ankle was hurt, but he did a tremendous job of getting into him, being physical, and using his length and size, and we need that. That's the OG that we need defensively. He made it hard on Oladipo, who is one of the most dynamic guards in our league, and he did a good job with him."
It's possible we see these two match up again in the post-season, as a second-round matchup between Indiana and Toronto is a real possibility.
More on Hoosiers in the NBA:
· The Rockets' Eric Gordon has been dealing with a foot injury but should be back for the playoffs
· Noah Vonleh missed yesterday's Bulls game with a calf injury
· Troy Williams will miss the rest of the Knicks' season with a fractured jaw. Before he suffered that injury, he sat down for a hilarious interview with Michael Beasley
· Jordan Crawford, a Hoosier for one season before transferring to Xavier, was picked up by the Pelicans
· In a confounding move, the Mavericks, already short on guards, are opting to only give Yogi Ferrell minimal minutes. I spot a team tanking.
· Cody Zeller is out the remainder of the year with a knee injury
· One day after his G-League squad was eliminated from the playoffs, Thomas Bryant scored two points in a Lakers' loss to Minnesota. Before that, he was named the runner-up for G-League Rookie of the Year.
Banner #6
Anderson scores nine in North-South game
In the 30th annual North-South Indiana All-Star Classic on Saturday evening, IU commit Damezi Anderson scored nine points as his North squad fell, 129-124. After the game, he spoke with Inside The Hall about preparing to head to IU, Romeo Langford, and more.
Highlights will be available on Inside The Hall's Youtube page Monday morning.
Before you go:
· After 26 years at the helm, IU wrestling head coach Duane Goldman has announced his retirement. Former All-American Angel Escobedo will replace him
· No. 10 IU baseball evened their series with Purdue with a dominating 14-1 win. They'll play the Boilers today at 3 p.m. eastern in the rubber match
· IU softball continued their red-hot start to conference play by knocking off Nebraska in walk-off fashion
· IU men's tennis upset No. 31 Minnesota in thrilling fashion on Saturday
· The ESPN 30 for 30 on the last days of Bob Knight's time as IU coach will not be televised. It will be released via the new subscription service ESPN+ on April 12
And with that, the joy of hanging Banner #6 is now one week closer.
Thanks for your continued support for Inside the Hall and The Assembly Call. We'll be back next weekend with a new roundup.
Now go enjoy yourself a 6-banner Sunday. If you'd prefer to receive 6-Banner Sunday in your inbox, please subscribe below:
Filed to: