That's A Wrap: Freddie McSwain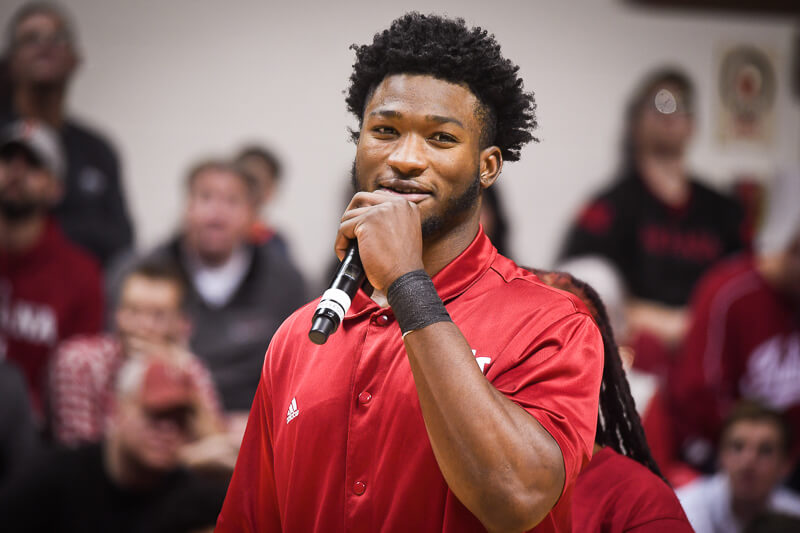 Welcome to "That's A Wrap," our player-by-player recap of the 2017-2018 Indiana Hoosiers. Today: Freddie McSwain.
McSwain (31 games): 4.2 points, 4.5 rebounds, 0.6 blocks, 45 FG%, 57% FT in 14.6 minutes per game.
A junior college standout that transferred to Indiana with two years remaining of eligibility, Freddie McSwain turned into a fan favorite as his senior season went on.
After playing just 18 percent of available minutes as a junior, McSwain's role increased in his final collegiate campaign, especially after De'Ron Davis went out in early January with a ruptured Achilles. Indiana's frontcourt depth was slim, and McSwain took advantage, earning heavy minutes and starting the season's last eight games.
At 6-foot-6, the big man almost always had a size disadvantage in the post but used his strength to grab rebounds and bully opponents. McSwain ended the year as the only Hoosier with both a defensive and offensive rebounding percentage of over 15 percent, per KenPom.
In a close home loss to Michigan State, McSwain outworked the top-tier inside talent of the Spartans to grab a remarkable nine offensive rebounds. That was six more than Michigan State's entire roster, which Spartan coach Tom Izzo said was both "outworked and outhustled."
McSwain's offensive rebounding was nothing short of superb. His offensive rebounding percentage of 15.3 ranked eighth in Division 1 among players that logged at least 30 percent of available minutes, per T-Rank.
The vast majority of McSwain's scoring came in the paint. 41 of his 45 made field goals were at the rim, where he shot 50 percent. That number shoots was 68 percent on assisted buckets. McSwain's range didn't extend much beyond the rim, as he made 21 percent (4-of-19) of his longer two-point shots, per T-Rank.
In McSwain's Inside The Hall preseason profile, it was noted that for him to have a successful senior season, he would have to stay out of foul trouble. As a junior, McSwain committed 6.5 fouls per 40 minutes, a large reason why he never played more than 19 minutes in any game during Tom Crean's final Indiana campaign.
That number dropped to 5.2 fouls per 40 minutes this year, with McSwain fouling out just once. That's far from a drastic decrease, but it was enough to keep McSwain on the floor for longer stretches, allowing him to work to his strengths on the glass.
Bottom line: With strength, determination and a willingness to bang inside with anybody, McSwain miraculously became a late-season starter for Indiana after not playing competitive basketball until high school. He'll always have a special place in fans hearts as a player that wore his heart on his sleeve and was a crucial contributor to Archie Miller's first Hoosier squad.
Quotable: "I'm just Freddie. A rebounder, a hustle guy. Just putting the team first. I love Indiana and I'm so happy that I came here." – Freddie McSwain on how he wants to be remembered for his time in Indiana.
Previously: Justin Smith, Al Durham Jr., Clifton Moore, Devonte Green, De'Ron Davis, Zach McRoberts, Juwan Morgan
Filed to: Freddie McSwain