That's A Wrap: Justin Smith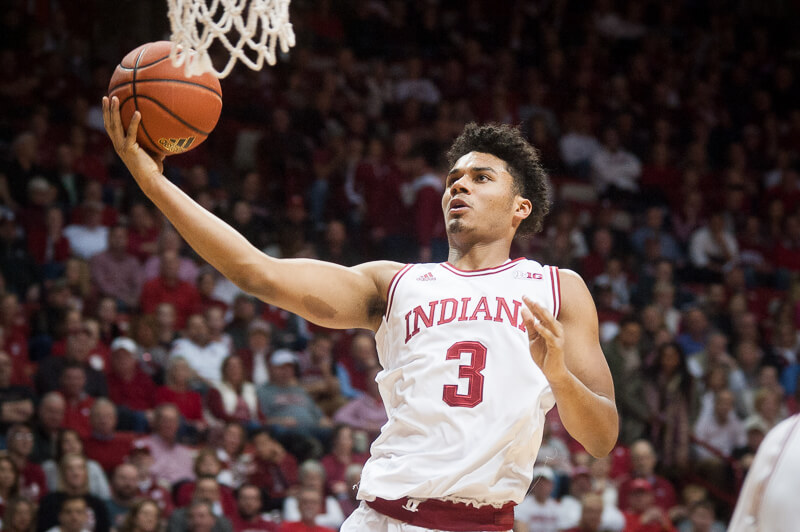 Welcome to "That's A Wrap," our player-by-player recap of the 2017-2018 Indiana Hoosiers. Up first: Justin Smith.
Smith (31 games): 6.5 points, 3.2 rebounds, 55% FG, 30% 3FG, 67% FT in 14.9 minutes per game
The most heralded player of Tom Crean's final recruiting class at Indiana, it didn't take long for Justin Smith to make an impact for the Hoosiers.
Smith reached double-figures scoring in two of the season's first three games, including a double-double against Howard and a 10-point effort at Seton Hall, in what would be the first of nine starts on the season for the freshman.
The biggest asset for Smith is his pure athletic ability. Last June, director of athletic performance Clif Marshall measured Smith's maximum vertical leap at an insane 42.5." During his freshman season, Smith showcased his hops on several occasions, especially when it came to the offensive boards. Smith excelled at grabbing rebounds mid-air and slamming the ball home, a feat he accomplished against Ohio State, Nebraska, and Iowa.
Only Freddie McSwain and Juwan Morgan grabbed more offensive boards for Indiana, and Smith's offensive rebounding percentage of 10.6 in conference play ranked sixth in the Big Ten, per KenPom. Even when he wasn't turning his those into dunks, he was still recording second-chance buckets. According to Synergy, Smith averaged 1.409 points per possession on put-backs, ranking in the 90th percentile of Division I.
Not all of Smith's work came on the glass, however. He also ranked in the 90th percentile when rolling to the hoop after setting a screen. That figure shoots up to the 96th percentile in pick and pop situations, where over 20 percent of his two-point field goal makes came from.
Smith's best stretch of the season was over the final four regular-season games, when he averaged 15 points and 6.5 boards per contest while shooting 58 percent from the floor. On senior night, Smith logged a career-high 37 minutes in a double-overtime loss to Ohio State.
Although already an offensive force, Smith still needs work in plenty of areas. He struggled at times shooting from distance, including from behind the three-point line, where he made just three shots all season. The theme was similar at the free throw line, as Smith shot just 67 percent at the charity stripe.
As a freshman, Smith also struggled with taking care of the ball. Smith's turnover percentage of 19.6 was the highest of all of IU's frontcourt players. Whether it was an inadequate pass or the ball slipping out of his hands, Smith had 10 multi-turnover games on the year, with Indiana posting a 4-6 record in those contests.
Bottom line: With no shortage of bigs coming into the program next season, as well as redshirt freshman Race Thompson, Smith will have to earn his minutes as a sophomore. But Smith has proven to be a valuable offensive player who is unafraid of the best forwards in the conference, and his experience should give him a leg up over the freshmen to start 2018-19.
Quotable: "If you look at him now, he's really attacking the rim hard. He's had some great finishes. He's on the offensive glass. He's doing some of the things that he needs to do to be successful, and he's using his athleticism, and he's a lot more forceful on his drives. I just think he's playing with a lot more confidence in and around the basket," – Archie Miller at media availability prior to senior night.
Filed to: Justin Smith