That's A Wrap: Zach McRoberts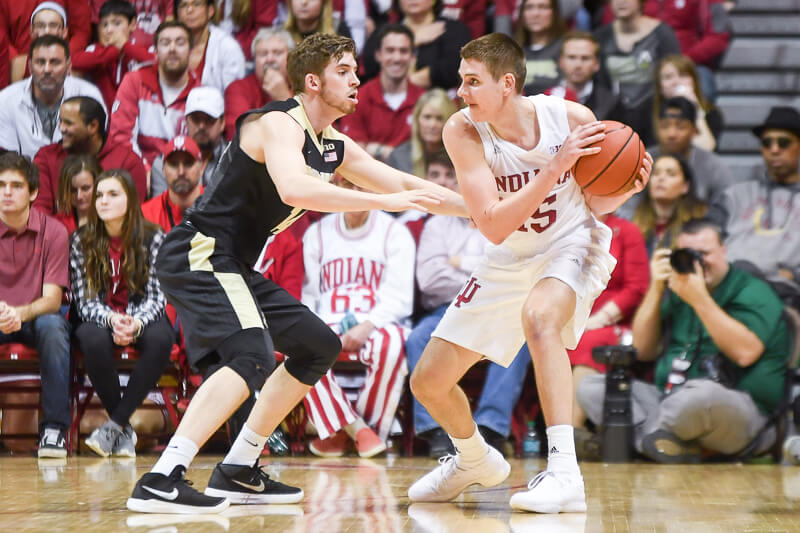 Welcome to "That's A Wrap," our player-by-player recap of the 2017-2018 Indiana Hoosiers. Today: Zach McRoberts.
McRoberts: (28 games): 2.8 points, 3.4 rebounds, 1.2 assists, 1.3 steals, 53 eFG%, 39% 3FG, 69% FT in 21.9 minutes per game.
Walk-on redshirt junior Zach McRoberts barely played throughout the beginning of Archie Miller's first season in Bloomington. In fact, over the course of the opening five games, McRoberts logged a total of two minutes.
The next game, Miller played McRoberts for eight minutes against Eastern Michigan. McRoberts scored four points, but more than that provided energy and an impressive defensive presence. Miller complemented McRoberts' play after the game, and McRoberts became a permanent fixture of Indiana's rotation.
In the overtime win over Notre Dame, McRoberts brought down seven offensive rebounds. The last one was the most impressive – with McRoberts leaping over Bonzie Colson to grab a Juwan Morgan free throw miss and then finding an open Morgan for a game-winning layup.
A large part of what McRoberts provides doesn't show up on the stat sheet. Taking charges, hustling on both ends of the floor and playing excellent defense.
On offense, McRoberts didn't try and do too much. The most shots he attempted in a game was seven, which he did twice. He would often pass out of open shots, especially from behind the arc. Incredibly, despite being hesitant, McRoberts led the team in three-point percentage, hitting on almost 40 percent of his 33 attempts.
The defensive side of the ball is where McRoberts earned the chance to start the season's final 17 games. His steal percentage (4.0) in conference play led the entire Big Ten and his man defense ranked in the 89th percentile nationally, according to Synergy.
McRobert's defense was so stout that Miller believed he was worthy of first-team All-Big Ten Defensive Team honors, but he missed out. That may not be the case next season if McRoberts continues to earn significant minutes.
Bottom line: With hustle and heart, McRoberts cemented his place in the lineup last year despite offensive flaws. But there is no shortage of talented wings coming in next season, so he may have to work even harder to get substantial playing time as a senior. Regardless, he's gained Miller's trust and that will be beneficial in his final collegiate campaign.
Quotable: "Winner. Tremendous effort all game long. Playing really, really hard. He's an important piece to what we're doing right now. Like I said, you don't have to score a lot of points to be a terrific teammate, to impact the game. He plays really hard. He's giving us a bigger defender on the floor at times against bigger teams, and I think just happy with him staying with it," – Miller after McRoberts grabbed seven offensive boards in a win over Notre Dame.
Previously: Justin Smith, Al Durham Jr., Clifton Moore, Devonte Green, De'Ron Davis
Filed to: Zach McRoberts