That's A Wrap: Clifton Moore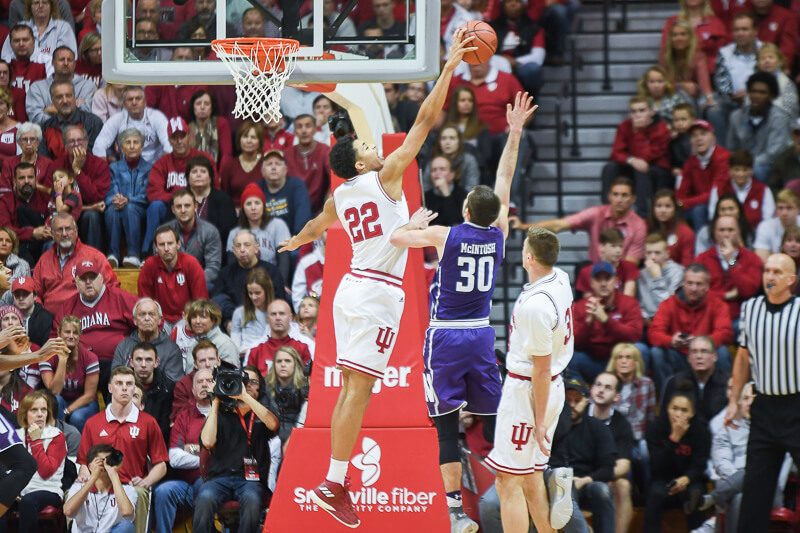 Welcome to "That's A Wrap," our player-by-player recap of the 2017-2018 Indiana Hoosiers. Today: Clifton Moore.
Moore (9 games): 0.7  points, 0.9 rebounds, 25 FG% in 4.8 minutes per game.
When Clifton Moore committed to Indiana in October of 2016, the 6-foot-10 forward was very much under the radar nationally.
Rather than jumping at the opportunity to play with an AAU program affiliated with a major shoe company, Moore stuck with the independent Hoopdreamz program.
But even without major national exposure, the word on Moore got out in the summer of 2016 as major Division I programs began to take notice of the blossoming big man.
Indiana was one of those programs and the Hoosiers, along with schools like Ole Miss and Northwestern, offered scholarships and began their pursuit.
It didn't take long, however, for Indiana to stand out among the rest for Moore. The Hatboro-Horsham forward committed to the Hoosiers on his official visit to Bloomington.
While Moore remained a three-star recruit by the recruiting services during his senior season, he caught the eye of NBA draft expert Jonathan Givony at the Jordan Brand Regional Classic in April of 2017. Givony, then of DraftExpress.com, wrote the following after evaluating Moore:
The Indiana signee stood out as the most interesting long-term prospect in the Jordan Brand Classic Regional Game. At 6'10, he has the size and length to play some five down the road once he fills out, and the agility to play the four. It's hard to find bigs with Moore's tools and shooting potential, which is likely the key to unlocking his long-term upside. Given the nature of the game we weren't able to get an extended look at Moore's defensive intensity and decision making, but we were able to identify him as an NBA prospect worth tracking. Moore elected to remain committed to Indiana despite the coaching change, and is a major building block for Archie Miller and his staff moving forward.
Givony took his belief in Moore to another level when he included him in a 2019 mock draft last fall at ESPN.com. The reality with Moore, however, was much different than the headlines from Givony.
Like many freshmen, Moore didn't have the physical strength to play major minutes right away in the Big Ten. And even with limited options available in the frontcourt, he never cracked Indiana's rotation regularly.
Moore appeared in just five Big Ten games and logged a total of 22 minutes in league play. His most notable performance of the season came in Indiana's win over Northwestern on Jan. 14 when he blocked two shots in seven minutes, but also had three fouls.
Bottom Line: This offseason will be a critical one for Moore if he's going to claim a bigger role as a sophomore in Bloomington. He's got great size and solid shot blocking instincts, but often looked a step slow when playing against high major competition as a freshman. Once the game slows down for Moore and he adds upper body strength, he has the chance to become a solid rotation piece in an Indiana frontcourt that should have plenty of depth in 2018-19.
Quotable: "Early on here — I don't want to say he's wet behind the ears or a little young, but he's like a slippery guy on ice skates out there at times, just getting his footing. But you've seen him go in big, big jumps week to week where he is. From a conditioning level, from a mobility standpoint, he's as gifted as any player I've ever been around, and I think that speaks volumes. His length is something that you can't really judge offensively and defensively in terms of being able to make some plays. So he's got great attributes that he can be good, but he's got to learn the college game like every young guy does." – Archie Miller last September on Moore.
Previously: Justin Smith, Al Durham Jr.
Filed to: Clifton Moore