That's A Wrap: Devonte Green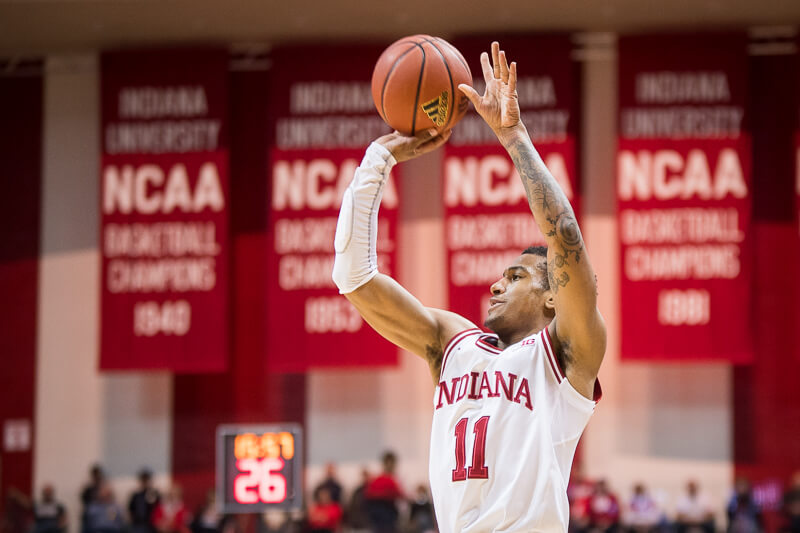 Welcome to "That's A Wrap," our player-by-player recap of the 2017-2018 Indiana Hoosiers. Today: Devonte Green.
Green (31 games): 7.6 points, 1.9 rebounds, 2.5 assists, 1 steal, 43.9 eFG%, 34% 3FG, 71% FT in 22.5 minutes per game.
There was no Hoosier on the 2017-18 roster as polarizing as sophomore Devonte Green. A combo guard with innate talent and an arsenal of moves straight out of NBA Street, Green's role changed throughout the season as his play waxed and waned.
The guard out of North Babylon, New York began the season in the starting backcourt, but was relegated to the bench in favor of freshman Al Durham prior to the Duke game. Green would not start again for more than two months.
Archie Miller hoped Green would provide a spark off the bench, but Green struggled to find a rhythm as a reserve. In the first 16 games after Green was sent to the bench, the sophomore scored in double-figures just three times.
Eventually, Green regained his confidence. In Indiana's game at Ohio State on Jan. 30, he was one of the few positives in a blowout defeat. Four days later, Green had another solid performance against Michigan State. That was enough for Miller to reinsert Green back into the starting five.
That's when Indiana rolled off four straight wins, with Green at his best. He hit 71 percent (10-of-14) of his threes, had a 1.9 assist-to-turnover ratio and averaged 1.5 steals per game. Even when things went wrong, they still ended up working.
But as the competition toughened at the tail end of the season, Green's play slipped significantly. In the final three games of Indiana's campaign, Green recorded a total of 11 points and four assists while turning it over 10 times. His accuracy from deep dropped off as well, with Green hitting just 1-of-7 shots from three over the final stretch.
No Hoosier relished having the ball in their hands late in a possession more than Devonte Green. Yet according to Synergy Sports, Green shot just 5-of-21 from the floor when there was four seconds or less on the shot clock.
One aspect of Green's game that is often undervalued is his passing. Green's assist rate in conference play (23.9 percent) ranked 13th in the Big Ten. Archie Miller repeatedly called Green the team's best post-entry passer throughout the season.
No more was that skill evident than the final minute of a mid-February contest in Iowa City. With the score even at 82 apiece, Green threw an incredible one-handed bounce pass to Freddie McSwain for a wide open layup, giving Indiana the lead for good.
Bottom line: As one of just a few players on last year's team that could create his own shot, Green often tried to carry the entire offensive load with mixed results. With an influx of playmakers coming in next season, Green will have to once again earn his minutes under Miller. But if he can manage to find consistency in his play and cut down on the turnovers, he'll remain a key cog in the Hoosiers' rotation.
Quotable: "He started to see to himself that his way wasn't working. At the end of the day, he started to come with a little bit more humbleness in practice, a little bit more approach that we liked. And with that approach, he got opportunity. Once he got his opportunity, he took advantage of it. To me right now, he's playing as good as we've had a guard play all season just in terms of the ability to make plays." – Miller after Green scored 19 points and dished seven assists in a win over Minnesota on Feb. 9.
Previously: Justin Smith, Al Durham Jr., Clifton Moore
Filed to: Devonte Green