That's A Wrap: Juwan Morgan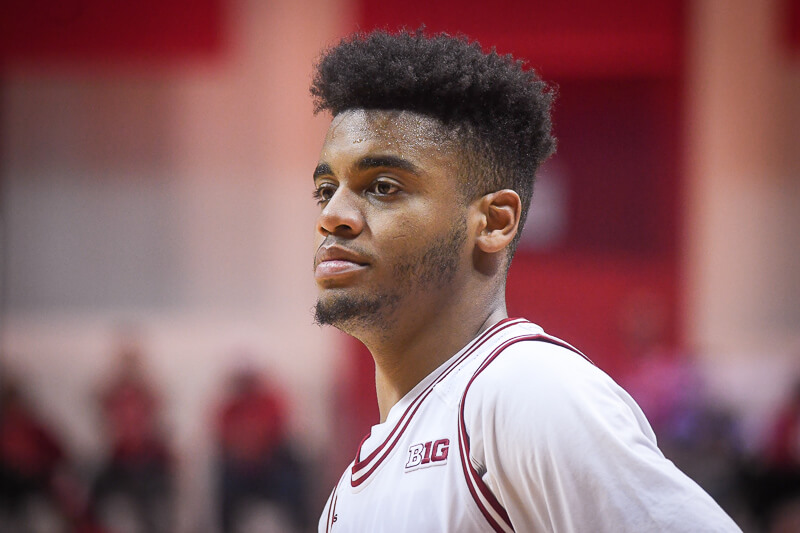 Welcome to "That's A Wrap," our player-by-player recap of the 2017-2018 Indiana Hoosiers. Today: Juwan Morgan.
Morgan: (31 games): 16.5 points, 7.4 rebounds, 1.5 assists, 1.4 blocks, 1.2 steals, 60.2 eFG%, 63.1 FT% in 29.4 minutes per game.
Indiana's team results for the 2017-18 season may have fallen short of expectations, but Archie Miller's first season in Bloomington produced a breakout star.
Juwan Morgan, a complementary player in his first two seasons, emerged as Indiana's go-to option in his junior season and carried a major load on both ends of the floor for the Hoosiers.
Offensively, Morgan averaged a career-best 16.5 points per game. He was a high usage, high efficiency player in the post as he scored .91 points per possession in post-up situations, according to Synergy Sports.
But it wasn't just the post where Morgan excelled. Per Synergy, he was also great as the roll man in the pick-and-roll (1.29 PPP), in transition (1.58 PPP) and on offensive rebound putbacks (1.40).
Morgan was unstoppable at times, but his most impressive performance of the season was probably his 34-point outburst against Notre Dame and Bonzie Colson. Morgan earned national player of the week honors as Indiana knocked off a Fighting Irish team that was at full strength and ranked in the top 25 nationally. Morgan scored 20 or more points in 10 of Indiana's 31 games and he also had eight double-doubles.
And although his 3-point shooting for the entire season wasn't necessarily a strength, Morgan did shoot 37.8 percent from distance in conference games. That percentage ranked 20th in the Big Ten. His offensive numbers could have been even more impressive with more consistent free throw shooting. Morgan took a team-high 168 free throws, but converted at just a 63.1 percent clip.
Defensively, Morgan was a leader on the floor for the Hoosiers as he was often tasked with guarding bigger players in the post. After De'Ron Davis went out for the season in early January, Morgan was Indiana's best shot blocking presence on an undersized roster. He finished 11th in the Big Ten in block percentage (4.7). He was also 13th in the Big Ten in steal percentage (2.6).
For his strong junior campaign, Morgan was recognized with plenty of postseason accolades. He was a second team All-Big Ten selection by both the coaches and the media. He was also named to the USBWA's All-District team and NABC second team All-District.
The next step for Morgan will be figuring out his future as rule changes in recent seasons now allow players to test the NBA draft waters without any risk. Last offseason, Robert Johnson declared for the NBA draft, got feedback from teams after workouts and opted to return for his senior season.
Bottom Line: Assuming he returns for his senior season, Morgan will be in the conversation for Big Ten preseason player of the year as one of the league's top returning players. If he can improve his free throw shooting and become more consistent from behind the 3-point line, he will be one of the toughest matchups in the country.
Quotable: "I've always taken pride in it (the hustle points). Coming from my high school here, I knew right away I wasn't going to be the man just playing with Yogi (Ferrell), Troy (Williams) and then the year after, James (Blackmon), Rob (Johnson), OG (Anunoby), Thomas (Bryant). I just knew I was going to be in the background, but that's just fine with me. And if I can get us extra possessions and everybody else shines, as long as the team is winning I'm fine with that." – Morgan after IU's win over Arkansas State when asked about his penchant for impacting games based on his hustle.
Previously: Justin Smith, Al Durham Jr., Clifton Moore, Devonte Green, De'Ron Davis, Zach McRoberts
Filed to: Juwan Morgan