Seven things that could shape next season's Big Ten race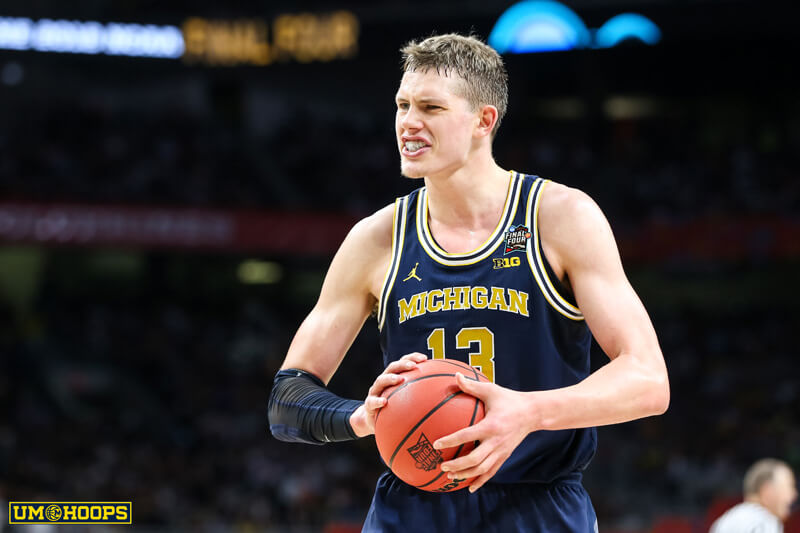 It's been a quiet offseason thus far in Bloomington, but there's been plenty of movement around the Big Ten in recent weeks.
In no particular order of importance, here's a look at seven things that could play a major factor in shaping next season's conference race:
1. What's next for Moritz Wagner and Charles Matthews after a run to the national championship game?
Michigan's run to the national championship game shouldn't have been a surprise to those who follow the Big Ten closely. The Wolverines boasted one of the nation's best defenses all season and have a future Hall of Famer in John Beilein on the sidelines.
Michigan's roster is already going to look much different next season with Muhammad-Ali Abdur-Rahkman and Duncan Robinson graduating, but the Wolverines also face the possibility of losing Moritz Wagner and Charles Matthews.
Neither player has announced intentions for next season, but it would be surprising if both guys didn't at least test the NBA draft waters. Wagner is ranked No. 48 in Jonathan Givony's most recent top 100 over at ESPN.com and Matthews had a terrific NCAA tournament that could garner interest from NBA teams.
2. Will Carsen Edwards return for his junior season at Purdue?
Purdue is losing four starters – P.J. Thompson, Dakota Mathias, Vincent Edwards and Isaac Haas – and sophomore guard Carsen Edwards has declared for the NBA draft without an agent.
The assumption here is that Edwards returns for his junior season, but he is on the draft radar as Givony currently ranks him as the No. 68 prospect for June's draft. It will be interesting to see if Edwards can earn a draft combine invite and if he does, how he performs. Purdue is already facing huge roster turnover for next season, but the loss of Edwards could turn a transition season into a total rebuilding year.
3. Does Romeo Langford pick Indiana? And will Juwan Morgan return for his senior season?
Romeo Langford is one of the last remaining recruiting dominoes still to fall in the class of 2018 and his decision could have a major impact on Indiana's outlook for the 2018-19 season.
If Langford picks the Hoosiers, Archie Miller will have an elite scorer on next season's roster and the first RSCI top five recruit to enter the Big Ten since Jared Sullinger in 2010. If he doesn't, Indiana is going to have to find guard help on the grad transfer or junior college market.
The other still outstanding decision in Bloomington is the future of Juwan Morgan. He had a terrific junior season and earned second team All-Big Ten honors. However, he isn't showing up on many draft boards at this point. So far, Morgan hasn't announced anything regarding his future and he's been prominently featured in workout videos recently posted on IU's social media accounts.
4. Do Nebraksa's James Palmer Jr. and Isaac Copeland return to Lincoln?
Both Palmer Jr. and Copeland have declared for the NBA draft, but have not hired agents. It seems like a no-brainer that both should return to school, but Copeland will be 23 this summer and Palmer Jr. will be 22.
Nebraska fans are probably a little more anxious about these decisions than other fanbases would be because of what happened three years ago with Walter Pitchford and Terran Petteway. Both players left Lincoln with a year of eligibility remaining to pursue professional opportunities.
5. Will Ethan Happ return to Madison for his senior campaign?
Happ has already entered his name into the draft pool, but has not hired an agent. Wisconsin looks like a good candidate to climb up in the Big Ten standings next season, but Happ has to be on the roster for that to happen.
Currently, Happ ranks as the No. 78 prospect in the draft, according to Givony, so it seems likely that he will return to Madison for his final season. If he does, he should be in the conversation for Big Ten preseason player of the year next fall.
6. Beyond Jaren Jackson Jr. and Miles Bridges, will Michigan State have any additional attrition?
Jaren Jackson Jr. and Miles Bridges are in the NBA draft for good, but will the Spartans have any other departures this offseason? It's a question that still has to be answered.
In addition to Jackson Jr. and Bridges, Michigan State is also losing Tum Tum Nairn, Gavin Schilling and Ben Carter. Nick Ward declared for the NBA draft, but didn't hire an agent. He's not ranked in Givony's current top 100, but will he return to school? If he does, a core of Ward, Joshua Langford and Cassius Winston should be enough to keep Michigan State in the NCAA tournament picture next season.
7. Will Maryland's 2018-19 roster have both Anthony Cowan Jr., Bruno Fernando and Kevin Huerter?
The Terps are losing Justin Jackson to the NBA draft, but could be much improved next season if Cowan Jr., Fernando and Huerter are back in College Park.
Maryland is adding a McDonald's All-American in Jalen Smith, but the wildcard for next season's outlook seems to be Fernando. While he's not listed in Givony's top 100, Sports Illustrated currently ranks him as No. 25 on its big board for this June's draft. If Fernando leaves, the Terps have a major hole to fill in the frontcourt.
Filed to: 2018-19 Big Ten preview