That's A Wrap: Collin Hartman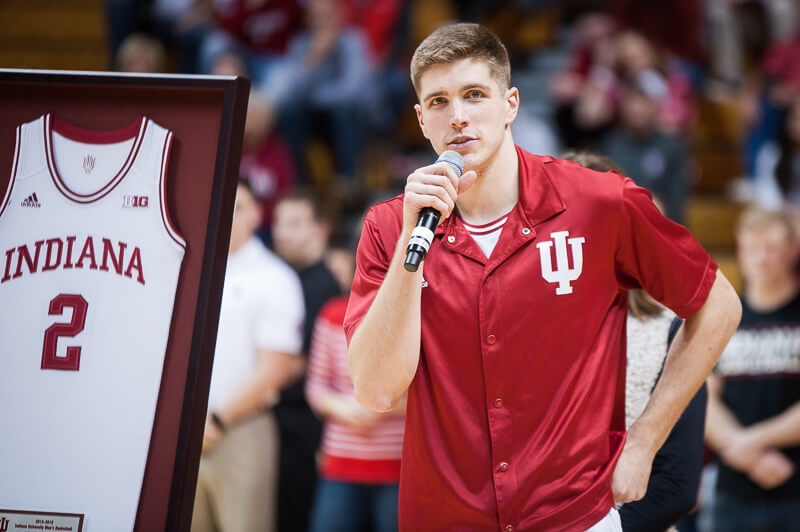 Welcome to "That's A Wrap," our player-by-player recap of the 2017-2018 Indiana Hoosiers. Today: Collin Hartman.
Hartman (23 games): 4.2 points, 2.7 rebounds, 1 assist, 37 FG%, 24% 3FG in 15.4 minutes per game.
After missing his entire senior campaign because of a torn ACL in his left knee suffered in the early fall of 2016, Collin Hartman returned for one final go-round in Bloomington. His hope was to help ease the transition and to be a part of the start of a new era of Indiana basketball.
The fifth-year senior has been through it all as a Hoosier. In a drill shortly after his freshman season, he tore his right ACL when he planted wrong. Hartman recovered in time for his sophomore year, when he posted the best 3-point shooting numbers of his career (48 percent on 61 attempts). He's guarded every position on the court, been tasked with being a bench leader when he was out with injuries and was a starter on the 2016 team that advanced to the Sweet 16.
When November came around this season, Hartman's knee was ready, but his body wasn't. After hitting a trio of triples in the final exhibition against UIndy, a groin injury kept him out for the first five games of the regular season. Six weeks after returning, Hartman injured his right shoulder, keeping him out in an early January contest in Minneapolis.
Five games after coming back from that setback, Hartman landed awkwardly in a practice the day before the Purdue game and was forced to sit out another pair of games.
Hartman's body wouldn't cooperate with his ambitions, and it had a hindrance on his game. In the 23 games Hartman logged minutes this season, he could never get into a rhythm shooting the ball.
A majority of his shots this season came from behind the arc. 78 percent (66-of-85) of his field goal attempts on the season came from three, yet he only hit those at a 24 percent clip. Hartman was much more efficient inside, where he nailed 66 percent of his shots on only 19 attempts.
Still, the veteran forward managed to find ways to contribute. Twice, Hartman tied his career-high of five assists, boosting Indiana to wins over Northwestern and at Iowa. In that late-season win in Iowa City, Hartman didn't score a single point, yet was a vital contributor. Besides his five assists, he also posted two steals and a block.
Hartman also managed to take care of the ball, posting a turnover rate of just 11.4 percent, per KenPom. That ranked as the second-best on the team, behind only De'Ron Davis.
Bottom line: An IU commit all the way back in 2011, Hartman's Hoosier career has come to a close. He was a crucial contributor to the 2016 team that won the Big Ten. Hartman showed flashes in his fifth-year, but his body wouldn't cooperate and his perimeter shooting waned. Even with his on-court performance not meeting expectations, he managed to provide leadership and stability in Archie Miller's first season in Bloomington.
Quotable: "He's probably one of the toughest dudes I've ever seen as far as fighting the injury bug day in and day out. It seems like he can never catch a break, but at the end of the day, he always tries to bounce back and come back as quick as possible and try to keep the same attitude and give everything he has to the team," – Robert Johnson to the media after senior night.
Previously: Justin Smith, Al Durham Jr., Clifton Moore, Devonte Green, De'Ron Davis, Zach McRoberts, Juwan Morgan, Freddie McSwain, Tim Priller, Josh Newkirk
Filed to: Collin Hartman