That's A Wrap: Josh Newkirk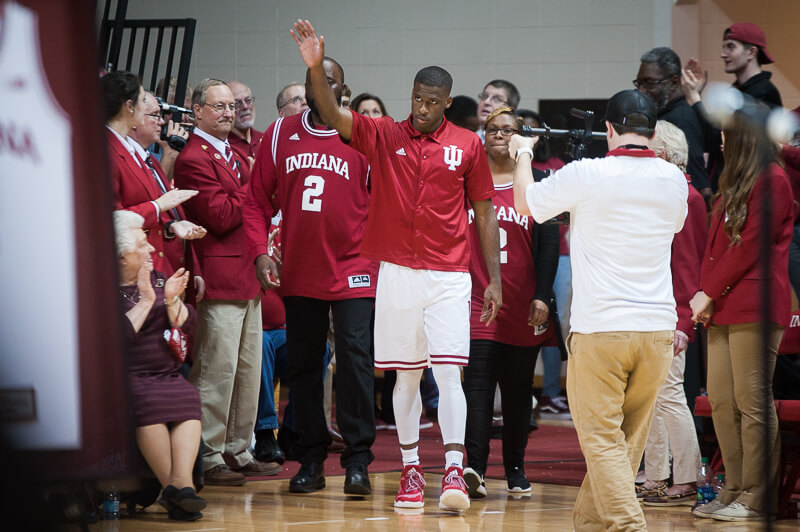 Welcome to "That's A Wrap," our player-by-player recap of the 2017-2018 Indiana Hoosiers. Today: Josh Newkirk.
Newkirk (31 games): 7.1 points, 2.8 assists, 2.1 rebounds, 80.7 FT%, 30.5 3PFG% in 23.3 minutes per game.
When Josh Newkirk arrived in Bloomington in August of 2015 as a transfer from Pittsburgh, he was immediately thrust into a difficult position.
Not only was Newkirk coming off of microfracture surgery and a disappointing sophomore season for the Panthers, he was lined up to be the successor to one of the most popular and successful players in recent IU history in Yogi Ferrell.
Newkirk committed to Indiana at a time when the Hoosiers were missing on several other point guard targets. This is no knock on Newkirk, but Tom Crean's inability to bring in a suitable replacement for Ferrell was a major reason he was dismissed after nine seasons.
Newkirk sat out the 2015-16 season as a transfer and then played two seasons for the Hoosiers with mixed success. His minutes fell as a senior along with his efficiency.
The Raleigh native was probably better suited to play in Crean's up-tempo offense and struggled to adjust to Archie Miller's more controlled offensive style. Newkirk's turnover percentage (23.3) was the highest on the roster this season. He also struggled with his perimeter shot as he made just 29 of his 95 attempts from behind the 3-point line for 30.5 percent.
Despite the struggles, Newkirk had his share of standout moments in his final season in Bloomington.
In a win over Penn State on January 9, he scored 16 points and made 7-of-8 free throws to help lead the Hoosiers to a narrow 74-70 win. He followed that up with 12 points in a blowout win over Northwestern on January 14.
Newkirk scored in double figures eight times as a senior and his 86 assists led this season's team.
Bottom line: Inconsistent guard play was a major problem for Indiana all season and Newkirk's turnovers and poor perimeter shooting ultimately led to Devonte Green's minutes increasing over the final month of the season. Effort was never a problem for Newkirk over his two seasons in Bloomington and while he may have struggled to meet the expectations that Crean placed on him when he committed, he was able to come back and stay healthy after a major injury.
Quotable: "Just being around these guys day in and day out. Just remembering the summer grinds that we've been through, all the running that we used to do, all the weight lifting. I think that's just the little things, little things like that, going through adversity with these guys. I think that's some of the little things that we'll cherish forever." – Newkirk on February 22 when asked what he'll remember most about his time at IU.
Previously: Justin Smith, Al Durham Jr., Clifton Moore, Devonte Green, De'Ron Davis, Zach McRoberts, Juwan Morgan, Freddie McSwain, Tim Priller
Filed to: Josh Newkirk