That's A Wrap: Robert Johnson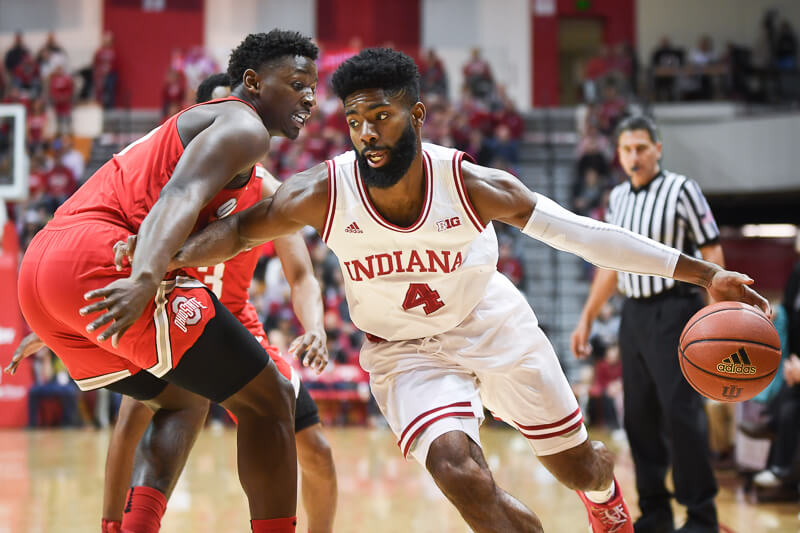 Welcome to "That's A Wrap," our player-by-player recap of the 2017-2018 Indiana Hoosiers. Today: Robert Johnson.
Johnson (31 games): 14 points, 4.5 rebounds, 2.7 assists, .8 steals, 37.3 3PFG%, 70.4% FT in 34.2 minutes per game.
The 2017-18 season was Robert Johnson's first opportunity to be the primary option in Indiana's backcourt.
In Johnson's first two seasons, he was often the third option behind Yogi Ferrell and James Blackmon Jr. And as a junior, Blackmon Jr. was the clear go-to-guy for the Hoosiers in the backcourt.
With Blackmon Jr. moving on to pursue professional opportunities and a coaching change from Tom Crean to Archie Miller, there were plenty of adjustments for Johnson to make in his final season in Bloomington.
First, as Johnson explained recently in his interview on Podcast on the Brink, there was a major adjustment in how Indiana prepared on a game-to-game basis under the new coaching staff. Rather than becoming hyper focused on specific teams or specific players, the Hoosiers instead focused on things they needed to do as a team each game in order to be successful.
"With the old staff, we pretty much game planned for each game specifically to that team," Johnson explained. "The things that we were doing day-to-day were predicated on who we were playing. This year, our defense and our coverages were always the same. We were always going to play the same style of defense and we were pretty much always going to have the same type of early offense and a core set of plays that we went to."
Despite a lack of other scoring options in the backcourt, Johnson saw his usage rise just marginally from 21.7 percent as a junior to 22 percent as a senior. Much of that can be attributed to the emergence of Juwan Morgan, who went from a role player as a sophomore to Indiana's highest usage option as a junior.
Johnson's efficiency took a dip in his final season as his 2-point shooting percentage fell from 53.5 as a junior to 47.9 as a senior. His free throw percentage also dropped by 5.1 percent. Johnson's assist rate and turnover percentages didn't change much from his junior to season seasons.
Defensively, Johnson grew into one of the Big Ten's best perimeter defenders in his final season. While defense was a strength of his game as times throughout his first three seasons, Johnson stepped things up to another level as a senior.
Archie Miller has zero tolerance for anything less than 100 percent effort defensively and Johnson's 34.2 minutes per game are proof that consistently worked hard on that end of the floor. According to Synergy Sports, Johnson ranked in the 84th percentile nationally when defending ball handlers in pick-and-roll situations. As a junior, he ranked in just the 35th percentile.
Johnson was also forced out of his shell and became a more vocal leader in his final season, a role that he never had to play previously. While Indiana's on court success didn't live up to expectations, it certainly wasn't due to a lack of effort on Johnson's behalf.
Bottom line: Johnson wraps up his Indiana career with 1,413 points, which is 21st all-time in program history. He also tied a school record with his nine made 3-pointers in IU's win at Iowa on Feb. 17 and won a Big Ten championship as a sophomore. Beyond his on court impact, Johnson should be remembered fondly by IU fans because of how he handled himself off the floor. He was a strong ambassador for the program and solid contributor on the floor for four seasons.
Quotable: "I think I just want to be remembered as a guy who despite whatever circumstances that I came across, I tried to do my best to give the team everything I had and to help the team win in any way I could." – Johnson prior to Indiana's final home game when asked how he would like to be remembered by IU fans.
Previously: Justin Smith, Al Durham Jr., Clifton Moore, Devonte Green, De'Ron Davis, Zach McRoberts, Juwan Morgan, Freddie McSwain, Tim Priller, Josh Newkirk, Collin Hartman
Filed to: Robert Johnson