Inside the Hall turns 10 today … and for that, we say thank you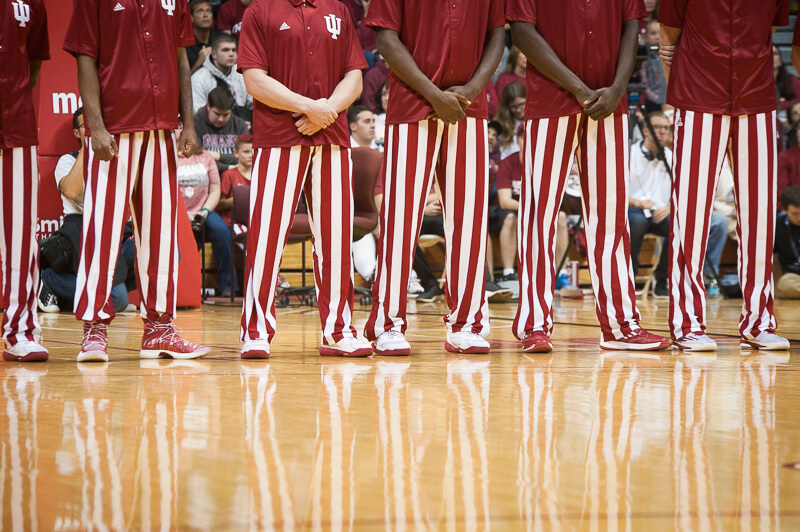 What started as a passion project among three guys in their early to mid-20s is celebrating its 10th birthday today.
In the spring of 2007, myself, along with Ryan Corazza and Eamonn Brennan, had our first discussion about collaborating on a project involving IU basketball.
Looking back in my gmail archives, those first conversations are now quite humorous. The word "blog," which is now extinct in my vocabulary, was thrown around often. Many names were proposed, including "AltarOfAssemblyHall", "HoosierHype" and "CandyStripesAtTheHall."
Thankfully, Eamonn came in late in the process with a suggestion that saved the day: Inside the Hall.
Six days later, the site launched with a post about Bud Mackey, a Kelvin Sampson recruit who would later be arrested for possessing crack-cocaine in his backpack at Scott County High in Kentucky.
The early days of Inside the Hall were written with more snark and from a fan perspective, at times. We used aliases, we didn't cover the team in person and we had other ventures and responsibilities that took precedent in our day-to-day lives. The site was an outlet for each of us to express views on the team and the program, which was our goal from the beginning.
But things changed as the days, months and years moved along. Sampson decimated IU basketball by breaking NCAA rules. A coaching search ensued. Tom Crean was hired. And the program slowly began to climb back to relevancy.
Our voices changed, too, as we each grew in the profession. The aliases we were using were dropped for our real names. The tone of our coverage changed as we looked to expand the scope of what we would seek to deliver our readers. Eamonn left in 2009 as he took a full-time job with ESPN. In 2010, we were credentialed for the first time for a game. We began covering recruiting more regularly as Joe Eberhardt helped us cover some events in the Indianapolis area. And the readership and community began to grow.
With neither Ryan or myself based in Bloomington, we came to the realization that the next step in continuing to improve our coverage was the addition of a writer in Bloomington. In 2010, Zach Osterman, now of The Indianapolis Star, became our first student writer. Since then, folks like Justin Albers, Jordan Littman, Andrew Vailliencourt, Hailey Hernandez and Josh Margolis, who will return next season, have all spent time writing for the site during their time as students.
Along the way, we also connected with Jamie Owens, who remains with the site and is an important part of our coverage with his terrific photography. (I still maintain he took the best photo of Christian Watford's shot to beat Kentucky in 2011. Don't @ me.)
In late 2012, with my second child on the way and the site continuing to grow along with the revival of the program, I took a chance and decided to make a go of publishing the site as a full-time venture. I was terrified to try it, but one constant ultimately gave me the confidence to dive in head first: the readers and this community.
And now here we are, 10 years in, 7,000 posts and over 103 million page views in the books.
Without getting too long winded, I ultimately wanted to use this Monday morning note to say thanks first and foremost to our readers. Whether you've been with us since the beginning or found us somewhere along the way over these last ten years, we appreciate all of you.
In less than five years, you've posted over 290,000 times in our premium forum. On the main site, you've posted over 339,000 comments. Those are numbers that we could have never imagined back in 2007. Thank you.
I'd also like to say thanks to my family for their support and understanding when my work hours are often abnormal.
And of course, I have to say thanks to Eamonn, who helped get the site off the ground and Ryan, who remains an integral part of it today. Content pieces like Film Session and The Minute After are must-reads during the season and the site wouldn't be what it is today from a design and technical perspective without all of his hard work.
The site content also wouldn't look nearly as beautiful without Jamie's photography. I know it's a lot of travel and sacrifice for him to shoot as many games as he does and we're thankful that he continues to work with us.
All of the students and contributors along the way also deserve a lot of credit. While it may seem like all fun from the outside covering a major beat like IU basketball, it's also a lot of work. We've been fortunate to work with some of the best student writers in Bloomington and all of them have enhanced our coverage in different ways.
I'd also like to say thanks to Matt Dollinger and Greg Rosenstein for all of their work in hosting Podcast on the Brink in its early days and to Jerod Morris of The Assembly Call for continuing to carry that torch. Without Matt, Greg and Jerod, the podcast doesn't exist in its current form.
In closing, I wanted to share an interesting set of data from the first ten years. From 10 to 1, here's a list of the ten most read posts in Inside the Hall history. The results will probably surprise you:
10. Indiana dismisses Emmitt Holt, announces discipline for Thomas Bryant
9. What we know about Indiana's coaching future
8. Devin Davis in serious condition following accident
7. Luke Fischer leaves Indiana, will transfer
6. Indiana announces 2013-2014 basketball schedule
5. National voices weigh-in on Archie Miller hire
4. Indiana announces 2012-2013 basketball schedule
3. Roundup: What potential candidates are saying about the IU job
2. Names to know: IU coaching search big board
1. Thomas Bryant commits to Indiana
Filed to: