Roundup: What potential candidates are saying about the IU job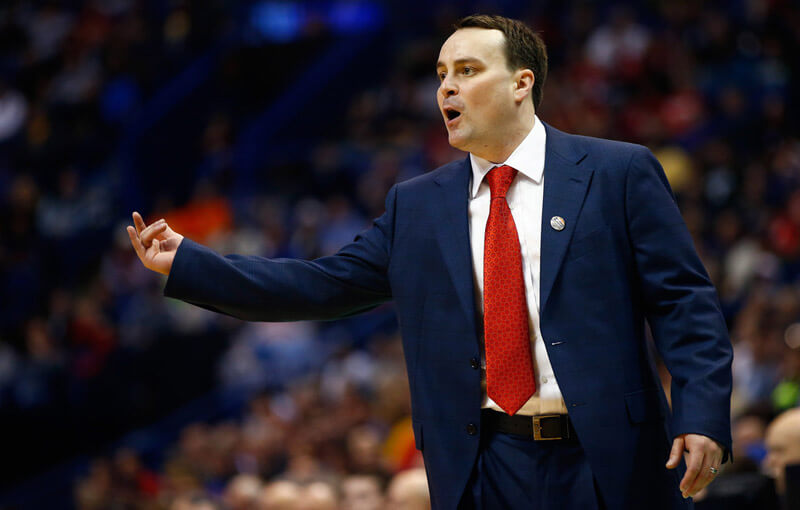 Indiana's coaching search is less than two days old, but several potential candidates have already been asked publicly for their thoughts on the opening.
In our roundup below, we bring you public comments made by potential candidates over the last 48 hours:
Dayton's Archie Miller, who was asked about the opening immediately after his team's 64-58 loss to Wichita State on Friday night at Bankers Life Fieldhouse:
Q. Archie, I know you just lost, but your name's been linked to the Indiana job. I just wonder what your thoughts were. I know it's close.

COACH MILLER: No thoughts.
UCLA's Steve Alford, who was asked about the opening on Thursday in advance of his team's NCAA tournament opening round matchup with Kent State:
Q. Coach, when and how did you hear about Crean at Indiana's firing today, and is it your goal to get back to Indiana? If so, would you take a phone call at the end of the season?

STEVE ALFORD: I don't know how I found out. It's just news. It's March Madness, and unfortunately in our business you're either on top or something like this is happening to all of us. I've been in a long time, 26 years now. So I've seen things evolve and how they go, but that's never been something that I look at, whether it be that job or other jobs. I learned a long time ago when I was probably four or five years into the job, I started interviewing for jobs that that's what I wanted.

When I quickly trusted God and my faith my journey has taken me to places I had no idea that that was going to be my journey and I've fallen in love with every spot. I've met great people, great institutions. Obviously, that was 30 years ago. I was a part of that. I stood on stage with a great group of guys and won a National Championship. It's my home state. I played there.

So obviously all that comes up, but I love UCLA. I love Los Angeles. You're talking about arguably the greatest "brand" anywhere on the planet, and we got things going at a very high level now and we're very excited about it. We're excited about being in this tournament and seeing what we can do in this tournament.

Q. Would you take a phone call?

STEVE ALFORD: That's really going to be my comment about that situation. I don't want that to be what this is about. This is about us. This is about what this group of guys are doing and that's what my focus is.
Wichita State coach Gregg Marshall was asked about job openings on Thursday in advance of his team's first round NCAA tournament game against Dayton:
Q. Every year, your name comes up when there's coaching vacancies and, obviously, that's kind of happening again this year. I'm wondering with those frustrations or challenges with scheduling and seeding, could that ever be a tipping point for you to go elsewhere? Are those things you consider when you're getting offers?

COACH MARSHALL: Not really. First of all, I don't know what you're talking about. No one's talked to me or no one's talked to anybody that represents me. There's been no discussion of any of these jobs. In fact, I don't even know what jobs are open, to be honest.

There's a lot of action that takes place every day and every week, it seems.

We value the life that we lead. Whether we're taken care of, we've got a great administration at Wichita State. They've been very, very supportive and generous and kind to my family. I've got — not just me, but I've got my family and I've got my players.

We think we've got something really good going, so I don't really worry about it. I think it's very humbling to have your name mentioned with these jobs. Sometimes, I listen. Ultimately, maybe I'll take one. But right now, we're very, very happy where we are.

The City of Wichita is a wonderful place to live, and it's treated my family and a lot of people very, very well. We're very content. But at the same time, we don't bury our head in the sand. I've said that before. We listen. Maybe there will be a time for to us make a move, but I don't know when that's going to be.
Oklahoma City coach Billy Donovan, who was asked about the position on Thursday afternoon:
"I am totally happy here. I love it here. I love the guys I work with every day. I love our staff, the organization. As far as I'm concerned, my commitment is totally here and doing the best job I can while I'm here."
Boston coach Brad Stevens, who shot down the possibility of a move to Indiana on Friday:
"I don't speak to the rumor mill or anything else, but I've made it pretty clear I'm going to be here. I've been asked about that quite a bit and my answer will be the same — I'm going to be here until the Celtics decide they want to move in another direction," he said before last night's game against Brooklyn.

"Maybe a little bit," he said of whether he hears from people back home at a time like this. "One thing about it — I grew up in that state and spend a lot of time down there. I certainly love the state of Indiana and what basketball means in that state. IU means a lot to the people in that state. I was no different as a kid, but again, I'll be here. Doesn't mean I'm not a fan of the teams in the state — I root for one a heck of a lot more than the rest."
Filed to: Archie Miller, Billy Donovan, Brad Stevens, Gregg Marshall, Steve Alford