National voices weigh-in on Archie Miller hire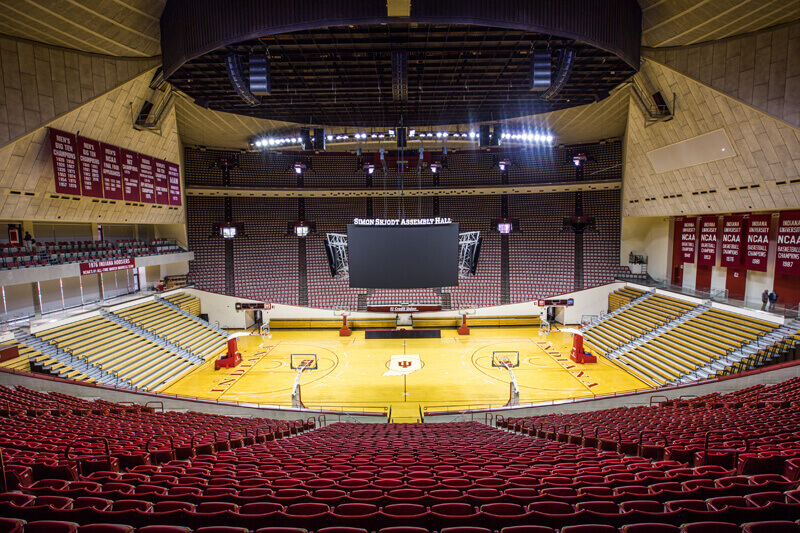 Archie Miller was named as the 29th head coach in program history Saturday. The hiring came after more than a week of rumors and speculation since the firing of Tom Crean on March 16.
Inside the Hall reached out to national writers across the country to get their input. Did Indiana make the right decision? Will Miller be able to handle the pressures of the Indiana job?
Here are all of the responses we received:
Eamonn Brennan, ESPN.com:
Archie Miller is a rightfully lauded coach. It makes sense that he'd been the up-and-coming guy. When you look at the potential options Indiana had – whether those options were theoretical or practicable – I think if you're an Indiana fan, a decision like this should make you feel a lot more confident in the direction of the program and the athletics program in general. As opposed to what I've criticized off and on at Indiana or at least tried to understand better, which is the whole 'it's gotta be someone with Indiana ties. Someone who went here is a bonus. Someone who played here. Someone who is from the state.' It's all well and good if those things happened to be true about the best possible coach. But if they're not, they shouldn't override what you end up doing. They shouldn't determine hires. For me, hearing Fred Glass' press conference, and who knows what has transpired in the past (nine days) since Crean was fired, but I think getting away from that idea and just going out and trying to find the best coach you can, and having the benefit of him being just down the road, not far away in Dayton, knowing the midwest well, and having recruited there.
To me, it was kind of a no-brainer. A month ago, if someone would have asked me 'if things don't work out for Tom Crean, who do you think the next coach will be?' I would have said Archie Miller. And then you get into the (coaching) process and it actually happens. Every message board starts freaking out and everybody lists every conceivable candidate. People start texting each other about whether Billy Donovan is in Bloomington when he's not. It was easy to think 'maybe Indiana will pick something kind of crazy with their hire. Who knows here?' But you get back down to it and it's kind of the obvious and predictable, but sober and intelligent choice at the same time.
It's a good hire. It seemed that there was a slight possibility that Indiana would go totally crazy and swing for the fences and try and get someone they couldn't. Or they would go the sentimental, nostalgic, provincial route with a guy like Steve Alford, who has been coaching for a long time and his record is pretty mixed. I think that this season of UCLA being really good shouldn't have overridden most of that. Doing what Indiana ended up doing, to me, is a decision based on coaching competence, potential, and where the program can go in the future, as opposed to where it's been in the past.
Brian Hamilton, Sports Illustrated:
Archie is a fantastic coach. I think it's a great move for both sides. He's been very selective, obviously. There's a lot of other places that would have loved to lure him from Dayton. He waited for that one great job and I think Indiana did well to identify a winner, identify a guy that gets you results. Dayton has got talent, but they were not going to be the most talented team. He was getting results and beating major conference teams regularly. To me, the most impressive thing for Indiana is that they didn't get lured into a big name hire or get swayed by Indiana connections. They went out and just found a really really good young coach that can be there for a long time.
Because of who his brother is and how coaches are wired, he's not going to walk into this blind. He's not going to be naive about the expectations. I assume, when he gets up there for his press conference, he's going to say what every coach would say, which is that he welcomes the expectations, wants to be at a place that wants to win championships. But I think he's wired that way.
Personality-wise, he's a hard-charging, intense guy, but I think that he's smart enough and not too naive about what's in store.
It'll be interesting to see how he recruits. Maybe Indiana, when Indiana has some real good players in the state, is going to have a real good shot at getting those players. But you have to cast the net for elite players all over the country, try to convince them to come to Bloomington. I think that's always a big leap. You've gotta make the connections, gotta be able make the deals that you need to do get good players to Indiana. That's my only curiosity. Coaches have to figure that out. That's really the only question mark. How is he going to be able to bring top-level championship caliber talent to Indiana. Even if he doesn't, is he good enough to bring that second-tier, pretty good talent to championships?
Jon Rothstein, CBS Sports:
He's a great guy. Archie Miller was built to coach at a place like Indiana. It's one of the most storied programs in college basketball. He is going to embrace everything that Indiana basketball represents.
Archie's biggest pressure is the pressure he puts on himself. He has self-induced pressure. That's obviously the toughest type of pressure. He was brought up in a home where basketball was very personal, and I don't think that's going to change, whether he's the head coach of Indiana, Dayton, or anywhere else.
Archie has been as good a basketball coach as we've seen in the A-10 in some time. I'm sure, for all intents and purposes, he'll do an excellent job at Indiana.
Chris DiSano, Atlantic10.com and Blue Ribbon Yearbook
I've known Archie for several years through covering him in the Atlantic-10. He's a tremendous coach. He's heavily, heavily invested in player development. He's very attentive to detail. He runs the type of program that many, I'm sure, will try to model. I think it's a tremendous hire for Indiana, particularly coming off an (18-16 season). He's the kind of guy that's going to demand accountability from day one, yet he's a player's coach. He's going to reinvigorate the fanbase and the brand itself, because that's the type of passion and energy he brings to the job on a day-to-day basis.
When anybody gets into a job that's certainly one of the elite or premier jobs in the country, it's tough to empathize with that. It's impossible to empathize with that because you haven't been in that position before. But in terms of the way he's refined his skills, his leadership ability, in terms of understanding what it takes to be the CEO of a program in multiple facets, from dealing with different constituencies to doing what you need to do on the floor, I think he's as well equipped as anyone. Certainly, having seen the jump Sean made from Xavier to Arizona, and how Sean handled that, and Archie and his brother being as tight as they are and swapping stories and strategies, he's certainly had somebody (around him) who's been in one of those 10-15 elite jobs in the country, that he's been able to capture advice. So I think he's as well equipped as anybody to handle the pressure the way that it ultimately transpires. He'll only know that once he sits in that chair.
Having gotten to know Archie personally, he's a really good guy and person, who cares about his players and cares about his program representing the right things. He's very authentic and genuine. Whenever you're starting with that foundation, that's a great place to begin.
Nicole Auerbach, USA Today
It's a win-win on both sides. It made a ton of sense for Indiana, and it made a ton of sense for Archie Miller. What I wrote today in my initial reaction is that this is exactly the kind of job that Archie had been waiting on. He had a very good situation at Dayton. Great team and great support there. But if you want to coach a higher level that can compete for national championships on a yearly basis, you're waiting for a really good job, an elite-level job, a blueblood. He could afford to be picky. I think this is exactly why he was so patient and why he waited as long for an opportunity at an elite job like Indiana. So to me, it makes all the sense in the world from Indiana's standpoint. Great coach, really sharp guy, works super hard but is just a great basketball mind. But it also made a lot of sense for Archie, with his background and also his midwest ties.
It's certainly a different kind of microscope that he'll be under at Indiana, that he didn't have at Dayton. You're going to be criticized more, going to be questioned more, be expected to land really high-level recruits on a regular basis. So I am curious to see how he handles all that. But I'm sure that's part of the appeal of challenging yourself and taking a job like this. But I do think that's probably the most difficult part of being at a blueblood place (like Indiana) – the scrutiny and the criticism that come with it on a daily basis. You certainly see that as part of why Tom Crean is no longer at Indiana. It's a fanbase that has very, very, very high expectations. It's going to be very different than Dayton. But I do think that his family will help him. Sean Miller has achieved great success at Arizona. Now the Miller brothers are running two of basketball's biggest programs with some of the most storied histories. I think Sean will be able to help him manage that or give him advice on how to handle the scrutiny that comes with a job like this.
Everyone wanted Archie the last few years. I think it was smart of him to wait for the right job in a place and position where he can win big and not just take any power five job. That was a part of the reason he had stuck at Dayton as long as he did. I think Dayton understands that from the statement they put out. They understand the caliber of job that it took to lure him away.
Rob Dauster, NBC Sports
I like it a lot. I think that it is a better move than it would have been to hire Steve Alford. I just think that Archie Miller is a better basketball coach. I understand the desire to bring Steve Alford back into the fold, to get an Indiana guy running that program. But I think Archie Miller is on that same level as his brother. I think Archie Miller has a chance to be one of the top 10 coaches in the sport. When you have the opportunity to get a guy like that, you have to go out and get him. Frankly, it doesn't matter who is really running that program, if you want to win the fans back, the best way to do that is to actually go out and win. I think Archie is going to do just that.
I think he should (be able to handle the pressures). Dayton is not on the same scale as Indiana, but that is still a job that is kind of a little fishbowl. They don't have any professional sports teams in Dayton. The Flyers are the big deal. Dayton Arena, I think they sell out the 14,000 people in that stadium all the time. I think he's used to being in a bit of a fishbowl, so to speak. It is a step up, though, that's not really a question. To go from being the best program in the A-10 to one of the best jobs in all of college basketball. I think he'll be able to get it done. I don't think that pressure will be an issue.
Matt Norlander, CBS Sports
Indiana made a name hire. They, in my opinion, made the right move in choosing to go with Archie over the likes of Steve Alford. Archie is considered all at once: a really fantastic recruiter, a really fantastic tactician of the game, works extremely hard, obviously is well respected within the industry. If you're Indiana and you want to start over, and you're trying to get the program to have the best forecast for final four consistency and national relevancy, I think Archie Miller was the best possible hire they could have made from any coach right now in college basketball.
Archie is a little close to the vest sometimes, but with his brother being a major Division I coach, coming from that family – his father was such a tough-minded coach, raised his sons well. Dayton is not without its pressures. Obviously, though, Dayton is a very different job from Indiana. I would be surprised if Archie found himself incapable of managing the expectations. He's a very self-confident person and should be able to handle that. Obviously, that's the biggest question, because you don't really know the answer to that. I can say that I think he can (handle expectations) and a lot of people think it's true that he will. We don't really know the answer to that until he's a good 12-18 months into the job. But you have to actually experience and go through that before you have a firm answer.
Indiana fans can expect an Indiana team that will be a lot more rugged than what Crean had. What Indiana fans can probably expect from the team and the roster going forward is that Archie is going to get really talented players. He's probably going to be able to keep elite level talent in the state from leaving the state and get them to IU. I think he can have a tremendous blend – because of his style, recruiting ability, and the kind of player he's succeeding with at Dayton – I actually think Indiana will have the best blend of elite level one-and-done talent and then just those indispensable, necessary four-year guys that make final four runs all the more plausible due to their experience. In some ways, you've gotta stay old to help you in the long run. Archie can get both of those things done.
Filed to: Archie Miller