Indiana announces 2013-2014 basketball schedule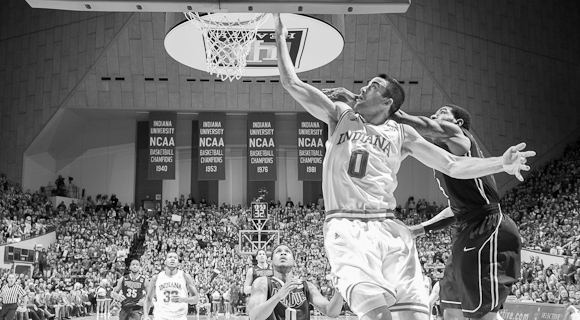 Indiana University announced the complete men's basketball schedule for the 2013-2014 season earlier this afternoon. Nearly the entire non-conference schedule had already been revealed, but now the finalized schedule with all Big Ten dates is out.
Start times, broadcast information and an exhibition game will be solidified at a later date.
Indiana's non-conference portion of the schedule is highlighted by a road game with Syracuse in the ACC/Big Ten Challenge, a neutral court meeting at Bankers Life Fieldhouse with Notre Dame in the Crossroads Classic and a trip to New York City to play Washington and either Connecticut or Boston College in Madison Square Garden in the 2K Sports Classic.
The Hoosiers will open the Big Ten season on Tuesday, Dec. 31 in Champaign against Illinois. IU will play just one game against Ohio State (home), Iowa (home), Minnesota (away) and Purdue (away), while facing every other Big Ten team twice.
Indiana will play at least two conference games on CBS, including their Big Ten home opener against Michigan State on Saturday, Jan. 4, and seven conference games on the ESPN family of networks, including at Purdue on Saturday, Feb. 15, on either ESPN or ESPN2.
In total, Indiana will play 20 home dates, which is important as men's basketball generated revenue of $8.7 million last season in ticket sales. Tickets remain for four home games (Evansville on Nov. 26, Nicholls State on Dec. 20, Kennesaw State on Dec. 22, and Michigan State on Jan. 4) that are a part of the Holiday mini-series package that is available through the IU Athletics ticket office (1-866-IUSports).
Last year, IU finished fifth nationally in attendance and set a school record by averaging 17,412 fans per game. 14,500 student season tickets have been sold for the 2013-2014 season and each student will receive eight of the 16 available game tickets.
"We always want as much television exposure as possible, especially at home," said Coach Tom Crean. "We have had so many memorable moments the past couple of years it has been great to be able to share that with as many fans as possible. We play 20 dates in Assembly Hall, including two exhibitions, and with our budget expectations that is where we need to be."
"We've played as well as anyone away from Assembly Hall (a national best 7-2 in Big Ten road games last year) the last two years and we have great challenges ahead of us with games in Madison Square Garden against Washington and either BC or UConn. With this being the third year of the Crossroads Classic, the teams are very familiar with the setting and our trip to Syracuse will be as good as any Big Ten road game. As far as our conference schedule, there is a reason it is the toughest league in the country. You don't look ahead. Each game takes on its own meaning."
You can find the complete 2013-14 schedule after the jump or on our schedule page.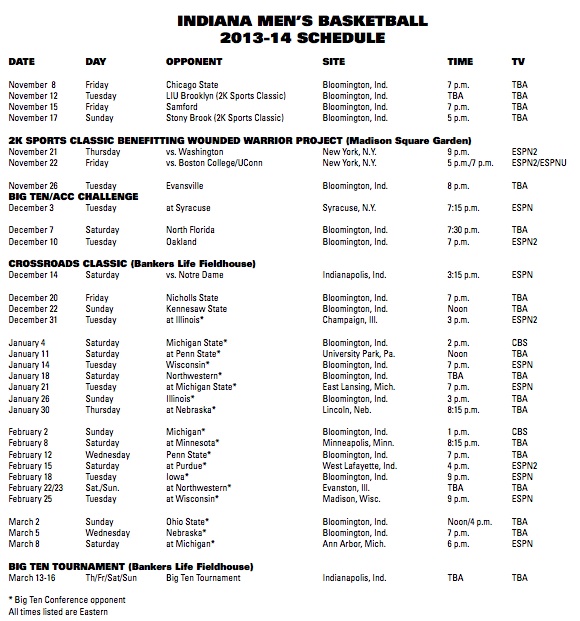 Filed to: 2013-2014 schedule