What we know about Indiana's coaching future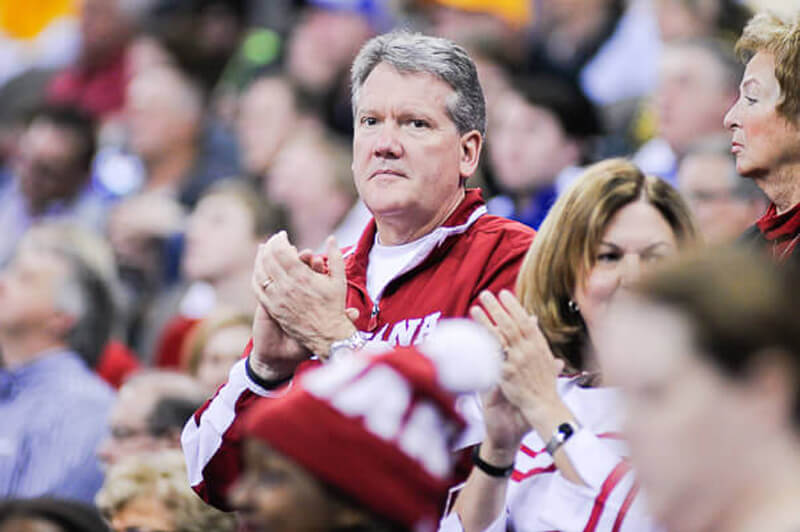 Less than three hours after announcing via press release that Tom Crean would no longer be the head coach of IU basketball, Athletic Director Fred Glass spoke to the media inside Simon Skjodt Assembly Hall.
The press conference lasted nearly 40 minutes. Glass began by reading the press release, then answered every question from the media.
Here's what we learned (all quotes from Glass):
The decision to fire Crean was based on his total body of work
"I'm always somewhat bemused when someone says 'this guy is coaching for his job in this tournament, or this game, or this run.' That just seems inherently silly to me. This was a disappointing year, but the year before was a really strong year. This year, in my view, wasn't a disproportionate part of my evaluation, but a part of the whole time that Tom has been here."
And was made following the NIT loss Tuesday
"I really tried to be disciplined, to wait until the end of the year, which I viewed as the total end of the year, the end of the postseason. The (NIT) game ended late Tuesday night. I really made this decision last night and communicated it to Tom this morning. I wanted to get that out promptly."
Players were notified via text
"Unfortunately, because it's spring break week, I have not been able to interact directly with the players, which is unfortunate. We did reach out to them electronically, through text, before (the announcement). It's not the way you want to do things, but it is spring break week. We have scheduled a meeting with the players for Sunday night, so we'll connect with them in a direct way as quickly as we can."
Glass later said the department has already reached out to the incoming recruiting class.
And Glass would like them to wait before making any decisions
"My request to (the players) will be to be loyal to Tom. Hurt and grieve. He cared about these kids and I think they knew that. I'm going to ask them to give the new person a chance and talk to them. Then, if they want to make other decisions, we'll work with them. But hopefully, they'll at least give the new person an opportunity."
In the meantime, there will be a transition group overseeing team activities
"We've put together a transition group – longtime trainer Tim Garl and (director of player development) Derek Elston…We'll work with (associate athletic director) Mattie White and (deputy director of athletics) Scott Dolson to oversee the team and team activities."
The fan frustration was evident
"The frustration may have been universal. In my view, the opposition to Tom was not. I think it's easy to fall into the trap – listening to talk radio and reading message boards – that the people that are against understandably tend to be louder, that there was a universal opposition to Tom. I just don't think that's true."
"This was a decision that I made not because I thought it was popular, because popular tends to change. It was the decision I thought I needed to make because I thought it was right, because what's right tends not to change."
Crean and Glass spoke before the decision was made
"We had two specific conversations about the future and what I saw as my options going forward. They were very, very positive. He was very relaxed and non-defensive. I really appreciated those conversations a great deal. Last night, after I really had the chance to absorb and consider everything, I felt like a decision needed to be made. It would have been bad for everybody to leave (Crean) twisting, even though you always maybe want a few more days."
Glass had three options
Glass noted he had to make one of three decisions: extend Crean now, decline to extend and let him coach with only three years left on his deal, or fire him.
"I concluded that the extension wasn't something I was prepared to do. Even though we have had success, I think that both between and within seasons, it's been too inconsistent for our expectations."
"It was very tempting to go with the second option of allowing him to go forward without the extension. To his great credit, he was willing to do that. I think it would have been a very hard thing for him to do, but I've gotta tell you – he loves Indiana. He loves living here and he loves his kids going to school here. I think he felt like he could win. He was willing to bet on himself, and I admired that and appreciated that."
"In the final analysis, I wasn't comfortable going forward with that. Given that he only had three years left, and that publicly I would have not given him an extension, I think he would have been on the hot seat from day one…I thought that would be too hard on the program to be a justifiable option."
Crean's buyout will be paid in full but may be mitigated
"I want to make really clear – Tom is going to get all of the benefits from his contract that he's entitled to for being fired without cause. There is nothing more to this (decision) than my belief in the future of the program, based upon what I think ultimately was inconsistent – athletic performance, if you will – there were no other issues. I will happily pay him all he is entitled to under his contract."
The university will pay Crean $4 million dollars, but it won't be one lump sum. Instead, it will be in regularly scheduled payments of around $1.3 million a year over the next three years.
"That's a lot of money, I don't want to minimize that. But on a $100 million dollar budget, that's money we can commit to that."
However, the contract includes 'mitigation setoff.' This means if Crean gets a "comparable job in professional basketball, college basketball, or as a media personality, then that money gets set off dollar-for-dollar with what (IU) would owe him."
This makes it possible that IU will end up owing Crean nothing.
There will also be a separation cost of around $700,000 for "other staff that normally would be expected to leave is well." That amount is also subject to mitigation.
Indiana wants a coach that will stay out of trouble
"Our number one priority is to play by the rules. We don't want anybody who has been associated with significant NCAA infractions. We want somebody who cares about the wellness of the kids and their mind, body and spirit. Therefore, we don't want anyone who has shown the proclivity to be abusive or had any of those situations. Academics are important, hopefully anywhere, but particularly here at Indiana. We expect the kids to graduate, and so (we don't want anyone) with significant academic issues. (We want) someone that fits the culture, that can buy into our values and priorities. Those are sort of the givens."
But who also has a strong pedigree
"We want somebody who can win Big Ten and National Championships. We want somebody who is a proven winner. Someone who is a proven recruiter, who has the ability and the desire to recruit in the midwest and especially in Indiana. Someone who is a good tactician in the games, who is a developer of talent…someone who is a leader of men. Who the kids trust has their best interests at heart and that the kids understand can make them better."
The coaching search is just beginning
"We're beginning that (search) process. I've got some ideas of people, but it's an open search. I don't have somebody in the bag. I haven't reached out to anybody…it's going to be a bit of a process. But sure, I've got an idea of the kind of people and specific people I'd want to go after."
Having Hoosier ties may benefit a candidate
"IU ties is a double check plus. Being a former IU person, in one way or another, is a double check plus. Being from the state of Indiana is a double check plus. Collegiate head coaching experience is certainly a plus, but there's other ways to evidence your ability to take on a job like this. IU or Indiana ties, an absolute plus, but no litmus test for me."
"I'll interview everybody that is connected to IU. Any alumnus of IU that (wants) this job, I will personally talk to them. Number one, I believe in that and their potential to be successful here, and I'm also a big believer in Hoosiers for life. If anyone from Indiana wants to talk to me about this job,  I will talk to them."
There isn't a firm timeframe on a decision
"We're going to give it the time that it needs…I'd rather have it right than fast. We'll move with all deliberate speed and we're already working on that, as of this morning, anyway. The kind of people we're interested in are the kind of people who are successful and are playing basketball still, whether it's in the (NBA) or in one of the postseason tournaments. We will respect what I anticipate will be their sole focus on their teams. So it might be a while."
"We're going after people that have proven track records…we're going to go after people and target them. They will be, largely, people that are in important, successful situations. We'll want to take the lead from them on how to approach that. It may require some patience. Again, we don't have any winks or nods. We haven't been playing any games like that. We'll see how it plays out. It could be a while. Especially when we're just starting the tournaments."
Glass is already receiving interest in the position
When asked if he's already receiving calls regarding the opening, Glass slowly nodded his head before answering "Yes."
The department may look far and wide to gather opinions
"I don't think we can overstate what a big deal this hire is. I am not going to really spare any resource to get the advice and input from the people we need. Some of that costs money, like a search firm. Some of that doesn't cost money but requires time."
"I want to talk to our former players. I want to talk to Indiana high school basketball coaches. I want to talk to AAU coaches…the thoughts of those folks are important to me. We are going to comprehensively get all the information we can get and, I think, make a great choice here."
But will be tight-lipped 
"My expectation is to not really talk about the search. I'm not going to react to rumors. If I'm not reacting to a rumor, that doesn't mean that you're hot on the trail of the right guy. Maybe it does, maybe it doesn't. I don't know. Right now there is no guy. Today it certainly wouldn't be true."
"I'm not going to handicap people, not going to confirm or deny anything. I'm going to work on this, kind of clear my calendar of everything else. This will be my focus."
Glass was appreciative for what Crean has done for the program
This wasn't a one-year decision or a four-year decision, it was really a nine-year decision, in terms of past being prologue. To me, it's always been about the future with Indiana basketball. We can look at what happened before and the really herculean effort Tom did in those first three years, which may have been his best coaching effort ever. I would suggest to you that those first three years and the holding together, with the chewing gum and spit and duct tape, was a better coaching effort than both of his Big Ten titles. (The titles) were outstanding, but what I had to do was look forward. I felt that based upon the inconsistency and given where we were with the three years (left on the deal), that it wasn't a time that I wanted to make an extension. But Tom made very significant contributions to us. It's clearly a better job now than when he came."
Filed to: Fred Glass, Tom Crean