2014-2015 Player Profile: Hanner Mosquera-Perea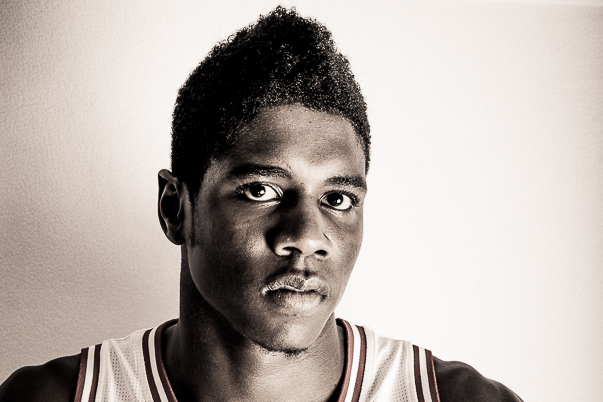 With the start of college basketball season on the horizon, we're taking a long look at the conference at large as well as Indiana's roster this month. Today, we continue our look at Indiana's roster with Hanner Mosquera-Perea.
Hanner Mosquera-Perea is the Colombian Question Mark.
Any strong prognostications on just what to expect from the junior this season seems a fool's errand. It's not that he won't or can't take a leap closer to his potential. It's just his career has been one incident after another, and you start to wonder if he can ever take his gladiator body and couple it with adequate court awareness and fundamentals to become a reliable frontcourt factor.
The nine games missed as a freshman due to a misguided NCAA judgement. The DWI a season ago. And most recently, the missed Canada trip due to visa issues.
It's reasonable to expect Mosquera-Perea to start. It's reasonable to expect he'll be better. But just how much better is the unknown right now.
To spend more time on the court, it'll help if he cuts down on fouls (6.1 per 40 minutes, second worst on team behind Devin Davis at 7.4) and turnovers (25.7 turnover percentage, second worst on team to Davis at 25.8 percent). Tom Crean likes his teams to get to the line. More court time for Mosquera-Perea, who led the team in free throw rate (117.5) and shot it decent from there (72.3 percent) should mean more points, especially if he's getting easy dump-off and putback opportunities from Indiana's perimeter threats as they take it into the paint.
Any points he's able to put in via pick-and-rolls situations, set plays or his back to the basket wouldn't hurt, either.
Mosquera-Perea led the team in block percentage (6.1 percent) a season ago. Without a ton of interior presence this season, steady rim protection from the junior will be important. The same goes for the boards. Indiana needs Mosquera-Perea to rebound on both ends of the floor with consistency.
The aforementioned fundamentals and court awareness have been issues for Mosquera-Perea in his two seasons in Bloomington. If he enters the season improved in these areas, it should make everything else come a little easier. After IU's practice last Monday, Mosquera-Perea talked like a player who realizes that his time to grow his production has arrived.
"My role right now is a big role. Not just being that, being one of the oldest guys on the team," he said. "I feel like I have a lot that I need to accomplish with the team, helping the team on the court and off of the court. This off season I worked on a lot of things. My shooting. My post moves. My timing and just relaxing and just playing."
Bottom Line: Cody Zeller and Noah Vonleh ain't walking through that door. It's time for Mosquera-Perea to finally assume a large responsibility in the frontcourt in a season the Hoosiers need it. If he can stay on the court and be a legitimate, consistent threat on both ends, a player opposing teams have to scout and prepare for, it can make this team that much better. The frontcourt is sticking out as the team's biggest weakness as Hoosier Hysteria approaches. Mosquera-Perea has the opportunity to change the narrative by season's end if he's able to finally put it together this season.
Quotable: "It's time to play. It's time to be really serious about playing extended minutes. It's time to be an enforcer at the basket. It's time to show that toughness that his body gives you. It's going to have to happen or he won't be out there as much. We need his consistency. It's no more fun and games, now it's time for you to lock in and mature and not anymore talk, let's get at it." — Crean in June
Previous: James Blackmon Jr., Max Hoetzel, Robert Johnson, Tim Priller, Jeremiah April, Emmitt Holt, Troy Williams, Stanford Robinson, Devin Davis, Collin Hartman
Filed to: 2014-2015 season preview, Hanner Mosquera-Perea