2014-2015 Player Profile: Devin Davis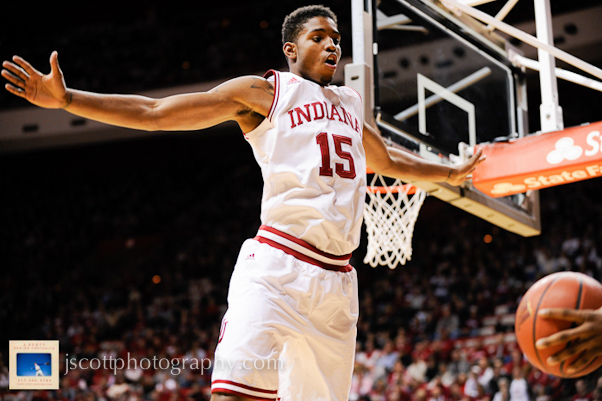 With the start of college basketball season on the horizon, we're taking a long look at the conference at large as well as Indiana's roster this month. Today, we continue our look at Indiana's roster with Devin Davis.
As questions still linger about just what Hanner Mosquera-Perea will bring to Indiana's frontcourt, Devin Davis enters the 2014-2015 campaign as perhaps the Hoosiers' closest thing to a known commodity.
Offense wasn't a strong suit of his game last season as a freshman, and it's unlikely Davis will be in line for a featured offensive role this year. What Davis may lack in height, he makes up for with a strong frame — putting on about 10 pounds of muscle this offseason — to bang in the post and muscle for rebounds. Which, along with finishing the opportunities he's given, might be all the Hoosiers really need out of him in the frontcourt this season with its host of scoring options on the perimeter.
Davis attempted just 18 field goals over five games in Canada, but made an impressive 14 of them to shoot 77.8 percent for the trip. He also returns as the team's top offensive (11.4 offensive rebounding percentage) and defensive (21.5 defensive rebounding percentage) rebounder among regulars. Davis ripped down 16 boards in 19 minutes during Indiana's first game in Canada. With Indiana lacking in the rebounding department heading in this season, it's an encouraging sign. Though, Davis would have just three rebounds in 22 minutes the next game.
"What he wants to erase is having 16 rebounds in 19 minutes the first night and then three rebounds in 22 minutes the next night," Indiana coach Tom Crean said at the time. "Those are the inconsistencies that he wants to erase."
Davis was a big part of the turnover issue last season, sporting the highest turnover percentage (25.8) among returnees. Any work with his back to the basket could be an adventure, but his offensive skills around the basket seems to be on the uptick based off his play in Canada.
The sophomore has the ability to hold his own defensively against smaller, quicker players, which will come in handy during switching situations. And if Indiana goes small with Troy Williams at the four, Davis would slide to the center position.
Bottom Line: Even if Davis doesn't draw a starting spot, he's likely to see a lot of playing time up front — especially when Mosquera-Perea finds himself in foul trouble. If he's able to shoulder the load on nights with Mosquera-Perea on the bench, it'll go a long way to bridge the gap between between the junior and untested newcomers Emmitt Holt and Jeremiah April. While Davis might not enter the season as a McDonald's All-American or with preseason first team Big Ten honors, he's an important part of the team the Hoosiers need production from game in and game out.
Quotable: "He was a big, big part of our opening last night and the things that we did there. He got to the other side of the rim tonight. He scored in the low post and took his time. He is rebounding the ball better and we are putting him in pick-and-rolls. Those are the things that he should be able to do for us. The versatility isn't just for the guys that play in the backcourt, the guys in the frontcourt have to be versatile as well and Devin is a big part of that." — Crean on Davis during the Canada trip
Previous: James Blackmon Jr., Max Hoetzel, Robert Johnson, Tim Priller, Jeremiah April, Emmitt Holt, Troy Williams, Stanford Robinson
Filed to: 2014-2015 season preview, Devin Davis