Notebook: Hoosiers looking for expanded role from Devin Davis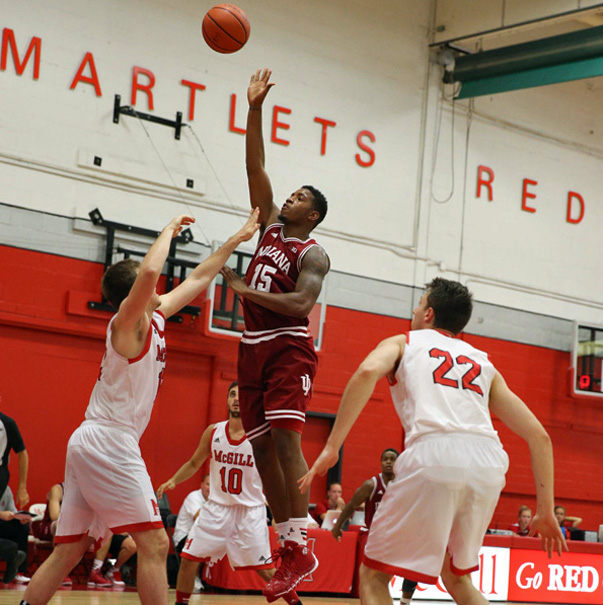 With Indiana's current lack of an effective big man on its trip to Montreal, the Hoosiers are looking for someone to step in and fill that role. Cue rising sophomore Devin Davis.
In the Hoosiers' first game of their Canada tour, Davis grabbed 16 rebounds. Against Carleton on Monday, he scored 13 points and recorded six rebounds. The 6-foot-7 rising sophomore started in Indiana's 96-69 win over McGill University on Tuesday night, as well, scoring seven points but earning just three rebounds in 22 minutes of action.
Following last night's contest, Indiana coach Tom Crean shared optimism about Davis for this upcoming season.
"I think he has worked hard at it but there is a lot of room for him to work even harder and develop," Crean said. "I thought tonight was his best game, offensively, although last night was his best game `intent-wise'. What he wants to erase is having 16 rebounds in 19 minutes the first night and then three rebounds in 22 minutes the next night. Those are the inconsistencies that he wants to erase."
During his freshman year this past season for the Hoosiers, Davis held a minor role behind the likes of Noah Vonleh, Jeremy Hollowell, Austin Etherington and Will Sheehey, averaging just 2.4 points and 2.6 rebounds in 8.8 minutes per game.
But with the departures of several Hoosiers big men, including Vonleh, Hollowell, Peter Jurkin and Jeff Howard, the team has been left with a lack of post presence. Davis has filled that void during the Canadian tour, thus far, and despite his smaller size he has made up for it through his versatility.
And heading into this upcoming season, the Hoosiers will look for that same impact as the team continues to mold together.
"He was a big, big part of our opening last night and the things that we did there," Crean said. "He got to the other side of the rim tonight. He scored in the low post and took his time. He is rebounding the ball better and we are putting him in pick-and-rolls. Those are the things that he should be able to do for us.
"The versatility isn't just for the guys that play in the back court, the guys in the front court have to be versatile as well and Devin is a big part of that."
Crean calls ball movement 'a strength'
Perhaps one of the biggest differences between this season's Hoosiers squad compared to last season is the newfound shooting ability. In Indiana's first four games in Canada, the team has had no worse than a 48 percent field goal percentage.
The early results have Crean optimistic heading into this season that ball movement — which was an issue during the 2013-14 campaign — might not be an issue anymore as his players continue to learn their defined roles.
"We're learning, there's no question about it," Crean said. "Ball movement is going to be a strength of this team because there's a respect level there. You don't have guys trying to prove they can do things that they can't do. We're trying to get better at things we're not as good at, but we're not trying to prove we can do things and to me, that's one of the keys."
Crean has been especially pleased with the ball movement during his team's Canada trip, noting that the shortened shot clock the Hoosiers are playing with has forced the offense to simplify, and in turn, make better plays. As he noted, the team has been forced to realize that offense can't start "with Yogi Ferrell moving the ball — it's got to start with everybody."
"I wouldn't trade the 24-second clock for the knowledge that we're getting," Crean said. "The more they continue to move the ball at a simple rate, the simpler they are with making that next pass — making what's there."
Hoosiers record 23 turnovers in Tuesday's win
One of the biggest issues Indiana dealt with last season was its turnover problem. The Hoosiers ranked No. 330 in the nation with a 21.8 turnover percentage. And on Tuesday, turnovers were once again an issue for the Hoosiers.
Despite its 27-point win over McGill, the team turned the ball over 23 times on just 10 McGill steals, compared to just 12 turnovers the night prior. But following Tuesday's game, Crean said he knew where the team went wrong.
"Too many of those turnovers tonight were unforced because we just didn't keep the game simple," he said. "Last night we didn't have that many and we kept the game simple. That's all part of it and we'll get to that point. We'll understand how to play simple basketball."
Of course, Tuesday's game also was Indiana's fourth in five days. And throughout the trip, the Hoosiers — and their opponents — have played at a fast pace, as each game has used a 24-second shot clock due to FIBA rules.
But the variety of game experience has allowed Crean to make important observations on how to cut down on the recurring turnover issue this season. And when the Hoosiers begin NCAA play this season, they will have an extra 11 seconds to deal with, as well, even if they might not utilize it.
"The one thing the teams do here is they're really attacking the ball, they're attacking the rebounds and they really try to run up and take the ball from you," Crean said. "That's some stuff we really have to learn. We have to be more aggressive with the ball, we have to get our head up on the dribble, we have to throw the ball out ahead."
Priller gaining more experience
After not playing during Monday's win over Carleton, 6-foot-9 freshman Tim Priller played 15 minutes in the Hoosiers' 96-69 win over McGill, scoring eight points on 3-of-3 field goals and 2-of-2 3-point attempts.
Following the game, Priller said he knew he would have to earn his minutes on this year's team. But he also noted the most important thing he needs to work on is not his scoring.
"I definitely have to earn my minutes, it is not just a given thing," he said. "I think I need to rebound, that is probably the biggest thing for me that I need to work on."
The second-tallest player on Indiana's roster at the moment, Priller did not record a single rebound on Tuesday. But the Richland (Texas) High graduate was not disheartened. In fact, he said he is even more motivated now as he continues to get better and looks to make an impact as a true freshman.
"I definitely need to get better – everyone needs to get better – but I need to get better at some things," he said. "My teammates are really helping me out. There is no negativity on the team and they are really just pushing me to do better and help them out as well."
Filed to: 2014-2015 foreign tour, Devin Davis, Tim Priller, Tom Crean