2014-2015 Player Profile: Emmitt Holt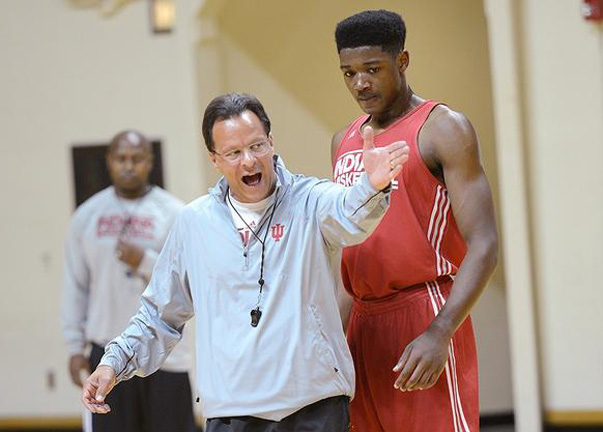 With the start of college basketball season on the horizon, we're taking a long look at the conference at large as well as Indiana's roster this month. Today, we continue our look at Indiana's roster with Emmitt Holt.
Adding a player in late August, particularly a freshman, isn't common in college basketball, but that's exactly what happened with Indiana and Emmitt Holt.
The 6-foot-7, 225 pound forward from Rochester, New York had originally opted to reclassify to the 2015 and attend Vermont Academy with the hopes of growing his game and his recruitment.
But Indiana's need for additional frontcourt help led new assistant coach Chuck Martin to inquire with Holt about taking a visit to Bloomington and moving back to the 2014 class. Holt made his visit to Bloomington in late August and committed while on the trip.
The decision to add Holt, who averaged 19.8 points, 14.6 rebounds and 5.0 blocks per game as a senior at Webster Schroeder High School, should give the Hoosiers another option in the frontcourt who can help right away, particularly on the glass.
Holt played AAU for the Albany City Rocks in Nike's Elite Youth Basketball League (EYBL) and put together impressive numbers that suggest he won't have a problem competing for minutes right away. In EYBL play, he averaged 11.6 points (60.2 FG%), 7.1 rebounds and 2.1 blocks per game.
"He was our most important player," Jimmy Hart, the director of the Albany City Rocks, told Inside the Hall in late August. "At the end of every game, if someone asked our guys who the MVP of the team was, everyone would vote for Emmitt."
Vermont Academy coch Alex Popp, who was expecting to have Holt in his frontcourt this winter, lauded the work of Martin for coming in late to seal the deal in his recruitment.
"He was a hidden gem," Popp explained. "He didn't play on the EYBL with City Rocks until after he graduated high school. If he would have been at Vermont (Academy), he certainly would have had some other BCS schools involved, there's no doubt.
"Chuck Martin did a great job recruiting him. He killed it. They're doing a great job of recruiting this region, which isn't easy. Coming from the midwest to get guys like Noah Vonleh and now Emmitt Holt, trust me, it's not easy for schools in the midwest to come into the northeast and get players."
With Holt in the fold, Indiana should feel better about its frontcourt depth behind Hanner Mosquera-Perea and Devin Davis. He may not be a traditional big man, but his freakish wingspan (7-foot-3) combined with his wide base should make him a solid candidate to crack the rotation immediately.
Bottom line: There's still some uncertainty when it comes to Holt just because he wasn't followed very closely on the recruiting trail, but unlike with Tim Priller and Jeremiah April, he put up numbers at the highest level of AAU that suggest he'll be capable of producing right away. Holt will be one of the guys that Indiana fans will be most interested to see in a couple of weeks at Hoosier Hysteria and if he can give Indiana the additional frontcourt rebounding and defense that it needs, the shrewd move to add him in late August could end up being a pivotal development in IU's success this season.
Quotable: "We are excited to bring Emmitt to Indiana at such a late date. We determined that we needed another quality player up front and we were able to uncover Emmitt's potential availability. He is coming off a very impressive high school season and also an outstanding spring and summer with the Albany City Rocks. He would have been a high level recruit this coming year and we are happy to have him now." – Tom Crean on Holt.
Previous: James Blackmon Jr., Max Hoetzel, Robert Johnson, Tim Priller, Jeremiah April
Photo credit: IU Athletics
Filed to: 2014-2015 season preview, Emmitt Holt