Indiana lands 'hidden gem' in Emmitt Holt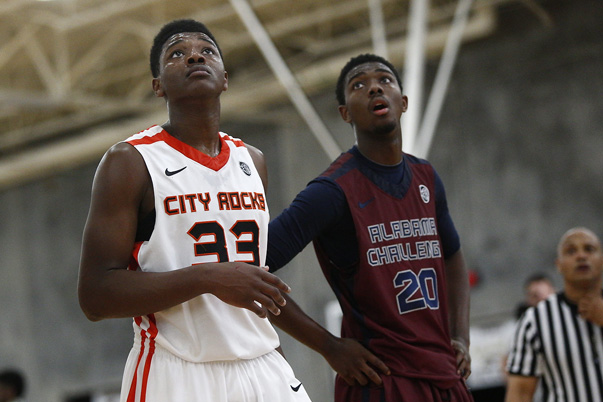 When college coaches watched the Albany City Rocks in Nike's Elite Youth Basketball League, Emmitt Holt wasn't the first player who jumped out in the layup line.
He's not flashy, he's not as tall as some of his AAU teammates and coming from a small suburban high school near Rochester (N.Y.), wasn't a household name in recruiting circles.
But if you examined a statsheet at the end of an EYBL contest, it's hard to dispute Holt's production.
Through three EYBL sessions, he led the league in shot blocking and his final numbers suggest he belongs at the highest level of college basketball: 11.6 points (60.2 FG%), 7.1 rebounds and 2.1 blocks per game.
"He was our most important player," Jimmy Hart, the director of the Albany City Rocks, told Inside the Hall. "At the end of every game, if someone asked our guys who the MVP of the team was, everyone would vote for Emmitt."
That type of endorsement stands out, especially when you consider that the City Rocks feature several guys who are already committed to high-major programs like 2015 forwards Tyler Lydon (Syracuse) and Elijah Burns (Notre Dame).
The original plan for Holt, who was a runner-up for the Mr. Basketball Award at Webster High School, was to complete a post-graduate year at Vermont Academy in order to expand his recruitment. The opportunity to play against the best competition in the New England Preparatory School Athletic Council (NEPSAC) was a major reason for choosing Vermont Academy.
But as July concluded and Indiana's search for frontcourt help continued, assistant coach Chuck Martin inquired with Hart about the possibility of pursuing Holt as a 2014 prospect.
"It was not a well known fact that he had enough credits to graduate," Hart explained. "He had some offers, but nothing he really liked."
After Indiana got involved, things developed quickly.
Holt visited Indiana on Monday and by Wednesday morning, he committed to the Hoosiers before leaving campus.
Alex Popp, who is entering his first season as coach at Vermont Academy after serving as Director of Basketball Operations at Holy Cross, had planned on having Holt in his frontcourt, but called IU's move to get involved late "smart."
"He was a hidden gem," Popp explained. "He didn't play on the EYBL with City Rocks until after he graduated high school. If he would have been at Vermont (Academy), he certainly would have had some other BCS schools involved, there's no doubt.
"Chuck Martin did a great job recruiting him. He killed it. They're doing a great job of recruiting this region, which isn't easy. Coming from the midwest to get guys like Noah Vonleh and now Emmitt Holt, trust me, it's not easy for schools in the midwest to come into the northeast and get players."
Given the loss of Vonleh to the NBA, Indiana's need for additional frontcourt help beyond Hanner Mosquera-Perea and Devin Davis is well documented.
According to Popp, Holt has a chance to help immediately on the boards.
"His wingspan is 7-foot-2 or 7-foot-3," he said. "The other part of it (with the rebounding) is that he wants it more than other guys. He wins the 50-50 balls, he rebounds out of his area."
Hart believes that Holt is unique for a frontcourt player because of the intangibles he brings.
"A lot of qualities you'd want in your point guard, he gives in your front court," Hart said. "He talks, makes others better. You usually associate that to a point guard. Most bigs don't make perimeter guys better."
Holt's height, which has been listed at anywhere from 6-foot-6 to 6-foot-9, is actually 6-foot-7 according to Hart, who said he's the same size as current IU sophomore Devin Davis.
While 6-foot-7 may be viewed as undersized by some, Holt's wingspan is the more important number to take into account.
"I think he's still growing, he's got a baby face," Popp said. "They're getting a guy of high character with intangibles that are off the charts. They're getting an elite level rebounder and a guy that just plays with tremendous efficiency."
(Photo credit: Jon Lopez/Nike Basketball)
Filed to: Emmitt Holt