2014 forward Emmitt Holt commits to Indiana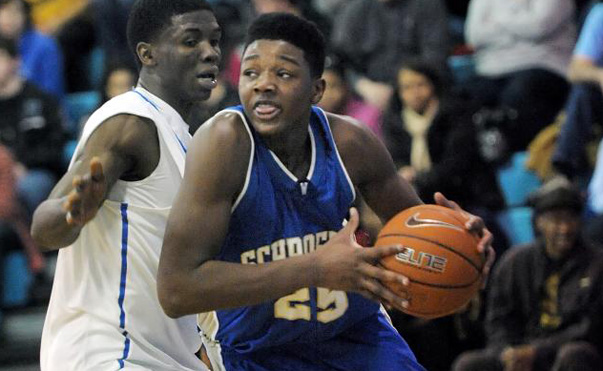 Indiana's 2014 recruiting class has a sixth member.
Emmitt Holt, a 6-foot-7, 225 pound forward from Webster (N.Y.), is coming to Bloomington as a member of IU's 2014 class rather than moving to the class of 2015 and attending Vermont Academy, Inside the Hall has learned.
Holt confirmed the commitment on his Twitter account along with the following message:
"My parents always told me that the worst feeling in life is to look back and say "I wonder" because once doors close it's rare they are reopened," he wrote.
"Today I would like to announce that I have committed to Indiana University. I want to take the time out to thank God for giving me this opportunity along with my family, coaches, friends and everyone that has supported me along the way. #NewBeginnings #GoHoosiers."
Holt, who reportedly wears a size 18 shoe and has a 7-foot-3 wingspan, is expected to add depth, rebounding and toughness around the rim.
In his senior season at Webster Schroeder, Holt averaged 19.8 points, 14.6 rebounds and five blocks and was a finalist for the Mr. Basketball award in New York.
He also had a highly successful AAU season, which culminated at the AAU Nationals in July in Louisville where he averaged 21 points, 13 rebounds and 4 blocked shots in nine games as his Albany City Rocks team finished second in the event.
During the 2014 Nike Elite Youth Basketball League (EYBL) season, he averaged 11.6 points (60.2 FG%), 7.1 rebounds and 2.1 blocks per game.
Alex Popp, the coach at Vermont Academy, offered this assessment of Holt earlier this month to CityofBasketballLove.com:
"He's versatile because of his ability to pass the basketball. He can guard multiple positions. He's listed at 6-7 but his wingspan is 7-3. He has one of those Elton Brand bodies. You see him and you have to kind of look at him a little bit to take in exactly what his body is like. He has these size 18 sneakers so we're convinced that he's still growing. He has the baby face with the million-dollar smile.
"He lets the game come to him. He'll go a first half where he only has four points, six rebounds, and one block and you're waiting for him to break out. He really has a knack for letting the game come to him and I think that's very special for a young guy like himself."
Holt becomes the 13th scholarship player on Indiana's 2014-2015 roster.
— EAZY E (@holt_real) August 20, 2014
Filed to: Emmitt Holt