2014-2015 Player Profile: Jeremiah April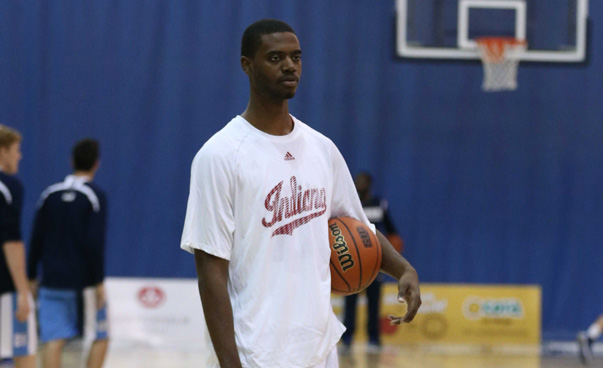 With the start of college basketball season on the horizon, we're taking a long look at the conference at large as well as Indiana's roster this month. Today, we continue our look at Indiana's roster with Jeremiah April.
The midseason departure of Luke Fischer and subsequent decision by Noah Vonleh to enter the 2014 NBA Draft left Indiana in need of front line depth last spring.
Spring recruiting, with the exception of a few top flight guys who wait to sign each year, can boost the stock of lower rated prospects as schools move quickly to fill roster spots. In the case of Jeremiah April, his commitment was a major surprise because he came from off the radar.
April, a 6-foot-11, 240 pound center, who is from Joliet, Illinois, played last season at Westwind Prep in Phoenix, Arizona. His recruitment picked up last spring when IU, Arizona State, Marquette and Washington State all offered scholarships. Originally a member of the 2013 class, April did a postgraduate year at Westwind Prep and averaged 19 points and 11 rebounds, according to coach Jai Steadman.
"He just turned 18 and he's got huge upside. He can score, he's played against the best," Steadman told Inside the Hall back in April. "He's athletic, runs the floor, has a high motor and high basketball IQ. He should be ready to go."
But unfortunately for April, his career at Indiana hasn't gotten off to a smooth start. He missed all five of IU's games in Canada with a left ankle injury. Minutes in those exhibition games would have been valuable for April, who from most indications is going to need time to develop into a reliable contributor.
Since returning from Canada, April has been spotted on campus and at football games wearing a boot on his ankle and Tom Crean recently told The Indianapolis Star that not much has changed since Canada. According to the Star's report, the freshman big man is still receiving treatment for the injury and IU is proceeding with caution.
So where does this leave April in IU's rotation as a freshman?
Crean has been complimentary of April's ability to shoot the ball and block shots, but also acknowledged in June that he is "relatively raw." With Hanner Mosquera-Perea and Devin Davis in line to get the first shot at frontcourt minutes and fellow freshman Emmitt Holt also looming, the more court and practice time April misses pushes him further down the depth chart.
And until we actually see April on the floor in a live situation and fully healthy, it's hard to project him for anything more than spot minutes.
Bottom line: April was a late add for the program that was based more on potential than an actual body of work to this point. At 6-foot-11 with some skill that needs polish, he's a player who Indiana hopes can develop over time. Projecting his impact as a freshman is difficult to do without seeing him on the floor in Canada.
Quotable: "Jeremiah, he's got very good timing, he's got excellent hands for a big player. He's got a tremendously soft touch. So very soft hands and a soft touch. And it'd be a lot different story, because he's relatively raw there's no question about that, but if he didn't have really good hands and didn't have a really nice touch, then you're looking at a guy who may not become a good shooter. We think he's going to become a very good shooter. He's got good timing on blocking shots. I don't think he understands the intensity level yet that he's capable of playing at on a daily basis or what's going to be expected of him. I love his attitude, I love his family. I really like his coach and I like how excited he is to come to Indiana." – Crean on April.
Previous: James Blackmon Jr., Max Hoetzel, Robert Johnson, Tim Priller
Filed to: 2014-2015 season preview, Jeremiah April