2014-2015 Player Profile: Robert Johnson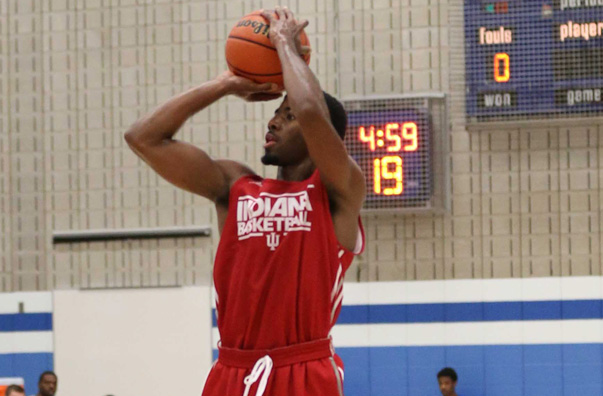 With the start of college basketball season on the horizon, we're taking a long look at the conference at large as well as Indiana's roster this month. Today, we continue our look at Indiana's roster with Robert Johnson.
Robert Johnson's commitment to Indiana in September of 2013 was a stabilizer for the program's class of 2014 recruiting efforts. After James Blackmon Jr. opted to reopen his recruitment a little more than a month before, the Hoosiers entered last fall without a commitment.
Johnson was a player the Hoosier staff scouted heavily in the summer and his strong play with the Boo Williams Nike Elite Youth Basketball League team boosted his national profile significantly. In order to land Johnson, Indiana had to go into Richmond, Virginia and beat out the likes of North Carolina, Virginia and Florida State, which was no easy task.
When it came time for Johnson to make his announcement, most had him pegged for North Carolina, which made his decision to don the cream and crimson a major recruiting coup for the program.
So why was Indiana the right place for Johnson? Simply put, he felt like he was really needed in Bloomington.
"The biggest thing I think was that every time I talked to coach (Tom) Crean, he always talked about not how much he wanted me, but how much that they really, really needed me," Johnson explained. "I think there's a difference between when somebody wants you and somebody really, really needs you because then they're going to do everything in your best interest to make sure you get better because it not only is benefitting you, it is benefitting them also and benefitting the team."
As Johnson prepares for his first collegiate season, he's expected to be a major part of Indiana's quest to return to the NCAA tournament. On IU's five-game tour of Canada, he played significant minutes and contributed in a variety of areas. At 6-foot-3 and and 195 pounds, Johnson has a college ready body and it's easy to see that he's been well coached in both high school and AAU.
While he struggled a bit with his shooting in Montreal, he still put together an impressive stat line on the trip: 9.8 points, 4.6 rebounds, 3.8 assists and 2.2 steals in 24 minutes per game.
Given the fact that Indiana is going to need its guards to rebound, his proficiency in that area is something that could make him a more attractive option than Nick Zeisloft or Stanford Robinson, the two players he'll be battling for a spot in the starting lineup. Johnson is also probably the best ball handler among that trio and it's not out of the question that he'll play spot minutes at the point guard when Yogi Ferrell needs a break or if Crean wants to move Ferrell off the ball for stretches.
Crean has talked about the versatility he expects this Indiana team to have on the perimeter and Johnson, along with fellow freshman James Blackmon Jr., are big reasons for that optimism.
"They're fully capable of being guys who can do numerous things for us and will be known for a lot more than just shooting, driving, offense, things of that nature," Crean said. "No question about it."
Bottom line: While Blackmon Jr. gets the majority of the headlines and notoriety when it comes to discussing IU's freshman class (and deservedly so), Johnson will be a significant contributor from day one. He's a year older than most freshman and is also more physically mature than most newcomers, which should allow him to make an easier transition to the college game. Much like Blackmon Jr., he doesn't get rattled easily, makes the game easier for his teammates and is someone who will develop into a leader in the locker room. Johnson's shooting woes in Canada shouldn't be a major concern as his track record suggests he'll be a force on the perimeter.
Quotable: "I think one of the reasons he chose Indiana was because his skill set translated best there to getting on the court. Not just for playing time, because he could have gone anywhere and gotten playing time. But he fills a need. Him and James (Blackmon Jr.) fill a need." – Johnson's high school coach, Ryan Marable.
Previous: James Blackmon Jr., Max Hoetzel
Filed to: 2014-2015 season preview, Robert Johnson