Robert Johnson ready to embrace challenge that awaits in Bloomington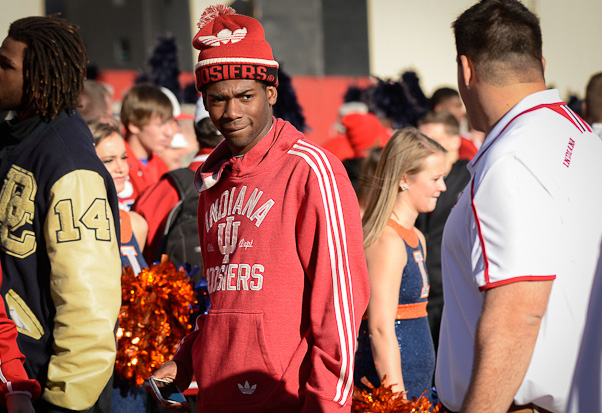 In his first season as the head coach at Benedictine College Preparatory in Richmond, Virginia, Ryan Marable had a significant challenge to undertake.
It wasn't an unfamiliar situation for Marable or something he didn't know was coming as he'd spent the previous two seasons as an assistant on the Benedictine staff.
But as four starters departed the program for Division I destinations, the Cadets had plenty of production to replace and had only one constant remaining: Robert Johnson.
"We're kind of similar to Indiana in terms of our basketball culture," Marable told Inside the Hall. "If we don't win the state championship, a lot of people say it's a down year."
Benedictine didn't win the state championship.
But no one can consider their season, which ended up at 25-7 against a schedule that included opponents like Paul VI Catholic (Va.), St. Benedict's (N.J.), and Huntington Prep (W.V.), anything but a success. A primary reason the program was able to sustain its winning ways was Johnson, who signed with Indiana last fall after a highly contested recruitment between the Hoosiers, Florida State, North Carolina and Virginia.
"His ability to not only score points when needed, but make other guys better was really the basis (for winning games)," Marable said. "I feel like he really grew into almost a college freshman playing high school basketball this year."
When Marable speaks about Johnson, he's a voice who can provide a unique perspective on the growth of a player who rose from having mid-major offers to the No. 47 player nationally in the 247Composite.
The Benedictine coach has known Johnson since he was in the sixth grade, which is when he first began coaching him.
"He's always been in love with the game of basketball and he's been one of those kids that kind of sits back and learns from other people's games," Marable said. "He's very mature in the fact that he can identify his weaknesses and then he goes out on his own or with a coach or his dad or whoever and works on his game on his own. He's probably one of the hardest working kids that I've ever been around. And we've been around some really successful basketball players."
That hard work helped Johnson grow his game significantly over time. It's what allowed a kid who had an early offer from UNC Greensboro transform and grow into a player than Indiana will count on heavily in its backcourt next winter when the season tips off.
The challenge that awaits, according to Marable, excites Johnson.
"I think one of the reasons he chose Indiana was because his skill set translated best there to getting on the court," Marable said. "Not just for playing time, because he could have gone anywhere and gotten playing time. But he fills a need. Him and James (Blackmon Jr.) fill a need."
There's no doubt Indiana had consistent shooting help in mind when it began assembling its 2014 recruiting class. The Hoosier staff addressed the issue with the additions of Johnson, Blackmon Jr. and forward Max Hoetzel.
But as he approached his first season as the head coach at Benedictine, Marable not only looked at the present when coaching Johnson and his teammates, but also towards the future.
"One of the things we wanted to do, one of the goals we set was, 'what are you going to have to do your freshman year at Indiana?' You're not just going to have to shoot the ball," he explained. "You're going to have to handle it a little bit, you're going to have to get them into the offense a little bit, you're going to have to rebound the ball from the guard position, you're going to have to guard quick point guards, two-guards, three-guards."
And that's exactly what he did in his senior campaign.
Johnson led the Cadets in scoring (24.5 ppg) and rebounding (6.3 rpg) while routinely guarding the opposition's best player and being the primary focus on the scouting report. He was efficient, too, as evidenced by his effective field goal percentage of 54.1.
Despite averaging close to 13 points more than any other player on the Benedictine roster, Marable said Johnson never got away from trying to make his teammates better. He never hunted shots. He never barked at teammates to give him the ball. He just got after it on a nightly basis.
One coach who went head-to-head with Benedictine and Johnson this past season summed up his thoughts succinctly when asked about the future Hoosier: "He's tough."
"He was really, really consistent night in and night out," Marable said. "Regardless of whether his shot was falling."
Benedictine's season ended earlier this month in the Alhambra Catholic Invitational Tournament and Johnson, who plans to arrive in Bloomington in time for summer school, is taking a short break to rest his body before resuming basketball activities. According to Marable, he'll then continue to work out with his father, Robert Sr., and his friend, four-time NBA defensive player of the year Ben Wallace, who owns a gym in Richmond.
From there, he'll play in a couple of all-star games, including the Derby Festival Basketball Classic in Louisville next month and play in open gyms at Benedictine before leaving for Bloomington.
When he departs, it'll be a new experience for Johnson, but one that he's ready to embrace.
"He's got to get up there and make sure he buys in and does everything he's been doing, but on a much grander scale when it comes to the hard work, the learning, the leadership," Marable explained. "I know he's really excited to get up there, see where he fits in, get better and get under Coach Crean and his staff's guidance."
Filed to: Robert Johnson