That's A Wrap: Collin Hartman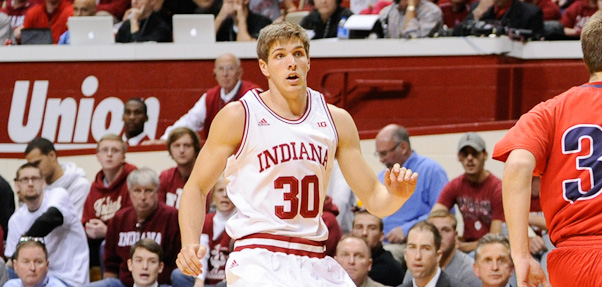 Welcome to "That's A Wrap," our player-by-player recap of the 2013-2014 Indiana Hoosiers. Today: Collin Hartman.
Hartman (16 games): 0.7 points, 0.9 rebounds, 0.1 assists, 45.5% FG, 50.0% FT in 4.5 minutes per game.
Well before the 2013-2014 season began, on Oct. 2, Indiana coach Tom Crean spoke at his annual State of the Hoosier Nation event and addressed what he wanted out of each player.
When he stopped at freshman Collin Hartman, one of six (at the time) on scholarship, the Hoosiers' head coach said Hartman would be a guy they "need to make shots."
"We need him to be a ball-mover, a body-mover; a guy that can space and knock down shots," he said.
Nearly six months later, the season has ended. Hartman took just 11 shots and saw 72 minutes of action in only 16 games. So, what happened?
Early in the season, when Indiana lacked any additional scorers to complement sophomore Yogi Ferrell, Hartman was given a chance to come in and solidify a spot in the Hoosiers' rotation.
He played in a sixth-man role in Indiana's early games against Samford and Stony Brook, scoring a season-high five points against the Bulldogs by going 2-for-3 from the field. Crean liked the way Hartman brought energy from the bench. But the following game, he went 0-for-2 against the Seawolves in 12 minutes of action.
After that, Hartman would rarely see the court — playing just 16 total minutes in Big Ten action.
Indiana needed shooters, and Hartman still didn't play. Perhaps he wasn't aggressive enough when he had his opportunities on a team that needed it. Perhaps he wasn't ready in his freshman year to make major contributions.
And after his freshman season went out with a whimper instead of a bang on the court, Hartman tore his right ACL during a workout on March 15. Instead of working on his game over the summer, he will be rehabilitating with hopes of being ready to go come next fall.
Bottom line: As if the season already didn't turn out the way Hartman and the Hoosiers might have hoped, yet another challenge has been added to Hartman's path toward being a contributor. But the Hoosiers need Hartman to show he can be a shooter at the college level. It might take longer than expected to prove just that.
Previously: Stanford Robinson, Troy Williams
Filed to: Collin Hartman