That's A Wrap: Stanford Robinson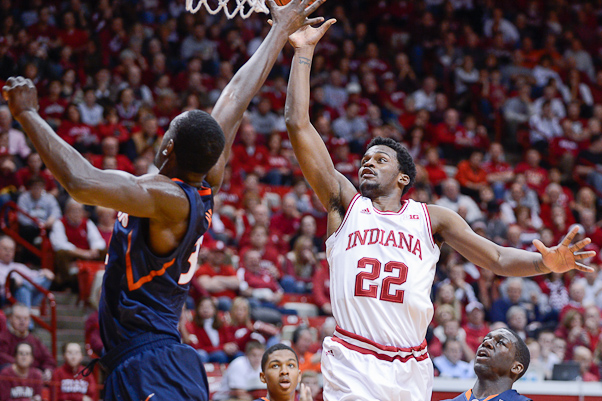 Welcome to "That's A Wrap," our player-by-player recap of the 2013-2014 Indiana Hoosiers. Today: Stanford Robinson.
Robinson (32 games): 6.4 ppg, 2.5 rpg, 1.0 apg, 44.8% FG, 18.8% 3PFG, 60.0% FT in 16.9 minutes per game.

Heading into the start of the 2013-2014 season, it was apparent that Indiana would need its freshmen to contribute significant minutes after it lost more than 75 percent of its scoring from just one season earlier. And one of those players that the Hoosiers looked to rely on was 6-foot-4 Stanford Robinson, a guard out of Landover, Md.
And boy, did Robinson contribute.
From the first time Indiana fans saw Robinson's game as a Hoosier — a get-to-the rim, fearless type — they came away impressed. That first impression came during the annual Hoosier Hysteria scrimmage, but in the waning seconds he injured his right knee and had to be helped off the court.
He would miss the Hoosiers' opening exhibition against Southern Indiana and much of the preseason practice slate with that bruised knee, which slowed his contributions toward the beginning of the season. In the non-conference, he averaged 4.8 points in just 10 minutes per game.
But as the season went on and Robinson got more and more comfortable within the Hoosiers' offense, the freshman guard gained confidence with his game. Robinson became known as one of the Hoosiers' best players at getting to the basket and finishing, notably scoring a then-career-high 13 points off 6-of-10 shooting in their 75-72 upset over Wisconsin on Jan. 14.
He would lead the Hoosiers' regulars in drawing fouls (an average 5.3 every 40 minutes of game time) and set a career-high again in the Hoosiers' 93-86 win over Iowa, in which he netted 17 points off 5-of-6 shooting and 7-of-10 free throws.
By the end of the season, Robinson was a regular part of the rotation — he went on to start nine games — and proved to be a valuable slasher on a team that didn't have many to begin with. Robinson saw his shooting from the free throw stripe improve as the season moved along, too, from 50 percent in the first 21 games (26-of-52) to a 73.7 percent rate (28-for-38) in the final 11 games.
Of course, all was not smooth sailing for Robinson this season. His turnover rate of 22.0 was far greater than his assist rate of 12.6 — a team-wide problem this season — and his 3-point shooting still leaves much to be desired at just a 3-of-16 mark in the 32 games played.
Bottom line: Despite a season that started with injury, Robinson battled and forged his way into Indiana's rotation as a freshman that was known for his fearlessness around the basket and a play-maker on a team that struggled to find many. Robinson showed a track of improvement throughout the season, and though he certainly has things to work on over the offseason, it was indeed a promising freshman season for the Maryland native.
Filed to: Stanford Robinson