2014-2015 Player Profile: James Blackmon Jr.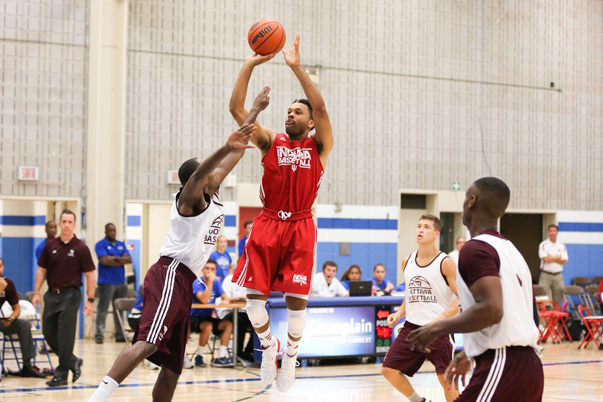 With the start of college basketball season on the horizon, we're taking a long look at the conference at large as well as Indiana's roster this month. Today, we start our look at Indiana's roster with James Blackmon Jr.
James Blackmon Jr.'s decision to re-open his recruitment in August of 2013 was a crippling blow at the time for Indiana. After the Hoosier staff had spent another summer tracking Blackmon Jr. around the country, the five-star guard decided he wanted to look around and assess his options.
But after two-plus months of visits, phone calls and the best efforts of some of the country's top programs, Blackmon Jr., in front of a national television audience, announced that Indiana was the place for him.
"This was where my heart was," Blackmon said. "I couldn't imagine myself not playing for the fans of Indiana basketball."
Fast forward to almost one year later and the 6-foot-4 shooting guard is preparing for his first season in Bloomington, where he'll be expected to play a major role.
He's already been recognized as one of the top 20 guards in the country by Sports Illustrated because of his prowess as an elite scorer and shooter. "Indiana needs shooting. Badly," SI wrote. "Blackmon addresses scoring from the perimeter instantly as one of the best marksman among the incoming freshmen, and he's building strength to endure the workload."
And unlike most freshmen, Blackmon Jr. had the opportunity to get a jump start on his college career as Indiana took a five-game exhibition tour of Canada in August. The Fort Wayne native was the team's leading scorer on the tour as he averaged 18.8 points and posted an effective field goal percentage of 65.3.
So how does Blackmon Jr.'s game translate to college?
In an Indiana offense that is built around perimeter shooting and guys who are, as Tom Crean has said frequently, "downhill players," the fit seems almost perfect. Blackmon Jr. could be the best pure scorer that Crean has recruited in his time at Indiana and after last year's offensive struggles, plugging him into the equation is a potential game-changer for the program.
We saw flashes of how Indiana's offense will look with Blackmon Jr. on the floor during the Canada tour and the impact should be most felt by Yogi Ferrell, who will no longer be the only perimeter player that defenses have to key on. Beyond the scoring, Blackmon Jr. is an unselfish player, a good teammate and has already made significant gains in strength and conditioning since his arrival on campus.
"He has such a gift of scoring and shooting and feel for the game that his passing will get better," Crean said. "His decision-making will get better but his ball-handling and explosion game has to continue to get better. You are seeing flashes of it, but you aren't seeing it where it needs to be with the ball yet. But that will come and it will be pretty impressive when it does."
Bottom line: Blackmon Jr. should join Yogi Ferrell as a starter in Indiana's backcourt from day one and it will be no surprise when he leads Indiana in scoring regularly. He still has plenty of work to do defensively, which he admitted was an offseason focus during an interview in Canada, but you won't find many freshmen who have the mental makeup and calm personality that Blackmon Jr. does. He's been well coached by his father, James Sr., and his even keel approach to the game is a major reason why he was consistent throughout his prep and AAU career.
Quotable: "It was like the craziest thing in my life. There was like five minutes left in the game, I don't know what I'm doing and I have to set up for the ESPN thing and I'm just thinking in my head, going back and forth still. And even when I sat down in the chair, I'm going back and forth with it. I had the two hats right there and I just kept staring at them and it just hit me at the last second." – Blackmon Jr. on his decision to recommit to Indiana.
Filed to: 2014-2015 season preview, James Blackmon Jr.