Q & A: James Blackmon Jr. talks Indiana commitment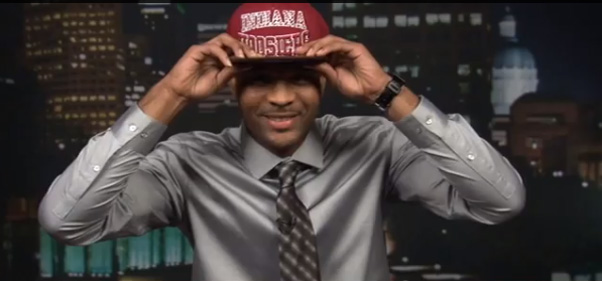 In a decision that literally came down to the final moments before going on air on ESPNU, James Blackmon Jr. committed to Indiana on Thursday night.
Inside the Hall talked at length with No. 31 player in the 247Composite on Friday evening about a variety of topics and a full transcript of our conversation is included below:
Inside the Hall: What was different about the decision making process this time aside from the fact that you're three years older? When you committed the first time, I'm not sure how many schools you'd visited at that point, but what was different about the process this time than the first time you made your decision?
James Blackmon Jr.: This time, I looked around, I looked everywhere and I found some good schools. They were great. I felt like my top five, all of them would have fit me well and I would've had great careers at all of them. It just came down to where I was going to feel the most comfortable, the most at home and had the best relationship with the players and coaches. That's what it came down to.
ITH: How much did the visits to the other schools give you a better appreciation for what you had at Indiana? I know you said you liked what you had at those schools, but did that help you realize that maybe what you had at Indiana was a little bit different than those places?
JB: I think it made me realize what I had at Indiana because it is a great program, too. It's a great program. It fits me the best. I think that's what it came down to and it was a real tough decision but I think that I made the right one.
ITH: Going back to when you decided to reopen things, were you worried at all that things with Indiana were going to be over and were you surprised at how they kept after you even after you decided to look around?
JB: The way that we decommitted wasn't like a 'we're never coming back.' It was more of like 'we just want to look around and see what else is out there.' I think that they understood that and coach (Tom) Crean understood that. I feel like the relationship got even stronger and they just told me how much they needed me. That's what they kept preaching to me, how much I could make an impact at that program and how much the people would love me there and I just thought about it and thought about it.
ITH: How much did you pay attention to what people were saying going into your announcement? There were people saying you were going to Kentucky for sure. People were saying you were going to Michigan. How much did you hear that type of stuff and how did you keep focused on making your decision without listening to any of that?
JB: I really heard a lot of Kentucky and to be honest, Kentucky and IU were my top two until the last minute. I actually was going to go with UK and then I just thought about it until the last minute and that was when I just like, 'I'm just going to stay home.' It really just came down to the last minute. People don't know how tough of a decision it really was.
ITH: Did you feel pressure, not specifically from your dad, but since your dad went to Kentucky, did you feel pressure to go there because he went there? Did that weigh in your mind at all?
JB: No, I didn't feel pressured at all because knowing my dad went there, I always looked at Kentucky as a great place because he played there. But my dad just told me to do what I feel. They really didn't pressure me at all. They just told me what they thought the pros and cons were and just left it up to me and I really just thought Indiana was the best place for me. That really wasn't the biggest factor.
ITH: How did it come about with you being able to announce on ESPNU and just talk a little bit about that experience. From what you said with it going down to the wire, what were your nerves like and how were you feeling leading up to it?
JB: It was really tough for me, but I appreciated ESPN for it. They just called my dad up one day and just said that I'm a player that they would like to put on ESPN and it was just really a blessing and I felt great about it. Going into the decision, I knew it was going to be hard because it was going to be on ESPN. I think it added a little more pressure and I've never had a decision like that in my life. I'm just glad I got it all out and it's over now.
ITH: So coach Crean didn't know what you were doing? Was he watching ESPNU, too? Was that how he found out?
JB: Yeah. I basically just told coach Crean that I was going back and forth with it. He never gave up. He just told me what he felt like and what he thinks I can do at the program. He never gave up and it was a last minute thing. I called him right before I was going on and told him and I guess he was watching and was really excited.
ITH: How appealing was the opportunity to stay and play at your home state school to you? It sounds like you were willing to go wherever you felt was the best fit, but how big of a factor was it that you were able to stay a little closer to home and play at a place where the fans will remember that you stayed with Indiana?
JB: I thought about that, too. Indiana fans will appreciate me, but really, it was just where I felt the most comfortable and I would go however far it was. It just came down to where I felt comfortable and I felt that Indiana was the place for that. My parents and my family can come watch me and that's a big thing for me because they've always been there for me.
ITH: How do you feel today as opposed to how you've felt the last couple of weeks?
JB: I feel a lot better. Today I was just back to my old self. People could tell that I was just thinking and thinking about it this whole past week. Today I'm making people laugh like I usually do. I guess it was just a relief.
ITH: Were you surprised at all at how big of a deal it became? You had fans from all of these different schools saying stuff to you on social media and this thing kind of took on a life of its own last night with the buildup and nobody knowing what you were going to do. Were you surprised by all of the attention it got and how did you handle all of that?
JB: Yeah, I was real surprised by the attention it got but I really didn't pay attention to it. People didn't know what I was going to do and I really didn't know until the last second because Kentucky and Indiana were going back and forth in my head. I really didn't pay attention to it and kept thinking to myself 'what do I want?' and 'where will I want to make my journey?' 'Which fans, which coach and which teammates did I want to be with?'
ITH: Did you have two hats there? You're sitting in the studio, going on at halftime and they're telling you kind of when you're going to go on. How down to the wire was it?
JB: It was like the craziest thing in my life. There was like five minutes left in the game, I don't know what I'm doing and I have to set up for the ESPN thing and I'm just thinking in my head, going back and forth still. And even when I sat down in the chair, I'm going back and forth with it. I had the two hats right there and I just kept staring at them and it just hit me at the last second.
Filed to: James Blackmon Jr.