2014-2015 Player Profile: Max Hoetzel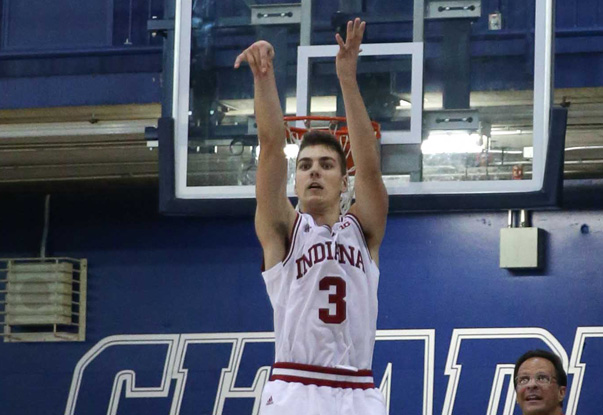 With the start of college basketball season on the horizon, we're taking a long look at the conference at large as well as Indiana's roster this month. Today, we continue our look at Indiana's roster with Max Hoetzel. 
The story behind Max Hoetzel's recruitment to Indiana is somewhat ironic. After all, the 6-foot-8 forward likely would not be donning the cream and crimson this season had it not been for current UNLV freshman Goodluck Okonoboh.
The summer before his senior year of high school, Hoetzel chose to transfer from his hometown Calabasas (Calif.) High to Wilbraham and Monson (Mass.) Academy in order to gain more exposure for his recruitment. At the time, Indiana was recruiting Okonoboh as part of its 2014 class.
And when Indiana coach Tom Crean and then-assistant Kenny Johnson arrived on campus to watch Okonoboh, WMA coach Chris Sparks convinced them to watch his newest player — one he knew they certainly would be interested in due to the Hoosiers' lack of 3-point shooters.
"He's a lot like a Chandler Parsons type," Sparks said at the time. "I'd compare him to Kyle Korver too, but that'd be selling him short on his athletic ability."
Indiana, of course, had that same vision. After watching him that day, the Hoosiers stayed in touch and brought him to Bloomington for an official visit the weekend of Oct. 25. He committed just two days later.
Though many Hoosiers fans had yet to see Hoetzel in action, many were not sure how he would fit into the system or what he brings to the table.
Over the next several months, that assessment started to form. He won the 3-point shooting contest at the Derby Festival Basketball Classic and finished his season at WMA on a high note, with Sparks saying that "he made significant strides, was a huge contributor for us and really led to our success in the league."
But Sparks admitted he knew what Hoetzel's biggest challenge will be during his freshman season: improving his strength and his stamina. During the Hoosiers' preseason trip to Montreal, Hoetzel was sidelined for "jogging" during a game. Even then, though, Hoetzel showed flashes of what he brings to the table, averaging 5.6 points and three rebounds in 13 minutes per game and nearly half of his field goal attempts coming from behind the 3-point arc.
In July, Crean said he hoped for Hoetzel to be a potential option to make shots as a trailer on the fast break.
"We need him to be a shot maker," Crean said. "We need him, big key now is getting him to be able to get the ball out of bounds and run the break and trail. We never got the trail position worked out last year."
But Crean also noted that Hoetzel does not have the strength base other freshmen are coming in with. And that is something Hoetzel will continue to work on throughout his freshman year.
"Strength is a big thing for him right now," Crean said. "He's not coming in with the base that some of the others are, the physicality that he needs to have. His confidence will grow from his strength. His confidence will grow from simple basketball as he continues to do that."
Bottom line: Hoetzel's fitness will be a key factor in whether he will see significant court time during his freshman season, but the 6-foot-8 forward's shooting ability is what attracted the Hoosiers in the first place. Crean has a clear, defined goal for Hoetzel this season, and if he could become that trailer Crean hopes for, Hoetzel could see the court more and more as a freshman, especially as his strength base builds.
Quotable: "It was when I was walking out on that floor at Assembly Hall. I had never seen brighter lights on a gym. It was crazy for a college arena. And the fact that the place was packed for an exhibition game was ridiculous. It was crazy. And just how people care so much about the basketball program, it's really something else. It was something I couldn't really describe. To be a part of that would just be amazing." — Hoetzel on when he realized he wanted to commit to Indiana
Previous: James Blackmon Jr.
Filed to: 2014-2015 season preview, Max Hoetzel