2014 forward Max Hoetzel commits to Indiana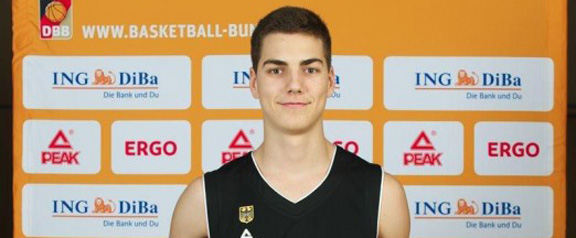 When 2014 forward Max Hoetzel made the decision to transfer from Calabasas (Calif.) High School this past August, he wanted to get more exposure heading into his senior year of high school. So, he chose to attend Wilbraham and Monson (Mass.) Academy, where he could be a starter from day one.
Almost three months later, before he played a single game for the Titans, he added an offer from Indiana, and only five days after that, while on his official visit to Bloomington, he committed.
Sunday evening, the 6-foot-8 shooter made the decision to attend Indiana University and became the second member of the Hoosiers' 2014 recruiting class, joining shooting guard Robert Johnson.
"There's no other place I'd rather spend my four years at than Indiana," Hoetzel told Inside the Hall late Sunday evening. "Stepping out on Assembly Hall, I knew it right away."
"Discussions with (Indiana coach Tom) Crean during his visits at Wilbraham were so productive that only severe red flags during the official could have steered him in another direction," Hoetzel's father, Holger, said. "There were none. We all loved this school and this program."
In the weeks after Hoetzel arrived in Massachusetts, more schools started showing interest than the schools that had previously offered him — including Utah, Davidson, Utah State and Boise State, among others. St. John's, Pennsylvania and Rhode Island extended offers. Connecticut, Florida, Harvard, Iowa State and Maryland showed interest.
"I always thought Max could be a high major college player," Calabasas coach Jon Palarz said.
But when Crean and Indiana assistant coach Kenny Johnson came to WMA one day in late September to watch recruiting target and teammate Goodluck Okonoboh, WMA coach Chris Sparks convinced them to watch Hoetzel, as well. They liked what they saw.
In the weeks that followed, Indiana's coaching staff stayed in regular contact with Hoetzel and his family — between text messages and phone calls — and on this past Tuesday evening, Crean and Johnson returned to Massachusetts once more.
This time, they offered Hoetzel a scholarship. Only two days later, Hoetzel decided to take an official visit to Bloomington that weekend. His parents, who are in the process of moving to Santa Barbara, chose to stop packing and flew to Indiana to meet their son. On Sunday, after consulting with his parents, Hoetzel made his college decision clear.
"Honestly, just taking that first shot in Assembly Hall was a magical feeling," Hoetzel said. "And it was something that I couldn't say no to."
"We loved everything about it," Holger Hoetzel added. "Especially coach Crean and all the staff that are part of the program."
Inside the Hall will have more on this story.
Filed to: Max Hoetzel