Max Hoetzel hears from IU as his recruitment takes off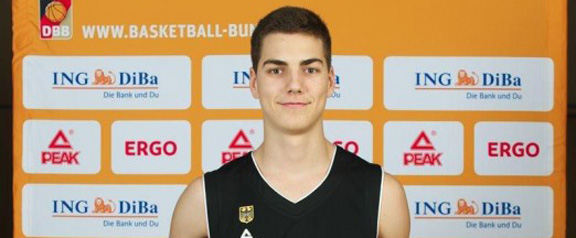 About three weeks ago, Wilbraham and Monson (Mass.) Academy student Max Hoetzel was at study hall when his basketball coach, Chris Sparks, and Indiana assistant Kenny Johnson walked into the room.
They came with a simple message: Indiana head coach Tom Crean was on campus, and he wanted to see Hoetzel work out. Crean and Johnson were originally on campus to watch Goodluck Okonoboh before he travelled to Ohio State and UNLV, but Sparks had convinced Crean to watch Hoetzel.
After all, Sparks knew IU had needed a shooter for the 2014 class. And he had one in the 6-foot-7 Hoetzel.
Sparks and Johnson had cleared Hoetzel to practice with school administrators by the time they confronted him at study hall. He then left for the gym and practiced under Crean's watchful eye. It was the first contact Hoetzel had with IU's coaching staff.
"It was such a humbling experience, I mean, coach Crean is a big deal," Hoetzel said. "But on the other hand, you can't really think about it. You just gotta do what you do."
Three months before then, though, Hoetzel had no idea he would soon be talking to one of the top programs in the nation.
An under-recruited forward, Hoetzel was going into his senior year at Calabasas (Calif.) High School with offers from Utah, Utah State, Pacific, Pepperdine, Loyola Marymount, Boise State and Davidson, among others.
But then, Hoetzel had learned his parents were planning on moving to the Santa Barbara area. Instead of starting fresh at another high school, he decided to attend a preparatory school. He originally thought of attending Oak Hill Academy, but his AAU coach, Christian Aurand, recommended Wilbraham and Monson. After all, they needed a player at the small forward position this season and Hoetzel fit that description.
Hoetzel announced he'd be attending WMA in early August, and since arriving in Wilbraham as a reclassified member of the 2015 class with the option of graduating in 2014 as well, his recruitment has taken off.
"You always have to play at a high level at all times here," Hoetzel said. "At Calabasas, I could sometimes go through the motions at practice and stuff. But you know, I'm really being pushed out here and it's a good thing. It's paying dividends right now.
"I knew my recruitment might take off probably around when Florida started talking to me."
At WMA, Hoetzel has had the opportunity to take advantage of his "live in the gym" mentality. Since tearing an ACL during his sophomore year of high school and having a subsequent meniscus surgery, Hoetzel said he feels as if he has had to work extra hard to get to where he is now.
He's already improved on his biggest strengths — shooting, driving to the basket and his defense — and he's also started to combat his weaknesses with Sparks' help.
"Coach Sparks has a lot of great workouts and he's coached at the college level, so he knows what it takes," Hoetzel said. "He really believes in me, so that's also a great factor. When you have someone who really believes in you, it makes the whole thing easier. If you work hard, you get what you deserve."
"He's a lot like a Chandler Parsons type," Sparks said. "I'd compare him to Kyle Korver too, but that'd be selling him short on his athletic ability. He's a great kid."
Though Hoetzel has yet to play in a single game this season, he has already received additional offers from St. John's, Rhode Island and Pennsylvania. Florida, Iowa State and Harvard have expressed significant interest, and even Kansas has called Sparks recently to ask about him.
But Hoetzel's contact with Indiana has stood out. Though IU has yet to extend an offer, since the day Crean and Johnson observed his workout, Hoetzel and Johnson have exchanged texts each other "about every day." Johnson has spoken to both Hoetzel's parents. And Crean plans on returning to WMA to watch Hoetzel, possibly as early as this week.
The Hoosiers are recruiting him for 2014, and Hoetzel said he would be ready for the challenge.
"I would really, really consider it, especially since it's Indiana," Hoetzel said. "The past, the program, the coaching, I'd definitely really consider it. But it's all about the fit. I want to come in somewhere where I can really play and exploit my strengths. If that does happen with IU, it will be wonderful."
Filed to: Max Hoetzel