Montreal rewind: Max Hoetzel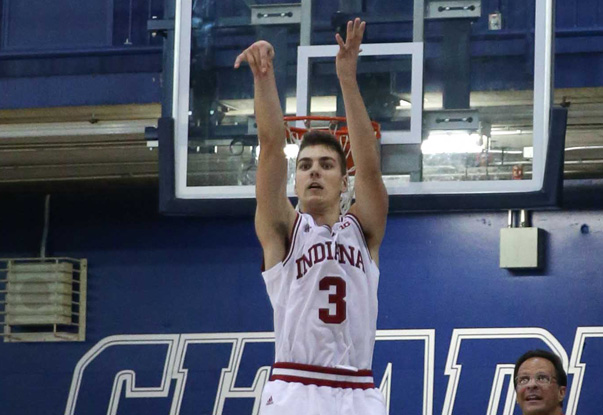 Welcome to "Montreal rewind," our player-by-player recap from Indiana's five-game tour of Canada. Today, the series concludes with Max Hoetzel. Previously: Nick Zeisloft, Devin Davis, Troy Williams, Yogi Ferrell, Robert Johnson, Stanford Robinson, James Blackmon Jr., Tim Priller.
Max Hoetzel had his first "welcome to college basketball" moment just a few minutes into IU's first game in Canada.
As one of the first subs off the bench for the Hoosiers against Laval University at Brebeuf Junior College, Hoetzel's first stint on the floor as a Hoosier was brief.
"Max had a tough run at the beginning because he jogged about his fourth trip," Tom Crean explained after the contest. "That's a non-negotiable for us this year. That's an out. If you're not running hard every possession, we have to sub you. When he went back in, he did a much better job."
The trip to Canada was a learning experience for all of IU's young players, including Hoetzel. The opportunity to get 10 practices and five games of experience prior to the official start of practice next month should allow him to get a head start on the season.
Over five games in Canada, the 6-foot-9 forward showed flashes of why Indiana moved quickly last fall to bring him into the program. He averaged 5.6 points and three rebounds in 13 minutes per game and nearly half of his field goal attempts came from behind the 3-point arc.
Hoetzel hit a bit of a rut in the fourth game and early in game five of the trip from the perimeter, but closed the trip strong with 12 points, five rebounds and a steal in 20 minutes as IU beat the University of Quebec at Montreal.
Last month, Crean talked about Hoetzel as a potential option to make shots as a trailer on the fast break.
"Max Hoetzel is learning a lot. We need him to be a shot maker," Crean said. "We need him, big key now is getting him to be able to get the ball out of bounds and run the break and trail. We never got the trail position worked out last year."
Like many freshmen who have work to do in the weight room, Hoetzel will need to make significant gains in strength and conditioning in order to play a role once the conference season rolls around. He's an adequate enough ball handler to play the three and tall enough to play at the four if he gets stronger.
"Strength is a big thing for him right now," Crean said. "He's not coming in with the base that some of the others are, the physicality that he needs to have. His confidence will grow from his strength. His confidence will grow from simple basketball as he continues to do that."
Filed to: 2014-2015 foreign tour, Max Hoetzel