Montreal rewind: Tim Priller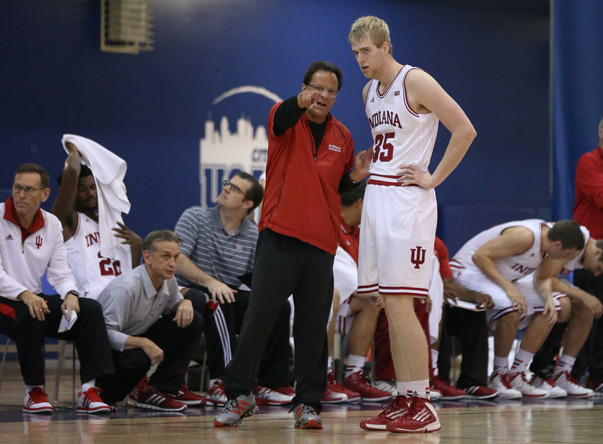 Welcome to "Montreal rewind," our player-by-player recap from Indiana's five-game tour of Canada. Today: Tim Priller. Previously: Nick Zeisloft, Devin Davis, Troy Williams, Yogi Ferrell, Robert Johnson, Stanford Robinson, James Blackmon Jr.
The addition of Tim Priller in late April came as a surprise as the forward from Richland (Tex.) was a relative unknown nationally.
At 6-foot-9 and 220 pounds, Priller shot over 50 percent on 3s as a senior in high school and our first look on-court look at the freshman came in Canada as he logged 44 minutes over four exhibition games.
Despite his size, Priller's offensive game is very perimeter oriented as five of his nine field goal attempts on the trip came from behind the 3-point arc.
Tom Crean described Priller as "a little bit situational right now" in early July, which suggests that his role, at least right now, will be as a reserve who can help with his perimeter shooting. It's a role that Priller seems to be embracing as he knocked down three of his five 3-point attempts on the exhibition tour.
"I definitely have to earn my minutes, it is not just a given thing," he said after IU's win over McGill University in Montreal. "I think I need to rebound, that is probably the biggest thing for me that I need to work on."
The rebounding piece, along with defense, seem to be the two areas where Priller has work to do. As he continues to work with Je'Ney Jackson, improvement in strength and conditioning should be able to help him in both areas.
"Tim's feet are improving," Crean said in early July. "Tim's movements are improving and his strength is improving and his level of conditioning."
The recent addition of Emmitt Holt, who has been touted as a strong rebounder and shot blocker by his coaches, may allow Crean to use Priller almost exclusively as a shooting specialist. Along with Hanner Mosquera-Perea, Devin Davis, Holt and Jeremiah April figure to play the majority of the post minutes with Priller and fellow freshman Max Hoetzel helping to stretch the floor in spots.
"I think I have improved a lot," Priller said. "I definitely need to get better – everyone needs to get better – but I need to get better at some things. My teammates are really helping me out. There is no negativity on the team and they are really just pushing me to do better and help them out as well."
Filed to: 2014-2015 foreign tour, Tim Priller