2014-2015 Player Profile: Tim Priller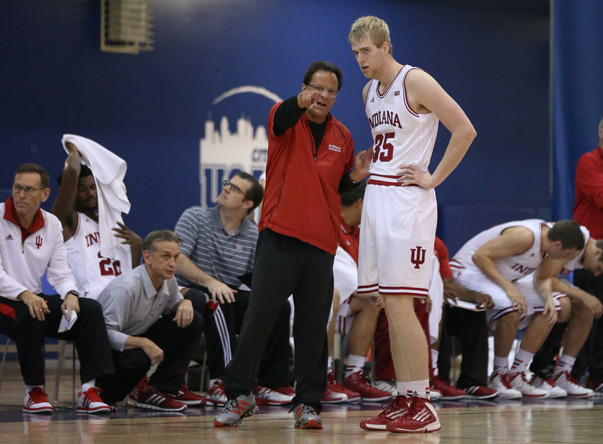 With the start of college basketball season on the horizon, we're taking a long look at the conference at large as well as Indiana's roster this month. Today, we continue our look at Indiana's roster with Tim Priller.
The news seemingly came out of nowhere on a late-April night. 6-foot-9 Tim Priller, a name Hoosiers fans had yet to hear of, announced his commitment to Indiana on April 26, becoming the Hoosiers' fifth member of their 2014 recruiting class.
As the news broke, the picture surrounding Priller's recruitment began to form. After the season ended, Indiana associate head coach Tim Buckley watched Priller in action at his high school in Richland, Texas. Weeks later, Indiana coach Tom Crean and associate head coach Steve McClain followed and watched Priller and then extended a scholarship offer. Priller committed without even visiting.
Conversation started to form, as well, of what made the Hoosiers so interested in a player who only had other offers from Albany, Illinois-Chicago, Drexel and Lamar. During his senior season, Priller shot 51 percent from behind the arc. He also shot 48 percent from the floor, overall, 78 percent from the free throw line and also was the team's target on game-ending plays.
That said, Richland coach Richard Bacon noted the Hoosiers will have to work with Priller to further develop him. But the benefits of doing that, he said, will outweigh any negatives of adding him to the mix.
"He's got to get a little stronger, and he knows that," Bacon said. "Like I told coach Crean, they're going to appreciate more, and the fans of Indiana are going to appreciate him more and more the more they see the kid. The more they're around him, the more they'll say 'Wow, I didn't know he could make that shot,' or 'Wow, I didn't know he could do this.'
"He's been doing this for quite a while."
When Crean talked about Priller for the first time in early June, he also mentioned some of the intangibles Priller had which attracted him to offer a scholarship.
"I loved what I saw on film and it wasn't just the ability to make shots, it was how he impacted games when he wasn't shooting the ball," Crean said. "It's drawing a charge at 6-foot-9 at the end of a game to win a game. It's grabbing a big rebound."
Priller's shooting ability combined with his size also helped to make Crean's decision a bit easier. And in August, the Hoosiers got their first look at on-court action with Priller during their preseason tour of Canada.
In 44 minutes of action over the span of five games, Priller took five 3-point attempts on nine shots, making three of them in sparse usage. In July, Crean said Priller's role is "a little bit situational right now," suggesting that Priller's first official game-time as a Hoosier will come off the bench.
But Priller said he knows playing time will not be a given, and that he knows he will have to work to earn time on the court.
"I definitely have to earn my minutes, it is not just a given thing," he said after IU's win over McGill University in Montreal. "I think I need to rebound, that is probably the biggest thing for me that I need to work on."
Bottom line: The late addition of Priller surprised many, but the hope of the coaching staff is that the 6-foot-9 forward will bring unique qualities to the program. As Crean suggested in July, though, Priller might not be ready to fully contribute on the court, meaning he could be limited to a role-player this season in coming off the bench as a shooter. But as he gets stronger and creates more of a presence on the court, Priller could see more and more playing time as his season and career progresses.
Quotable: "I think I have improved a lot. I definitely need to get better – everyone needs to get better – but I need to get better at some things. My teammates are really helping me out. There is no negativity on the team and they are really just pushing me to do better and help them out as well." — Priller following Indiana's win over McGill University
Previous: James Blackmon Jr., Max Hoetzel, Robert Johnson
Filed to: 2014-2015 season preview, Tim Priller