Q & A: Tim Priller talks Indiana commitment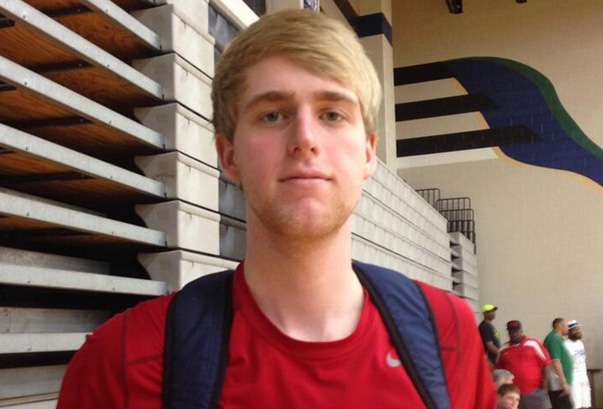 The fifth member of IU's class of 2014 recruiting class made a commitment to the program on Saturday night as 6-foot-9 forward Tim Priller of Richland (Tex.) gave a verbal pledge to the Hoosiers.
Inside the Hall caught up with Priller, a two-star prospect ranked No. 374 by the 247Composite, on Monday afternoon to discuss his decision to attend Indiana and much more.
Our full Q & A with Priller follows:
Inside the Hall: Your commitment on Saturday seemed to come out of nowhere. Can you talk about how it came together so quickly and how you made the commitment?
Tim Priller: Coach (Richard) Bacon and I had talked and I had an offer from Incarnate Word and not being cocky, but personally, I thought I could do better. Coach Bacon and I talked and we decided that I was just going to wait it out and see what happened. And then I had a pretty good season and some schools were interested and some schools offered. Indiana came into the picture, they liked what they saw and they offered me and I took it.
ITH: As far as the timing of that offer from Incarnate Word, was that back in the fall?
TP: It was a long time ago.
ITH: What other schools at this point were you looking at and who else had come into the picture?
TP: Albany, Illinois-Chicago, Drexel and Lamar. They had all offered me.
ITH: What was it about Indiana that sold you on that option?
TP: Well, when they came down to visit, we didn't really talk (because of NCAA rules). First of all, it's Indiana. Good basketball, good coach, great opportunity to succeed not just in basketball but in life as well.
ITH: When do you plan to get up and see the campus? What are you looking forward to most about that?
TP: I'm going to take a visit sometime in the next week and a half. I'm just excited to see the atmosphere, how it is, the people there, just everything.
ITH: As far as the reaction you've gotten, there's going to be some people who doubt you because you're under the radar, but I've noticed that a lot of IU fans have also been supportive. How are you handling the spotlight that you're now in?
TP: I definitely feel like a little celebrity the last couple of days. I gained like 1,500 followers on Twitter in like 10 hours. A lot of people welcoming me, that's pretty cool. And then there's haters, but I don't really care for all of the haters. I actually enjoy it. I like haters because it just motivates me to get better.
ITH: What do you feel like you can bring the most to Indiana on the floor?
TP: (I can contribute) in the pick and pop. When a guard penetrates and kicks it. Rebounding, once I get more aggressive there I'll be a good rebounder. Scoring, first of all. I'm a four that can (help) space.
ITH: Indiana has some good guards that can drive and dish, the fact that you can help space the floor, how does that fit in?
TP: Well on the perimeter, I'm a pretty good 3-point shooter. I shot 51 percent for the season. I could have taken a lot more 3s, but I also spent a lot of time in the paint, too. Maybe my percentage would have been higher or the same. But with really good guards, that will be good because they'll penetrate and then kick it out.
ITH: Besides the four other schools that had offered, which other schools had been showing interest?
TP: SFA (Stephen F. Austin), Arkansas, Old Dominion and Portland.
ITH: As far as what you want to study in school, have you thought about that?
TP: Yeah, I've thought about marketing or somewhere in the business field. Or maybe just becoming a teacher and a coach and working my way up to being a principal one day.
ITH: Are you planning to arrive on campus with the other signees in late June?
TP: Coach Crean hasn't told me anything yet because he's been busy (with recruiting) and I haven't really talked to him, I'll probably talk to him tonight maybe. But I'm pretty sure that's what is going to happen.
Filed to: Tim Priller