2014-2015 Player Profile: Stanford Robinson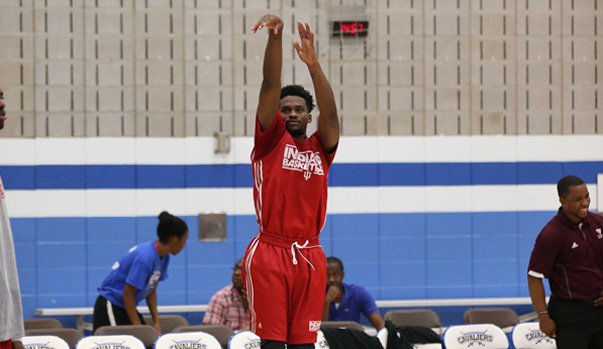 With the start of college basketball season on the horizon, we're taking a long look at the conference at large as well as Indiana's roster this month. Today, we continue our look at Indiana's roster with Stanford Robinson.
If there was one way of defining Stanford Robinson's value as a freshman last season, it came in his free throw numbers.
The 6-foot-4 guard got to the free throw line as much as anyone on Indiana's roster during Big Ten action last season, outside of Yogi Ferrell, as Robinson proved to be effective in getting to the rim and causing opponent foul trouble.
Heading into this season, Robinson will continue to hold value in that role, especially on a team that plans on moving the ball quickly and effectively, with the ball moving in and out of the paint. And over the offseason, Indiana coach Tom Crean said Robinson is becoming more reliable in that role.
"Stan's gaining a level of consistency that he has not had," Crean said on July 15. "His body's different. His conditioning and energy are different and it's not because he's doing more. It's because he's smarter."
During Indiana's preseason trip to Canada, Robinson led the Hoosiers in free-throw attempts, suggesting he was aggressive as anyone in trying to get to the basket.
But Robinson also has been working on improving his perimeter game for this season. And in doing so, he has switched from shooting with his left hand to shooting with his right hand.
"It's something he's been working on," Crean said. "It's a little more natural for him. He's a little bit more of a naturally right-handed player. If you look at it, it's much smoother coming off his guide hand. It's all about his guide hand.
"A lot of times his right hand flicks and when he shoots it with the left, the right hand comes inside of it. When he shoots it with his right, the guide hand is staying – I wouldn't say picture-perfect – but it's getting there."
Even with the Montreal trip occurring early in the transition, Robinson shot a 59.7 effective field goal percentage during the tour and attempted and made his first right-handed 3-pointer against Ottawa.
Of course, as Robinson continues to work with his right hand, his perimeter shooting will only improve. And on a team that already has plenty of shooting weapons, adding Robinson to the fold could make it that much more dangerous.
"I think every day it's getting better," freshman Robert Johnson said. "I remember probably one or two practices ago, I don't remember him missing a lot. And when he first switched, you would be surprised. He's come a long way, but I think it looks way better. And I think it was a good switch for him."
Bottom Line: Robinson found a role as a freshman by being able to find his way to the net and draw fouls. Heading into this season, the Hoosiers have hoped for Robinson to continue to get stronger and more consistent in that role. So far, it appears Robinson has been able to do just that, leading the team in free throw attempts during its preseason tour of Canada. But with Robinson's change in shooting hand, the sophomore hopes to become more of a perimeter threat this season, as well. It could result in him earning more playing time, too, as he continues to diversify his skills on the court.
Quotable: "Here is a guy, he had the same amount of free throw attempts in the league that Noah did and Noah's the ninth pick in the draft. Stan can get fouled, but Stan has got to build explosiveness into his game that is consistent, and he's really working hard to get to that. He's getting stronger." — Crean during his July 15 press conference.
Previous: James Blackmon Jr., Max Hoetzel, Robert Johnson, Tim Priller, Jeremiah April, Emmitt Holt, Troy Williams
Filed to: 2014-2015 season preview, Stanford Robinson