Tom Crean breaks down returnees, newcomers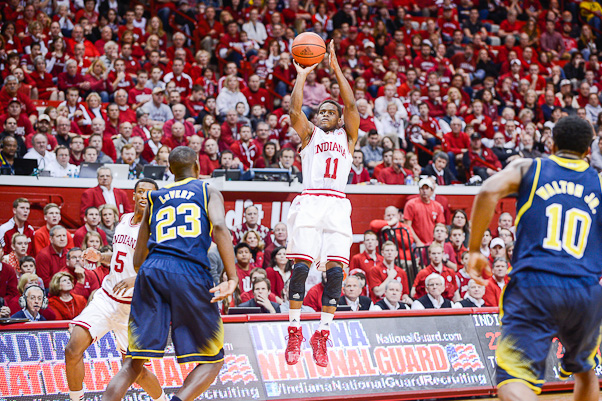 As part of his press conference on Tuesday afternoon at Assembly Hall, Tom Crean broke down the 2014-2015 Indiana roster on a player-by-player basis.
We've organized his quotes on each player below:
Yogi Ferrell
Yogi is getting a lot better. He's getting a lot stronger. He's benching 245 right now which is phenomenal. He's always been a strong young man but nobody really lifts in high school like they did in college, and that wasn't a big part of his day. I mean, he is a force in that weight room right now; and he's not only a force with what he's doing and the way that he's lifting but in the way that he's talking and leading.
What I really like about him, and I'm going to put him in front of you here pretty soon so you get a chance to see, he's starting to grasp what he's capable of. And I don't think he's even grasped what he's capable of on the court yet and I know he's showing flashes of it.
I had a gentleman in this league tell me that his team they had polled their team on some different questions about the season, and he said, when it came down to the hardest matchup in the league, to a man, everybody said the hardest matchup for them to deal with was with Yogi. I haven't even told him that yet.
We want people across the country saying that when they run into him. And he's working towards that. The keys right now, that he become as great of a lead guard in the sense of, do multiple things but make others better constantly.
Offensively for himself, the vision is getting better. He's always had very good vision but he's more aware, even though we have not played a lot as a team. He's working on finishing through length and strength and being even a better finisher around the basket. He's developing a step back. He's working on his range. We want him to become as proficient of a guard as there is in the pick and roll offense and being an absolute leader, catalyst on defense.
It's really easy to point to him in anything that we're doing, this is how you do it, whether it's getting over a screen, whether it's the way you run the break, whether it's the way the ball moves in practice and drill to drill. That's a big, big thing for us.
So his leadership is emerging. It's ongoing like everybody else's. He kind of epitomizes our team. We're kind of talking about him like he's a senior and he's really only going to be a junior.
Hanner Mosquera-Perea
Hanner's body is continuing to change. Devin Davis is the strongest person on our team right now but Hanner is right there on his heels. Je'Ney keeps track of all kinds of different things, and these guys go at it early in the morning. I came back from recruiting on Thursday to be in here early on Friday morning, and I was inspired for the rest of the weekend, and it had nothing to do with the recruiting. It was unbelievable watching these guys go at it.
And Hanner and Devin are competing in there. The big thing for us last year with Hanner is you need to win. You need to win drills. You need to win competitions. You need to win as many pick up games as you can. I don't think he understood that. He's starting to understand how important that is.
His body looks extremely good. He's gaining confidence. He's gaining stature around his teammates. He's gaining more of a voice. He's becoming a better worker, but it's July 15, he's got to keep it up. He's got to keep it up. There's no more inconsistency that can be there with Hanner, because if he gets consistent, he's going to play in the NBA and there's no question about that, with that athleticism, that length, that talent and when you see that body and you see that speed that he's capable of. But he's got to become consistent because he epitomizes what we need in play harder, longer. That's a big, big thing for us.
Devin Davis
Devin Davis is the strongest. He came in here benching just over 200 and he's now at 285. His feet are improving. His speed is improving. Big key with him is the versatility. He's going to have to be able to do multiple things for us. We had a moment in practice last week where we took all the guards and put them on one team, okay, and put him and the biggest guy on their team was Troy and Devin had to run the point on his team. And every turnover was a minus two.
Now Tim Priller made 13 points inside of that, but they got negated because the team turned it over too much. It was a great lesson for Devin, in the sense that your response is you keep making the game easier for everybody else, and when you do that, the game becomes that much easier for you as a player. He has a chance to do different things for us. He's working to improve his shooting. His free throw shooting is going to be huge. I love his speed. I think there's a lot of different things we can do with him and he's just got to stay on a consistent run.
Hanner is right on his heels for becoming the strongest guy on the team, and I don't think any of them should sleep on Robert Johnson, Jr., with where he came in at and where he's going.
Collin Hartman
Collin Hartman, we started a few weeks back, really we're using a lot of creativity to keep him involved in the drills because he's not able to go up and down. He's not able to really run and move, even though I have seen him do some more conditioning, so that's coming. But we put him in situations and if you asked him, he would probably feel like he's getting challenged and pressured like its midseason, because that's what we need from him.
They need to hear Collin's voice. Collin needs to hear their voices. Collin needs to continue to grow mentally as well as physically with his game. So there's pressure on him. There's nobody guarding him; he needs to make 70 percent of his shots, and I'm right there getting after him if he's not. He needs to see himself … I reminded him of this a couple weeks ago. We didn't offer him a scholarship because he was a phenomenal shooter. We offered him a scholarship because he made everybody better and he could really, really pass the ball. If he could get that shot to where it needs to be and he can get that consistency of the shooting, because that wasn't a strength for him last year. It wasn't a strength in practice or you'd have seen it more in games and obviously it wasn't a strength for a lot of us.
We made 106 threes in the Big Ten and Yogi, Noah (Vonleh) and Will (Sheehey) made 88 of them. So it wasn't a great strength all the way across the board. But Collin adds to what we are doing with the new guys in the sense that that could become much bigger for us but the ball movement is going to be a huge part of that. He's getting stronger. He's becoming a leader as much as he can, and he's doing a good job for us.
Stanford Robinson
Stan's gaining a level of consistency that he has not had. His body's different. His conditioning and energy are different and it's not because he's doing more. It's because he's smarter. Frankly, there hasn't been as many early mornings for for punishment reasons, which is a huge thing for Stan. We need a mature, leading Stan.
Here is a guy, he had the same amount of free throw attempts in the league that Noah did and Noah's the ninth pick in the draft. Stan can get fouled, but Stan has got to build explosiveness into his game that is consistent, and he's really working hard to get to that. He's getting stronger. He's probably benching right now 225, probably 245, somewhere in there and he's growing.
Troy Williams
When it comes to strength, Troy came in benching the bar, basically, okay. He's up to 225 now. I mean, Je'Ney Jackson gets a lot of credit and there will be a lot of people thanking him for what he's done for them. Troy probably deserves a full color poster in Je'Ney's office right now for where he's going with it and he's really coming. There's a guy that he had been to the weight room but he didn't exactly have the key card to it.
Now he's really learning a lot about that. He's trying to gain we are trying to get him multi-faceted and really having him on the same level of progression that we really wanted Victor on. Victor had not really handled the ball a lot in high school. He had not been in pick and rolls. I'm not saying that his improvement numbers are going to jump like when Victor went from 14 percent from three as a sophomore to 40 percent in the Big Ten but that progression of being able to do a lot of different things, valuing the basketball, finishing, not just dunking everything that's there, but really trying to build that base so that we can not only go to Troy, but that we can play through him on the perimeter.
He's worked hard on his shot. His work ethic has gained tremendously. Last summer his work ethic, his extra work ethic was right near the bottom of our team but right now it's up there around the top when it comes to the extra work. So proud of what he's doing there.
Jeremiah April
Jeremiah April, his speed is getting better. He's learning a lot. Give you an example. Yesterday they ran 300, 350 yard sprints after a full workout, leg workout, upper body the whole deal. Went over to Mellencamp (Pavilion) and they ran five 350s. When he first got here he could barely get through the one 350 and yesterday he got through all five.
Now to me that's progress. That's how you measure progress. There's not a result. There's not a win/loss. It's not, he's averaging this, he's averaging that. That's the progress you've got to see as you're building a player. What that means for his season, I don't know yet. He's got a lot to learn but he's a willing learner. We like the attitude that he has. He's spending a lot of time with Tim Priller.
Tim Priller
Tim's feet are improving. Tim's movements are improving and his strength is improving and his level of conditioning, he's been well coached.
Again we played this game the other day and when the players, when Yogi said, one of the last things he said, don't let Priller catch it. Kid goes for 13 points in a game, they lose the baskets because we take two points for every turnover. My basic message to Tim is: If you catch it and you're open, you shoot it. That's 52 percent from three, as a senior playing an inside spot, there's a lot he's a little bit situational right now but I think he's going to grow out of that, I really do, because he's got a great work ethic for it.
Max Hoetzel
Max Hoetzel is learning a lot. We need him to be a shot maker. We need him, big key now is getting him to be able to get the ball out of bounds and run the break and trail. We never got the trail position worked out last year. We lost the best runner in college basketball in Cody Zeller the year before. We lost what I felt was the best trail player in Christian Watford. Never got either one of those where they need to be.
Noah was a great player in his own right and did a lot of good things and got 27 and a half percent of the defensive boards, and shot a high percentage, but we need that trail position. Christian went from 32 percent in two years to 48 percent his last two years and a lot of those threes came off the break.
So we need that. We never had anybody, even though we tried, we never had anybody that could grab that role and that we could really count on, and Max has got a tremendous opportunity at that.
But strength is a big thing for him right now. He's not coming in with the base that some of the others are, the physicality that he needs to have. His confidence will grow from his strength. His confidence will grow from simple basketball as he continues to do that.
Robert Johnson
Robert Johnson is the strongest player flat out that we have ever brought into Indiana in the summer time regardless of position. He came in here 13 times, 185 on the bench and he's up to 15. He came in here at 39 inches on the vertical and they will measure it again next week to see where that's at. He's got a pit bull mentality. The few times we have gotten down and competed in a group of four on four, five on five, he's been extremely well coached in some of the nuances and details of the game. And now it's just a matter of consistency and it's a matter of more explosion.
Big thing with Robert right now is to play with his eyes up, play with vision and see a lot of different things, but he's in the gym, he and James are basically joined at the hip with the way that those guys work out after we work out or come back at night.
James Blackmon Jr.
And James wasn't doing 185 one time a year ago. Came in here doing it seven, and he is up to nine, probably close to ten right now, just like that. He's been committed to getting ready for this. Well coached by his father, without a doubt, and his dad has done so many things to hold him accountable to become not only a better shooter but a better scorer and a better player over time. Now he's learning about the explosiveness that he can play with and building that athleticism into his game.
But that right there to me, for a team that has not played a game yet, that right there, to see what he has done physically in the period of last summer to where he's at right now, is a sign of things to come.
Nate Ritchie
Most recent guy up here is Nate Ritchie. We are excited about him. He came up here and he worked out. I had seen him on film a little bit. Wanted to be at Indiana. He was coming to Indiana. He had turned down in offers of other Division I schools and there's no question after his on campus evaluation that he's going to be part of our team.
He's going to have the same adherence to everything that everybody else has. Extremely athletic, willing learner, quick learner. He wants to be really good. I love his athleticism and pop. Just getting to know him. I'm excited about him.
Ryan Burton
You guys got a chance to meet Ryan Burton recently. And if the tables were turned, I wish I would have known about Ryan last year, even though he would not have been able to play, it would have been great to have him in our environment last year. He would have helped bring a maturity just like that to our team.
But he was going to school, going to the Kelley School, and he's got a great mind set, he's one of those first one in, last one to leave type guys and that's what you want. We don't try to treat a walk on like a walk on. It's not like, well, you get this shirt and you don't, you get this pair of shoes, you get the $140 model and we'll give you the $70 model. It's not like that. But it's the same thing with the work ethic. You may not get the minutes to go behind it, but you're going to get better, and I love it. He wants that and that's important.
Nick Zeisloft
Nick Zeisloft, when we found out about him and I know some of this is redundant to the quotes the other day, but watched every shot that he took for the season, watched his turnovers, watched probably seven or eight games, because I wanted to be right. I wanted us to look at this and say, okay, if we're going to do this, let's make sure this fits and not only did we take him because of what he's done; he's been well coached. Not only do we take what he's done in high school and in AAU and Illinois State, but I think there's a lot there.
I think there's a lot there. There's athleticism, there's a tenacity. I'm going to be shocked if there's not a toughness level that I think is going to be high for us based on what I've seen. Tremendous student. Wanted Indiana, wanted the MBA from Indiana from the Kelley School badly, legacy type of situation because of his dad being here and his mom being at Michigan. So obviously takes academics extremely serious and graduated in three years, and we know how much of a challenge that can be with what we've had here.
But I think there's a lot there. I think there's a lot of ability to cut, move without the ball. I think there's an ability to come off screens even more. I think he's going to be an adequate defender. I think he's got to get in the mix and board, and I think we're going to find that there's a multi dimension ability.
Filed to: Hanner Mosquera-Perea, James Blackmon Jr., Robert Johnson, Stanford Robinson, Tom Crean, Troy Williams, Yogi Ferrell