2014-2015 Player Profile: Collin Hartman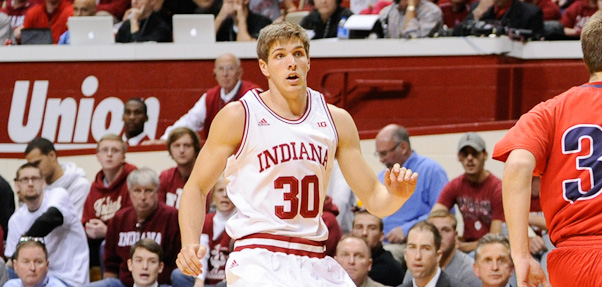 With the start of college basketball season on the horizon, we're taking a long look at the conference at large as well as Indiana's roster this month. Today, we continue our look at Indiana's roster with Collin Hartman.
Collin Hartman's freshman season at Indiana ended with a whimper rather than a bang.
Brought in by Indiana coach Tom Crean to be a shooter on a team that desperately needed them, Hartman played the first two games of the Hoosiers' season as the first player off the bench. But after that, Hartman rarely saw action on the court, amassing just 16 minutes of play during the entire Big Ten season.
Perhaps he wasn't aggressive enough in the opportunities he was given. But it was expected he would have the entire offseason to work on his game and gain more confidence on the court heading into his sophomore season.
That never happened.
Just two days after Indiana's season ended, on March 15, Hartman tore his ACL in his right knee during a workout. At the time, Crean admitted Hartman's summer will "take a different turn." Instead of improving and challenging for immediate playing time heading into this season, he would have to rehabilitate.
As the summer progressed, Hartman slowly began to rejoin the team's workouts — even traveling to Canada for the Hoosiers' preseason tour. But Hartman did not play in Montreal, as his teammates got the early experience of playing together.
And on this year's team, Hartman's role will be challenged. The Hoosiers have several players who can shoot — including newcomers Nick Zeisloft, Max Hoetzel and Tim Priller — and they all will have a head start heading into this season.
Even as of last Monday, Hartman was still limited in practice. He did not participate in contact drills and by the end of the workout, he was wearing a heavy brace with ice on his right knee.
Bottom Line: Hartman needed this offseason to improve after a freshman season where he didn't get much experience. But he suffered a major setback to that plan just days after the end of the season, tearing his right ACL during a workout in March. And Hartman still isn't fully recovered from the injury, as this season begins to near. Hartman held a significant strength last season in his shooting ability, but this year's team now has plenty of that. And so with his late start and increased competition, Hartman will have to earn his minutes this season on limited practice time.
Quotable: "They need to hear Collin's voice. Collin needs to hear their voices. Collin needs to continue to grow mentally as well as physically with his game. So there's pressure on him. There's nobody guarding him; he needs to make 70 percent of his shots, and I'm right there getting after him if he's not." — Crean during a July 15 press conference
Previous: James Blackmon Jr., Max Hoetzel, Robert Johnson, Tim Priller, Jeremiah April, Emmitt Holt, Troy Williams, Stanford Robinson, Devin Davis
Filed to: 2014-2015 season preview, Collin Hartman