Crean on Hanner Mosquera-Perea: "It's time to play"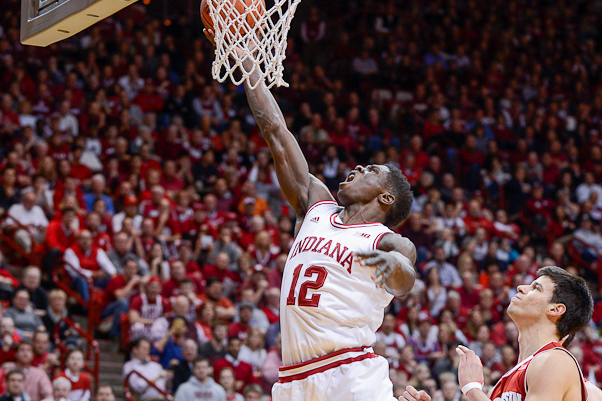 STARLIGHT, Ind. — As the offseason moves along and Indiana prepares for the 2014-2015 season, Tom Crean knows that this team is going to look much different than his previous three in Bloomington.
For the second straight year, the Hoosiers are sending a frontcourt player to the NBA draft lottery. Finding the right mix to help fill that void will go a long way in determining just how successful Indiana will be as it aims to return to the NCAA tournament.
"The thing about next year's team, it's going to be unique in that I cannot tell you how it is going to look other than it won't be conventional," Crean said on Wednesday at Huber Winery. "We're not that big. We don't have a lottery pick that we are going to throw the ball to like we've had the last three years. So it's going to be a different team."
On paper, Indiana will have some size to work with.
Sophomore Devin Davis has already experienced the physicality of the Big Ten and showed he's capable of contributing on the glass and around the basket. Freshman Jeremiah April is 6-foot-11 with soft hands, according to Crean.
But the most logical option to grow into a major contributor is 6-foot-9 junior Hanner Mosquera-Perea. The Colombia native arrived in Bloomington in the summer of 2012 as a top 50 recruit with major upside. So far, that hasn't translated much to the court as Mosquera-Perea has averaged 2.0 points and 1.9 rebounds in 6.9 minutes over his first 49 games.
Indiana won't have the option of easing Mosquera-Perea, who averaged 6.1 fouls per 40 minutes as a sophomore, into the rotation.
"Let's be a guy that can grab rebounds out of your area, let's be a guy that can play more than a couple of minutes at a time without getting winded," Crean said. "Let's be a guy that's continued to progress defensively like he has. We've got to get him to the foul line. It just hasn't shown, but he's made tremendous strides as a shooter."
In stretches, Mosquera-Perea has shown glimpses of being a player who can be a factor in the paint.
The most notable example came in early March when he helped fill in for an injured Noah Vonleh as Indiana beat No. 22 Ohio State, 72-64, in Bloomington. In 15 minutes, Mosquera-Perea tied a season-high with eight points, added five rebounds and had a career-high three blocked shots. That's the type of production will need on a more frequent basis when the 2014-2015 season tips off.
"It's time to play. It's time to be really serious about playing extended minutes," Crean said. "It's time to be an enforcer at the basket. It's time to show that toughness that his body gives you. It's going to have to happen or he won't be out there as much. We need his consistency. It's no more fun and games, now it's time for you to lock in and mature and not anymore talk, let's get at it."
Mosquera-Perea's time in Bloomington so far has had its share of turbulence.
As a freshman, he was forced to miss nine games by the NCAA for accepting what the organization called "impermissible benefits." And last February, he was arrested and charged with two class A misdemeanors related to operating a vehicle while intoxicated and then served a two-game suspension.
As one of Indiana's two upperclassmen with Big Ten experience, the time for Mosquera-Perea to step forward is now.
"Can Hanner run the court?" Crean said. "Can he screen and role? Can he get loose in the alley? Can he post-up and rip through? Can he play out of double-teams? Can all of those things happen? And not just in practice and not just a couple of days at a time but throughout the season.
"And I could say the same thing about Devin Davis. We need both of those guys to really step up and take the opportunity that is there because the opportunity is tremendous. It will never be better for Hanner than it is right now. It is time for him to expand his game by expanding his mindset on what he is capable of."
Filed to: Hanner Mosquera-Perea