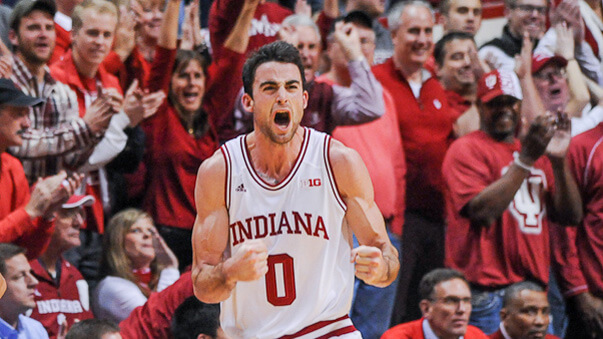 Welcome to "That's A Wrap," our player-by-player recap of the 2013-2014 Indiana Hoosiers. Today: Will Sheehey.
Sheehey (31 games):  11.4 points, 4.0 rebounds, 1.8 assists, 1.3 blocks, 53.0% eFG, 69.0% FT in 30.3 minutes per game.
This was a transition season for Will Sheehey. After three seasons of being Indiana's sixth man, the Hoosiers' spark of energy off the bench, the 2013-2014 season was meant to be Sheehey's year as Indiana's senior leader. The one who would help carry the young Hoosiers to on-court success, through scoring and through leadership.
Co-captaining the Hoosiers with sophomore Yogi Ferrell, that is exactly what Sheehey did, starting 31 of Indiana's 32 games (missing just the Michigan State road game with an ankle injury). He left as one of the fan favorites on a team that struggled with inconsistencies all season. But Sheehey's road to the end wasn't as smooth as he might have liked it to be.
Before the season even began, Sheehey injured an ankle at adidas Nations while colliding with Kansas freshman Joel Embiid during a counselor game. In October, he was dealing with a groin injury, according to Indiana coach Tom Crean.
And in the opening months of the 2013-2014 season, Sheehey dealt with offensive inconsistencies. In the first 20 games of the season, Sheehey scored fewer than six points on seven separate occasions. He shot better than 50 percent or better from the field in only 11 of IU's first 20 games.