'It was so authentic': The Oral History of Indiana's win over No. 1 Kentucky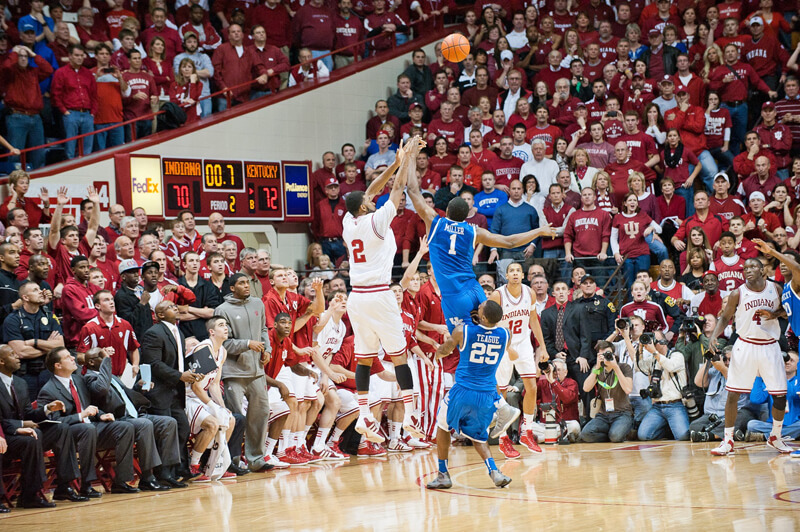 Over the last decade, the moment has become synonymous with Indiana basketball.
Christian Watford's inbounds pass to Verdell Jones III. The screen set by Cody Zeller. The 3-pointer launched into the heavens.
Narrated by the likes of ESPN's Dan Shulman and legendary IU radio voice Don Fischer, the play that sealed IU's home victory over No. 1 Kentucky on December 10th, 2011, never seems to fade away.
It's become a mainstay of pregame introduction videos inside Simon Skjodt Assembly Hall. YouTube videos showcasing "The Watshot" all number in the hundreds of thousands of views, and several ESPN commercials have featured the game-winning play.
Indiana's win that December day has stood the test of time. It remains a touchstone moment for the IU program, one representing Indiana's return to the national college basketball stage.
The 2011 triumph over Kentucky, still the last regular season meeting between the schools, represents the rebirth and resurgence of basketball in Bloomington.
This is the story of Indiana's win over No. 1 Kentucky as told by those who made it possible.
Interviews conducted by Cameron Drummond and Dylan Wallace for Inside the Hall
Oral history compilation by Cameron Drummond
I. "It seemed like they had been through hell"
Mike Santa (IU basketball manager, 2007-2013): I was a manager my freshman year (07-08) under Coach (Kelvin) Sampson when he was there, so I kind of had a front row seat to the end of that season and how everything unfolded. That was a lot. I had no context (for) was this normal? What was going on that year? Everything that came at me I just assumed was normal and I think I found out later that going through a controversy like we did that year, obviously that's not a normal thing for a college basketball program. Coach (Tom) Crean's first years were something like six wins, 10 wins and 12 wins, so I think I was always a bit naive. I remember being in the locker room in Maui in Coach Crean's first year (08-09) and thinking we're going to pull off this huge upset against Notre Dame, and we got drilled.
Dustin Dopirak (Bloomington Herald-Times reporter): They weren't even a shell of a basketball team in 08-09, they were a "hyper" (IU recreational league) team basically at that point. Whatever warm bodies they had to put together a roster was 08-09. (They went) 6-25. I didn't see that, but I know what that looks like because I covered teams that bad at James Madison (University). Obviously, that was hopeless. 09-10 you're at least like "Okay, this looks like a basketball team, but they're puppies." Maurice Creek goes off in that game (against Kentucky) in 2009 for 31 points and hit 5 3s, and the rest of the team hit four. He was the only (IU player) that belonged on the court at that point… And they still lost by 17.
Will Sheehey (Indiana forward, 2010-2014): My first year (10-11) when I was there, we were so bad I just thought that's how it was gonna be. Like we were just gonna be bad and we're just gonna lose and you kind of get used to losing to be honest. After a while you're just kind of like "We're supposed to lose I guess."
Dopirak: Even when they get (Victor) Oladipo and Sheehey the next year, they're still getting their doors beat in. You see some progress and they're fighting a bit more, but they still have some nights where they just get blown out… They were just exhausted… When you look back on it, you can see that something was being built there. There was confidence that came from the fact that, after a while, it seemed like they had been through hell.
II. "Indiana needed Cody Zeller"
Raphael Smith (IU walk-on guard, 2011-2013): We knew that Jordy (Jordan Hulls) was a major shooter, obviously, Matt Roth was there as well, just a major shooter… Verdell obviously still there as well, that adds seniority. (Tom) Pritchard, even Danny Moore, all those guys acted like a foundation as we went through the process. It was to a point, Jordan was shooting maybe 50, 60, 70 3s in like five minutes. Just a lot of things that were starting to click for us.
Matt Roth (IU guard, 2008-2012): We were missing a big-time, high-profile post player. We had a lot of guys that were rotating in and out of there, a lot of guys who were great compliment players to Cody (Zeller), but you bring in a guy like that, a 7-footer who on day one can step in and play and do everything he did… That was a huge change for us.
Dopirak: For a while I thought there was more symbolic value to (Cody Zeller's) commitment than actual value, and I ended up being way wrong on that. That ended up being the opposite of true. It was so important to Crean to get him (Zeller). North Carolina and Butler wanted Cody Zeller. Indiana needed Cody Zeller.
Sheehey: He (Zeller) made a big difference. All the guys that were on the team before got better, but he kind of changed the dynamic of everything.
Roth: Being able to put him (Zeller) on the floor and surround him with shooters and put him with great athletes like Victor and Will and guys like myself and Jordan and Christian… The inside-out game, the focus from a defense on guarding Cody and guarding Victor and Jordy, it allowed everybody to focus on their role and excel in it.
Dopirak: Because of (Cody's) body and because of his muscle, they could start him and they could start Christian Watford. They didn't have to put Tom Pritchard out there to start… It really allowed them to put their best five on the floor. They were much better off being able to play Zeller, know that he could hang, and then be able to put Watford at the four so he could stretch the four and be able to have Vic and Verdell and Jordan Hulls all on the floor at the same time. They got to be a much better 3-point shooting team because they could play through him (Zeller) in the middle.
Sheehey: It was the perfect storm of guys being hungry and also having the right pieces. You can have a bunch of guys that are good guys, hungry guys that practice hard, but if they aren't any good then it doesn't matter… Like Tom Pritchard, he had to give up his role because he was playing a lot of minutes. He had to swallow his own pride, and I respect him for that. He gave up his position to Cody and I think that kind of set the tone for the rest of us like, "Alright, well one of our best players from the year before can sit down and let Cody run the show, so we can all do a little extra."
Kory Barnett (IU walk-on forward, 2008-2012): Cody was a big piece, but that class before him was massive with Will Sheehey and Victor Oladipo. Those two dudes especially, the way that they worked, the mindset they had, it really changed everything for us. I tell the guys that I coach all the time, people throw around the word "Self-made" all the time, but Vic epitomized that. He came in and his shot wasn't what it could have been, and he changed his game and worked his butt off. He was incredible.
Smith: Vic was starting to catch his stride… Same thing with Will. I'd see those guys, just one and two, always in the gym just working, working, working.
Barnett: When you have teammates who live in the gym every day and then the coaches come to you and go "Why can't you do that? Why aren't you working at that level? Why doesn't it mean as much to you as it does to Sheehey and Oladipo?" Just seeing them work the way they did, that really started the boulder and then it became a snow pile once Cody came in.
Dopirak: He (Zeller) was great at passing out of double teams, just had terrific skill with the ball in his hands, back to the basket or his face-up game. I remember Crean saying that he was the most skill-advanced high school senior that he had ever dealt with. It was a huge, massive deal when he (Zeller) committed, and the dominoes started falling soon thereafter… After Cody committed, all of a sudden everybody really wanted to go to IU. All of a sudden, Indiana becomes "The Thing."
Sheehey: It was just a nice synergy that we all had and everyone had a nice role, and it was very clear and defined.
III. "There was a different chip on our shoulder"
Barnett: We were disappointed with our junior year (10-11), and I think that year really helped focus into our offseason of how much we really needed to get better. That offseason was incredible for us, we were battling every day. There was a different chip on our shoulder that we hadn't had before, because we could see it.
Smith: Typically we get Spring Break and everybody relaxes and goes on vacation. Well for us, our Spring Break at that time (2011) was during the NCAA tournament, which we did not make that year. So we were in the gym constantly working, just weight lifting, doing individuals (exercises)… It seemed like it never ended.
Jordan Hulls (IU guard, 2009-2013): We competed so hard against one another, and we prepared ourselves, our minds, our bodies, to the point where we were so uncomfortable in practice, that in games we were way more comfortable. We were all super competitive, and that's how you get better and that's how teams become player-led teams and guys rally around one another.
Santa: The guys on this particular team in 2011 I think really started to buy in on the preparation side of things. Obviously the talent and work ethic and some of those things were already there. I think, more so than anything, just being able to prepare and what went on in film sessions, being committed to the defensive and offensive plans, I think those were some of the things in terms of preparation that really started to click for a lot of guys.
Verdell Jones III (IU guard, 2008-2012): When people say "Play like a senior," most people automatically think you have to put up the most points or the most assists and these things, but those are the things I did the previous three years and we weren't winning. With the pieces that we had together my senior year, part of being a leader was keeping guys on line, you know, motivating them and keeping them going.
Smith: Everything was kind of just clicking on all cylinders. I think that's when as a team we really started to mesh.
Santa: To me though, and I would imagine a lot of people would be like this as well, you couldn't quite believe it yet. I was a little more hesitant and cautious, but there was undoubtedly some sort of, just a little bit different buzz with that team (2011). You felt like this could be the year that we actually push through a little bit.
Tom Pritchard (IU forward, 2008-2012): I definitely thought that we were around the back end of the Top 25, or close to it.
IV. "It doesn't happen until you start doing it"
Roth: I know going into the season we had a lot of goals and we had a chance in our eyes to re-establish Indiana as the team to beat in the state. We had Butler, Evansville, Notre Dame and Purdue twice. So I know those were big focus games for us.
Pritchard: There were a couple of games early in the season where instead of running out of steam, we really pushed through and ended up winning some of those games. That's when I think I realized that this team was different, our mentality was different.
Jones: That win at Evansville, it took that monkey off our back, you know, of having that road win. But I tell people all the time, the biggest turning point was that N.C. State game.
Roth: I don't know if we have that same season if we don't win that game at N.C. State in the Big Ten / ACC Challenge, just because it gave us the ultimate confidence from playing on the road against a really good team.
Santa: We were undefeated up to that point, and I think the year prior to that we also had that and then ended up winning 10 or 12 games or whatever. I think obviously there was a lot of talk… "Is this the real deal or is this going to be another 12-win season once we get into some of these better opponents?" From what I remember the players were committed to saying "No, we're not going to let it be like last year. We're going to take each opponent as they come." Once we got to the North Carolina State game, that's our chance to really prove something.
Dopirak: Anytime you talk to those guys, it's what they bring up. That was when they knew they were back. In all honesty, if they had lost to Kentucky, that North Carolina State game still would have mattered.
Roth: We played Evansville a couple games before that and that kind of got us in the right mentality. We got down to N.C. State, we had a great gameplan, we really played a pretty good ball game.
Dopirak: They were down seven at the under-8 timeout. Legend has it that basically Crean and the staff got out of the way and sort of let the guys take over that huddle and say "Okay, we're not going to lose this game."
Pritchard: At that 8-minute mark there was just a different tone in the timeout huddle. I don't remember if it was Victor or Verdell, but somebody ended up going off on a little run by themselves and I think that gave confidence to everybody else around to say "We can do this."
Dopirak: They blew their doors off after that. You could see the confidence growing. These guys weren't messing around anymore. They were not going to lose these types of games anymore.
Pritchard: I think Victor topped it off with like a 360 dunk or something and that put the seal on the W.
Dopirak: I remember talking with one of the other reporters and saying "Wow, that's different. That is something else." Hulls was just lights out… Watford was tough… Cody was tough. Everybody came through with a big moment down the stretch.
Jones: To go on to an opposing team's floor for the Big Ten / ACC Challenge and win, I mean that was just huge for our confidence. I think we were so fed up and so tired of losing the previous year that we just, you know, why not?
Dopirak: They had had enough and they were just going to make everyone else suffer for what they put up with… I definitely walked out of that place thinking "This is an NCAA Tournament team."
Barnett: We put our will onto them… That was awesome. It gave us the confidence we never had before.
Sheehey: We just had that momentum and that winners mentality. It doesn't happen until you start doing it.
Hulls: It was our biggest road win up to that point that we had ever had. We were ready to prove to people like, this is our time now, we're ready… I think it kind of propelled us forward and put the nation on notice.
Jones: I don't think we really realized and accepted that potential until after the N.C. State game.
Smith: We were winning and we were winning a different way. It wasn't just by accident. We were executing a lot of things and so I think that type of momentum kind of carried on leading up to that Kentucky game.
Santa: We're on a plane ride back from the North Carolina State game, so everyone is kind of on this high after that win. I think by that point we were working with portable DVD players that you could watch film on and it was quite common that on road trips in which we would fly back or drive back from games that Coach (Crean) would want to start watching film. To that point, you always dreaded when he wanted to watch film on the way back. Usually we were coming back after a loss and it wasn't great, so I remember being like "Hey, this will be great. I don't mind watching this game over again." I was in the seat behind (Crean) on the plane, all of the coaches are there kind of huddling around the screen trying to watch… He (Crean) paused it, kind of looked at the coaches and said "We're going to find a way to beat Kentucky."
Derek Elston (IU forward, 2009-2013): On our way back, either on the plane or on the bus ride to the plane, Coach Crean stood up, and I think he asked us all to take our headphones off (and said) "You know, great win, we're not done. We're going to find a way to get Kentucky."
Santa: It wasn't like "We're going to beat Kentucky." It was "We are going to find a way to beat Kentucky." I had chills when he said that because I knew what that would mean to IU and this team and everything. I always appreciated that about Coach Crean, and I think that kind of set the stage for how we attacked that game. It was just, "We're going to find a game plan and this is how we're going to beat them." We're not going to beat them because we're better, we're not going to beat them because whatever. We're gonna find things that are going to work and we're going to go at it.
Elston: You would think us players were looking at him kind of crazy. How in the world did we go from winning 10 games to 12 games to now being undefeated, just beat N.C. State, and now we're going to go beat No. 1 Kentucky?
Santa: I wanted to believe him. I didn't have a doubt. It was one of those… "This is going to be tough, but we're going to find a way.'" At that point, at the very least, I knew we did have a shot.
V. "It was just a lot and you had to grab the moment"
Sheehey: I do remember Kory Barnett one time, him and I were driving a car, and he was like, "Hey man, two to three weeks from now we're playing Kentucky. We're gonna be undefeated. They're gonna be undefeated. We're gonna beat them." And I remember just thinking like "Yeah, buddy, OK."
Barnett: It was a different feeling. When we played them at home a couple of years prior, that was when they had DeMarcus Cousins and John Wall, they were the same type of team (in 2011). Kentucky hadn't changed, but we had. We knew we had a team that could really compete.
Jones: We finally had the premier big man we've been searching for the previous three years. We felt we had a seasoned veteran that knew how to play the game. We had those flashes with Vic and guys like that. We had those shooters like Jordy, you know, we just thought that our pieces could match up good with their pieces.
Roth: "This is exactly how we're going to beat Kentucky" is how we approached the prep work and the focus and the details on the scouting report. "They can't stop it. They can't gameplan for this. They can't match up with Cody." We were going to go right at Anthony Davis, one of the best players in the country. We were going to go right at him. Terrence Jones, Christian was going to go right at him and take him out of the ballgame. We had all these plans and there was no hesitation, there was no second thought.
Barnett: They (Kentucky) had just beaten North Carolina at home, so that was a big part of the game tape Coach Crean and his staff broke down. It was actually Coach (Tim) Buckley who talked to us about it. Our main focus was to make their guards finish at the rim. Whether it was Doron Lamb or Marquis Teague. Their guards could really penetrate and get to the lane, and then (opposing) bigs would step up and try to take those guards away. Then they're just dropping it off or throwing lobs. You got Anthony Davis and Terrence Jones and MKG (Michael Kidd-Gilchrist) just dunking like crazy. So the gameplan was completely "Bigs, do not help up." It kind of put our guards on an island with Vic and Jordy and those guys, they had to really lock in and keep their guy in front. Even if they did get beat, it was "Keep fighting and make their guards finish at the rim."
Santa: I think going at Terrence Jones… We had no problem kind of attacking that, and not just necessarily first time down the floor type stuff, but kind of moving the ball around and being able to take him and drive him.
Elston: That whole week of practicing and training for them was as if we were going to blow them out. It was weird to say because we had just come off two terrible seasons, but everything we did was so precise and 100 percent effort. There was no, "Well, we can't do this" or "This guy is too good for Kentucky, there's no way we're going to be able to stop him." He (Crean) had an unbelievable game plan ready for us and we planned it to perfection the entire week leading up to the game.
Hulls: If you've ever watched a Coach Crean practice, there's never a lack of intensity no matter who you're playing.
Smith: I understand people wanting to be real and things like that, but truth be told as far as the way we were playing, matchups, the team, it was going to be really tough for us to get beat.
Dopirak: It just felt so huge from the beginning. There hadn't been a buzz like that in a long time, and we had a whole week to hype it up. We had a whole week to write stories about it… It felt more like a football game than a basketball game in that way.
Roth: We were just so focused on that game. All the hoopla, all the gameday distractions that could have been there… They had no chance.
Smith: At that point ESPN and those people that wanted to talk about things… Of course you heard things in class. We still had to go to class. We heard it all week.
Sheehey: I remember my friends asked me for tickets and I had to have a bidding war with my friends for my ticket.
Dopirak: We heard on Twitter about people camping out (for the game) and we're like "Okay, we're going to see how this is going." We went out and interviewed a couple of these kids and it was like Monday or Tuesday and they were saying "Okay, I'll be here until Saturday." And I'm like "That's insane. It's December." We go back and they start tweeting out that they're being kicked out. So we're like following this drama because it connects to a bunch of different things…. These kids are just trying to get out and do a Krzyzewskiville-type thing and they can't do it because of some protest from years before about I don't even know what. That sort of told you that this was going to get weird. I think either Crean or somebody else from Indiana put out that "Hey, you can't camp, don't camp, but you Camp Crean kids, you were the first ones out here, we're going to make sure you guys are up front. You guys are taken care of." I think they ended up on camera with (Dick) Vitale and taking pictures with him.
Santa: The student lineup ahead of time, the energy that week of classes and things like that, I mean that was the first big game that I can remember under Coach Crean's time frame there.
Barnett: They're coming into Assembly Hall where we've got 19,000, 17,000, whatever it is, just ready to roll and it's going to be a different environment than a lot of these guys… Because of the way Coach (John) Calipari recruits… Teague is a freshman, MKG is a freshman, they had (Kyle) Wiltjer who was a freshman, they had Anthony Davis who was a freshman. We knew these guys (weren't) ready for the atmosphere.
Dopirak: A couple ESPN analysts picked Indiana (to win) and I remember tweeting this out and I got straight vitriol from Kentucky fans. Just because I tweeted it out they were pissed. Kentucky fans were just after me. I've never experienced that for a basketball game, before or since. It didn't even feel the same for Indiana versus Michigan the next year (2013) when GameDay was in town. It just felt organic. Every once in a while you get one of those games where it feels like straight buildup that's never going to stop, and that's how that one felt.
Hulls: I hate Kentucky more than Purdue, which is what most Indiana kids probably think. We were just ready for that moment and we didn't care who it was.
Jones: When we walked out on that floor for warm ups and saw those fans out there, you know, seeing the fans line up in front of the gym, it was a memory I should never forget.
Elston: By the time the game comes and we're in warm ups, you're looking at the number one for Kentucky and all the articles about how their starting five were going to be the first five picks in the draft. We're looking over there, like, we are absolutely going to smoke these guys.
Smith: It was joy, it was really fun to get ready for that game. I still can remember the warmup… A completely sold-out Assembly Hall, it was a real euphoric feeling. It was just a lot and you had to grab the moment.
Jones: Why can't we go out here and beat the number one team?
VI. "All the details were perfect"
Dopirak: I have such a high opinion of that game, it's like one of those games I'll never forget being there. But the first half was kinda ugly.
Elston: If you go back and watch the game, if you're watching it closely, we should've blown those guys out.
Dopirak: It's like 12-12 at the 10-minute mark… Kentucky has 13 turnovers in the first half and 13 field goals and Indiana has 11 turnovers to 9 field goals. No one is really making shots. Everybody is all over the place.
Barnett: For a majority of the game (the gameplan) really worked. It took away Anthony Davis. I thought Cody really outplayed him that game and just played his butt off.
Santa: With Cody that year, one thing we tried to get him in was in driving situations a lot. So instead of back to the basket, post-up type things, we'd get him in space.
Dopirak: Oladipo is right there with Kidd-Gilchrist, Zeller is right there with Davis and they're not losing those battles. Hulls doesn't look entirely out of his own and Verdell Jones doesn't look entirely out of his own. Nobody seems overmatched. Christian Watford is more than going toe-to-toe with Terrence Jones.
Barnett: When you're in the game you go possession by possession… There wasn't ever this feeling of "We might do this."
Pritchard: It kind of goes through and blurs together… I remember, typical of the end of my career, some down and dirty plays… A couple rebounds here and there.
Hulls: I just remember the bad stuff that I did. I'm just like "Oh crap, we didn't switch on this ball screen" or "I didn't get over this screen."
Sheehey: I remember when I scored. Shit, I can't tell you what else I did but I definitely remember when I scored. The crowd was loud as hell. It was wild.
Roth: It was almost like a checklist. Anthony Davis second foul, he's on the bench. Perfect. Christian dominating his matchup, guy is on the bench.
Dopirak: They're (Indiana) up by 1 at the half and you're like "Okay, they have a shot." Relatively early in the second half things start to pick up again. Indiana starts to hit some shots and everything starts to get going. Then the next thing you know they're up 10.
Elston: We had a chance to really just put our foot on their throat and take over. At the end of the game we made a lot of silly mistakes.
Hulls: We weren't giving the ball to Cody. "I don't think he ever touched it." That's all that Dicky V is saying (on the ESPN broadcast), that Zeller isn't touching it, and when I watched it that's exactly what happened. I think Davis had four fouls as well, so that would've been even better to get him out of the game cause Cody had done a great job in the first half drawing fouls. We took some bad shots, had some bad turnovers, I was getting beat by Teague, you know, there were certain turning points we're like "Oh crap, we're letting this slip." But then, we did a great job of sticking to our game plan, keeping guys to their right hand, not coming up on their guards when they beat us so they can throw the lobs.
Dopirak: Indiana didn't play a perfect game (and) I think we really thought Indiana would have to play a perfect game and would have to do everything right. And they made a bunch of mistakes and were still right there… They just refused to believe that Kentucky had them.
Smith: Another big moment (was when) Vic turned the corner. It was an iso play, he turned the corner and got a dunk over Miller. It just woke up everybody. Assembly Hall is just different when it's a sellout stadium and you can hear it, things weren't starting to work as well (for Kentucky).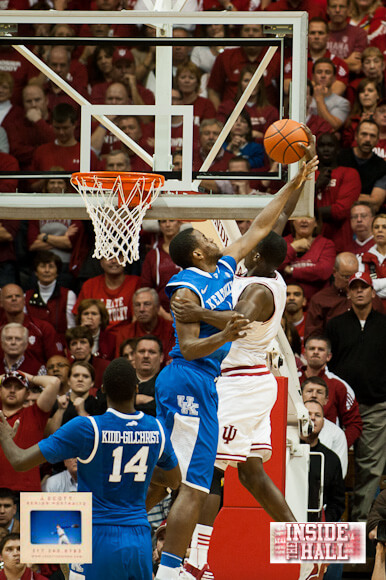 Santa: Even when we had a little bit of a lead there late in the second half, you just felt the whole time like "Oh, man is this really possible? Is this really going to happen?" I just didn't envision that happening at that point, once we kind of gave up the lead. It was like, "Man, we were really close, got a shot here, but it's going to take a miracle-type situation."
Hulls: We had a play drawn up before, and then Victor loses it and that's when we foul Lamb. But coming out of the timeout, we never felt we were out of the game until it said zero on the clock. We had guidelines for how many dribbles we can take for this amount of time, blah, blah, blah.
Dopirak: At this point, Verdell Jones is still one of those guys everybody is frustrated by. He would always make some mistakes that got things a little out of whack. You put the ball in his hands there, and I'm like "Please, whatever happens don't make Verdell take this shot," because if he misses everybody is going to lose it on him.
Roth: I can remember sitting there, before they (Kentucky) shot the free throw, before it led to Christian's shot, just thinking in the huddle, "Something's going to happen, there's got to be a way."
Santa: In the huddle we had a play designed to take the ball out of bounds if we would have needed to. Right from the start Cody would set the screen, right from the start it didn't work exactly how we had it, but the guys on the floor just played through.
Jones: The goal was to get a three. We fought too hard, just win. If the three is not there, let's get a two, but let's go ahead and get this juggernaut win.
Roth: I know the thought process as they were shooting that second free throw. They (Kentucky) had everybody back off the line. The thought process on the bench was "Hey, they're not picking us up. We're going to get a shot.'" Common sense, and maybe it's my mentality, was they would have picked us up and fouled right away, if I remember right they had a foul to give. It goes from "They're not picking us up" to "They're not fouling" and then holding your breath and watching.
Hulls: We thought they would foul, but they didn't. Coach Calipari thought they were going to foul too, it looked like.
Jones: That's kind of the biggest question, right? Everyone wants to know and has their own thing. Is the play drawn up? Did the play break down? It was a play that was drawn up, but it wasn't drawn up the way it ended up turning out.
Smith: We didn't even run the play right to be honest. That might be one of the biggest secrets or whatever that people talk about as far as with that, but we didn't run the set right. It wasn't necessarily that it went wrong. I think it was kind of more so rushed. We were on one side, but it was an early screen… But it ended up helping.
Dopirak: It looked like a wreck. He (Verdell) runs down there and gets in a little bit of a bind, gets cut off, and it's "Oh no, Oh no." He's gonna try a fadeaway, it's not going to go anywhere and this is going to be brutal. I didn't know where Watford was. All of a sudden Verdell turns around, looks in the worst shape possible, but Christian Watford is right there on the left elbow. That's way too lucky.
Barnett: We had a graduate assistant named Seth Cooper and he always joked that Christian was the best trail 3-point shooter in the country. I think if you go back and break (film) down, a big part of his 3s came on exactly what that 3 was.
Hulls: Verdell made a great read on that, and whether Cody was supposed to screen or not… We thought they were going to foul, so maybe that screwed it up by them not fouling. So Verdell did what he did, got in the lane and then kicked it back to C-Wat. We liked having Christian throw it in because most people forget about the inbounder. That's his shot, and if you forget about him, he'll have the drive and kick in exactly how we want it.
Barnett: It's him being the guy who in-bounded it. He's trailing the play and his guy is either in help or falls asleep and he gets an open 3. To have the opportunity to get a player a shot that he's pretty elite at was incredible.
Santa: Give our offensive system and Coach Crean credit there, that was very much what it was based on. We had a ton of plays and all those things, but it was about movement, it was about getting the ball down the floor.
Smith: It was what we would call a drag. You would just pull behind. He would dribble it down there… Kicked it back and history was written.
Jones: We had expected Cody to be a little bit closer to halfcourt setting the pick, but because of his IQ or him just forgetting the play, who knows, but where he was at was the perfect position. After I turned around and that happened, it was a free for all. I saw Jordan and our shooters being closely held, so I really just wanted to make a play. When I was dribbling to the corner, out of all the crazy and the yelling and the noise in the building, I could hear Christian yelling my name over everything… I just put that trust in him, and he did the rest.
Hulls: The way things ended, and the momentum, and the shot we got, you couldn't have drawn it up any better than that. If he misses the shot, who knows what people say? For me, we were a great shooting team and for us to get that option — a great look for C-Wat in one of his sweet spots the way he likes to shoot, that's probably one of the best options we could've got.
Roth: From the moment it left his hands it was good. You could tell from the sidelines, the shot was a play that we practiced over and over and over and over. It executed itself perfectly. Verdell made an unbelievable pass, unbelievable read to Christian. Cody set the screen. Everybody… All the details were perfect.
Santa: When it went in, I don't have a whole lot of memories of the immediate aftermath of that, but I see myself in a lot of the pictures.
Dopirak: When it goes in, I had this moment of thinking "That's too good to be true." Within seconds of that, McCracken Court is filled with humans.
Roth: The moment the shot went in, it was one of those things, those storybook endings. 17,000-plus people, players, coaches, refs, not a single soul questioned whether the shot was good.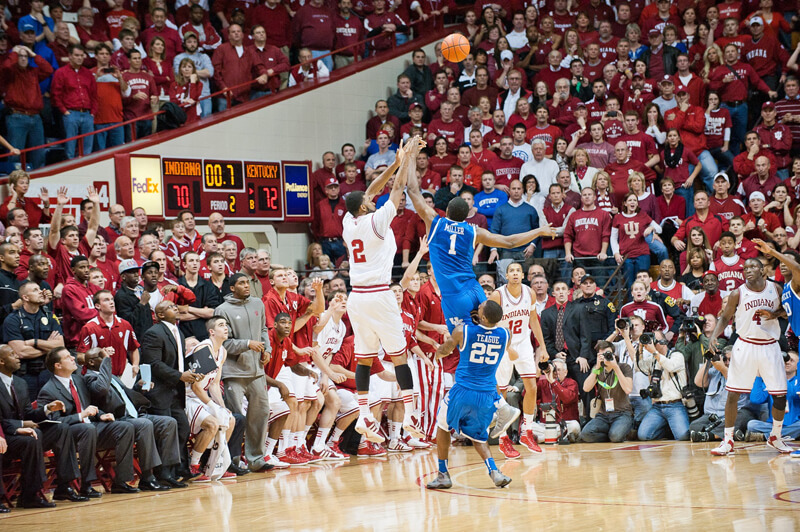 Hulls: I sprinted directly to Christian because I'm kind of claustrophobic and I knew everybody was going to jump on top of him. So I go over to him and everyone is jumping up and down and excited. I'm also trying to keep him upright so people don't dogpile him and stuff. It was just chaos after that.
Santa: For some reason, and I don't know why, but I was very concerned with Miller, who was in the IU dogpile of players. He had contested the shot and fallen down right there or whatever, so for some reason my first instinct when I was there was to get him out of there, I don't know why. By that point the students were on top of you and all the players and just being in the middle of that was just chaos. It was an unbelievable scene and the whole time you're just thinking "Did that really just happen?"
Pritchard: I remember being just very, very hot on the court with how many people were down there. I remember sweating like crazy.
Santa: Whatever (stats) I was keeping at the time got taken or destroyed or something in the melee afterward. I lost all my clipboards, all my information that I had. So I had to come in the next morning and re-stat all of that on film, which was a task I didn't really mind, having to rewatch that game.
Barnett: It goes in and you see (the clock) hit zeroes and you see the crowd start pouring in. I never anticipated… Now it's something guys kind of think about, but it never crossed any of our minds "Hey, if this shot goes in there might be a court storming." It just happened. It was so authentic… You just see a sea of red coming all around you. Then you're standing on the scorer's table with Christian and Vic and those guys, looking over the crowd and basking in (it).
Santa: I remember going back to the locker room and realizing that no one was back there. None of our players were there, there were a few of our coaching staff and I remember hugging Coach Buckley and just being ecstatic back there… Even when we got some players back in the locker room it was just a challenge trying to find all the players. Vic was 15 rows up in the stands standing by his mom.
Dopirak: From where this program was to where it is in this moment, is so hard to believe. It just happened on that shot, on that weird of a possession, on a buzzer-beater.
Barnett: From then on out it changed who we were as a team and it changed our entire path.
Sheehey: It was definitely the best game of my life, no questions about it.
VII. "There's no way the town is sleeping with what just happened"
Elston: We didn't get back into the locker room for like 30 minutes, or at least that's what it felt like to me. When the crowd stormed the court, we were just trying to find players, let alone get back into the locker room.
Roth: The celebration was crazy. I don't hardly remember any of it, other than everybody is dog-piling on Christian.
Dopirak: I remember tweeting out that I might have to crowdsurf to get there (the media room) because it looked like we were on stage at a festival show, like it was Warped Tour or Lollapalooza and the stage was the scorer's table. The guys were standing up on that and they were playing the fight song and the guys were like half conducting. There wasn't a piece of floor that didn't have a body on it.
Smith: I think that was definitely one of my top-five moments, not even just in an athletic career, but I would say for life.
Dopirak: I've seen the panorama they have at The Upstairs Pub (in Bloomington). I've managed to find myself there (in the photo) and I'm just standing up and I think I've got a camera phone and I just recorded for a while. It wasn't great video quality and I don't think I could have used it anyway… It was just taking it so I could look back on it.
Elston: I think I speak for everyone when I say I don't think we've ever been cussed out like we were after that game, and it's weird to say because we won.
Barnett: The famous (TV) picture of Coach Crean after the shot goes in, he's got kind of a serious, stoic look. People don't understand that he was upset because we blew whatever it was, an 8, 10-point lead.
Santa: I remember that being a very strategic point and he (Crean) wasn't wrong in doing that. We should have won that game by 10. I think his point was if we're going to be a good team, if we're going to carry this on into the Big Ten season and the NCAA tournament, this is what is expected.
Smith: In the initial (moment) we (the players) kind of looked at each other, but it settled in with what was going on. They were right. Free throws were missed, blown possessions, we had mishaps.
Barnett: That was always his approach. Whenever you have great wins it's helping the guys come back down. Whenever you have tough losses or you have close losses it's the opposite, it's helping build guys' confidence back up. He had a different expectation or a different belief and he wanted to make sure we understood "I knew we are this good."
Smith: I don't think there was really anything that could've turned that night bad.
Santa: By the time we were able to get out to the town area, that celebration had been going on for some time. It felt like when you would go out on a Little 5-type weekend and everyone is just out on the porches and downtown. It was that kind of feeling where it was like, everyone in town knew what was happening. Everyone was out. Every restaurant, every bar was packed. The streets were packed. You drive through the neighborhoods and everyone's out celebrating. It was just that kind of feeling. There's no way the town is sleeping with what just happened.
Hulls: Lamp posts were getting climbed on, streets just packed, it was crazy, man. The only other time I saw it like that, being from Bloomington, was when IU went to the championship game in 2002. I was 12, and I went down with a friend, his parents drove us down, and we weren't let out of the car because it was so crazy. But we drove down just because we wanted to see what it was like. Kirkwood's packed, cars getting beat in, just people going nuts.
Dopirak: Watching the catharsis of that moment going back through everything bad that happened, not just in 2008 but really going back to Bob Knight. It was one of the first times they (IU fans) had to embrace the program wholeheartedly and sort of full throated. I think it just felt pure to them in that moment. Everybody just let it completely loose.
Sheehey: The day after we beat them, we had like the hardest practice of that year. I guess Crean didn't want us to get too big of a head or whatever, but that sucked because all of us were definitely partying that night, so that practice was not fun. At least I was partying, I don't know about anybody else. I was definitely partying.
Pritchard: We could have won by 25 and played a perfect game except for one guy missing a charge opportunity or something and they (the IU coaches) would still be at us.
Santa: It was like "Hey, if we don't fix some of the things that went wrong during that game, this could be the highlight of our season." Maybe it was… It was the turning point of so many things, but no one wanted it to end right there. No one wants to be 9-0 like we were at that point and then win three games in the Big Ten and be done.
Hulls: Another part is we didn't want people to just think we got lucky beating Kentucky, either. We wanted people to understand we should've won this game by 10 or 15 points, and so looking back at it, it made a lot of sense for us to look at it that way.
Barnett: Even in the years prior, in the tough losses, he (Crean) would say things like "We were supposed to win that game." Even if we were a 10-point underdog in Vegas, it was "I don't care, we were better than that team. I've watched the film. I understand it. I know we should have won that game." For better and worse, that's the way he saw it. That was kind of the way he pushed guys, and it worked.
Roth: I can still remember my freshman year (08-09) we lost to Michigan State on a rebound, tip-dunk on Senior Night, Kyle Taber's Senior Night. I can still remember watching film the next day over and over and over and over about a missed box. About one missed box out.
Elston: After the film session the next day, Coach Crean walked us down into Assembly and we just looked up and there were seats missing, there were seats broken and Coach really wanted us to look up and look around and realize the scene from the night before and what we had just done. He was really good about letting us know we had no idea what we had just done for Indiana basketball.
VIII. "They were just never afraid again"
Elston: For us to beat them (Kentucky) at home in what was a crucial time for Crean and for us, I think it solidified that we had turned the corner. After that game, the confidence about the team was incredible. It was something that we had never seen before. It was just a different energy in there and we rode that the whole rest of the season.
Dopirak: They were just never afraid again. Once they beat Kentucky, they had no reason to back down to anybody. They beat Ohio State on New Year's Eve. A really, really good Ohio State team with Jared Sullinger and Deshaun Thomas and Aaron Craft and William Buford. They beat Michigan right after that, beat a really good Michigan State team at the end of February that had Draymond Green and Keith Appling and Branden Dawson and Adreian Payne… Everything after that (the Kentucky win), the confidence is always there.
Hulls: From that point on we kind of went on and we attacked every game with the same mindset. We were hungry, and that just made us never want to lose the winning feeling again.
Roth: We were so caught up in the moment trying to take care of our business every day, trying to find a way to compete for that NCAA tournament berth and be in the running in the Big Ten and all of that stuff, but you could start to see the difference in the excitement level of the program, the long term effect.
Santa: That (Kentucky) game was obviously a huge game, in so many respects, but had we gone the rest of that season and not made the NCAA tournament or made it in the last four in or a 10 seed or something like that, that got beat the first game, I don't think we would look back at that game in the same level of regard that we do now. I think it was really how we were able to take that experience and build on that. That really is the reason why we look back at that win as the turning point.
Hulls: Obviously we go to the NCAA tournament and play Kentucky again (in the Sweet 16). I don't know how we met again, there's a probably a little work to make that happen. Big turnout, awesome environment, played Kentucky well again that game. They just happened to hit like 32 out of 33 free throws or something crazy… We played Kentucky better than anyone that whole year.
Dopirak: Even though they got beat by 12 (against Kentucky in the Sweet 16) they probably played a better game than they did the first time around. That game was gorgeous basketball wise… Indiana loses that game shooting 54 percent from the field and only turning it over eight times. From that point forward they just had no reason to be afraid of anyone and they weren't. That even carried them forward into the next year.
Barnett: It gave us a bad taste in our mouth by the end of the season. I just did a reunion call with a bunch of our guys and I remember Cody saying how hard the next offseason was. By the end of it, we believed the same thing he (Crean) believed going into that Kentucky film session, that we were really good. When we got beat by Kentucky in the Sweet 16, it wasn't a feeling of "We lost to the National Champions, so great season." We thought we were better than them. It's probably not as haunting as the Syracuse loss, but it's still something that a lot of guys look back on.
Roth: We were recruiting well, we started to land more of those big-time recruits and some great players who've come into the program since. Those are all little things that lead to the long-term success of the program, but also are reflective of what the players in the program are doing.
Santa: That whole (11-12) season spring-boarded us into next season when we were preseason No. 1 and all of those good things.
IX. "You know, that's stuff in movies"
Dopirak: There's a little bit of an awkwardness to it because it deserved a better post-script. The 2012-13 team was good enough to win the national championship. The movie is supposed to end with the Watford shot going down and then in the credits it says "Indiana goes on to win the National Championship in 2013." That's tidy. That makes sense. Instead you have to deal with this feeling that there's something unfulfilled.
Sheehey: Obviously, if we would've won a national championship that would've been icing on the cake. Of course, that's what we wanted, didn't happen, but I felt like we did our best and we put on a good show.
Dopirak: 2011-12 really never ended. It just seemed like they didn't have an offseason. It was all gas, no breaks, all the way through and it seemed like they had run out of gas. It just feels like all the buildup and all the narrative deserves an ending of "They win the whole thing."
Sheehey: I think those two years were the perfect storm. If you're a college basketball fan, that's what you want. You want guys that are going to stick around for a little bit. You want guys that you know what they're gonna bring every day so you can pick your favorite guy on the team and get behind them. Those couple years, it doesn't get much better.
Santa: To be part of that experience was just life-changing, I'll never forget that for sure. To be part of that bigger picture, the downfall, the rise, the turning point, winning our first Big Ten championship, to be part of that whole experience is to me the bigger picture in all this.
Roth: You sit back now and look back at the program, you can just appreciate what we were able to achieve, the level that we were able to compete at each day and then also the type of players that we had. If we don't get a Cody Zeller, do we get some of the other bigs who have come in and performed at such high levels? If we don't get Victor and Jordan Hulls, do we get a Yogi Ferrell? Where do we go?
Santa: I'll point to some of the coaches on that team — Coach Crean, Coach Buckley, Coach (Bennie) Seltzer, Coach (Steve) McClain… It's hard if you're on the outside to understand what exactly they went through as a program there for a couple years and how hard a six-win season or a 10-win season is and how stressful those are on you. It wasn't because you weren't working… I think that moment (the Kentucky win), for that coaching staff who lived it, that was their livelihood. It was such an incredible moment and they deserved that so much, being able to come full-circle.
Dopirak: Indiana fans talk about it like it was their championship over the last 10 years, but at the time it didn't feel like too much at all. It felt totally organic and totally fair. This was just euphoria. You were watching utter euphoria.
Pritchard: Now you'll randomly see the clip played on ESPN. It's eight, nine years later and they're still talking about it. I definitely didn't know how much of a significant shot it was at the time.
Hulls: That's what you dream of. You want to be part of some win like that, beating the number one team on your home floor and then having people rush the court. You know, that's stuff in movies.
Filed to: Derek Elston, Jordan Hulls, Kory Barnett, Matt Roth, Mike Santa, Raphael Smith, Tom Pritchard, Verdell Jones, Will Sheehey