Notebook: Hoosiers rebound for win in second half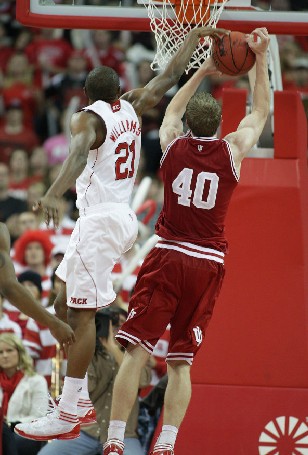 Heading into IU's matchup against North Carolina State, the obvious question mark was rebounding. For the first time this season, Cody Zeller would face a front line with a considerable size advantage in terms of weight and strength.
After one half on Wednesday night – behind tough inside play from Wolfpack forwards Richard Howell, Scoot Wood and center DeShawn Painter – it proved correct.
The Hoosiers were outrebounded 22-13 in the first 20 minutes. The key stat, though, was offensive boards, where N.C. State had the same number as IU's total rebounds. These led to a multitude of second-chance points, including a tip-in by C.J. Leslie at the buzzer to give his team a one-point lead.
The second half, however, was a different story.
IU's intensity down low rose. Zeller wasn't getting pushed around as easy as before. Christian Watford did a good job helping down low and, as he said, it stemmed from a different attitude in the second half (which we'll talk about in a moment).
"There was a sense of urgency at how we had to play at the rim, and I was proud of those guys," IU coach Tom Crean said. "We gave up some size and we gave up some athleticism at the glass. There's no doubt about that, but they came back and battled and fought."
Zeller and Watford ended up with a combined 16 rebounds (seven offensive) and were effective at getting to the free throw line down the stretch. IU's strong inside play late in the game proved to be the difference.
HULLS SETS THE TONE
One of the biggest issues concerning the Hoosiers the past few seasons has been a lack of true leader both on and off the court. Going into this season, word among coaches and players was that Jordan Hulls was finally becoming that guy.
It was most apparent on Wednesday night in Raleigh.
Hulls was clearly the most vocal player, shouting out plays and directing the rest of the squad in key situations. He was also the one making those plays.
"He was tremendous," IU coach Tom Crean said. "The big word with him is 'command-presence'… he was very efficient with the ball and very confident."
The Bloomington native had arguably his best overall game of the season, finishing with 20 points, four rebounds, five assists and two steals. Known as more of a scorer than a facilitator, he also got players involved and always seemed to make the necessary pass.
Hulls' three-pointer with 1:45 remaining, which gave IU a 79-75 lead, was arguably the biggest shot of the game.
WATFORD GETS TOUGHER
Following his team's victory, Christian Watford made it clear that he wasn't at his best the entire 40 minutes.
"I just wanted to play a little tougher," Watford said of his second half effort. "At halftime I felt like I was playing as tough as I needed to be, so I challenged myself to make a better effort closing out the game."
Giving it 100 percent on a consistent basis has been a knock against Watford for a while now. But if he can do this more often then not, IU's future opponents will be in for a true test.
Whether it was Tom Crean's words at halftime or Watford internally telling himself to push harder, something clicked down the stretch.
The forward finished with 16 points and nine rebounds (after having only five points and two rebounds at halftime). He fought hard down low and also hit crucial free throws in the final minutes.
ZELLER ANSWERS THE CHALLENGE
Until Wednesday night, Cody Zeller wasn't truly tested by a physical presence in the paint. Andrew Smith of Butler was similar to Zeller in stature, but the rest of the Bulldogs' frontline paled in comparison to N.C. State's.
Despite facing a lineup packed with size and athleticism, Zeller rose to the occasion.
He finished with 19 points and seven rebounds and, particularly in the second half, was a force inside.
IU coach Tom Crean praised not only his ability against the Wolfpack, but also his intelligence.
"He has that clock in his head, he doesn't panic," Crean said. "They got us a couple times, but he kept adjusting. He needed to play better in the second half, and he did."
Zeller's parents were in attendance early on but left in the later stages of the game to travel to Chapel Hill, N.C. to catch their other son, Tar Heels forward Tyler, play against Wisconsin. Coincidentally, that's when Cody was at his best.
"Maybe they shouldn't have come at all," he joked after. "We might have won by 20."
(Photo credit: Mark McIntyre/GoPack.com)
Filed to: Christian Watford, Cody Zeller, Jordan Hulls, North Carolina State Wolfpack