Trio of former Hoosiers ready for Super 16 of The Basketball Tournament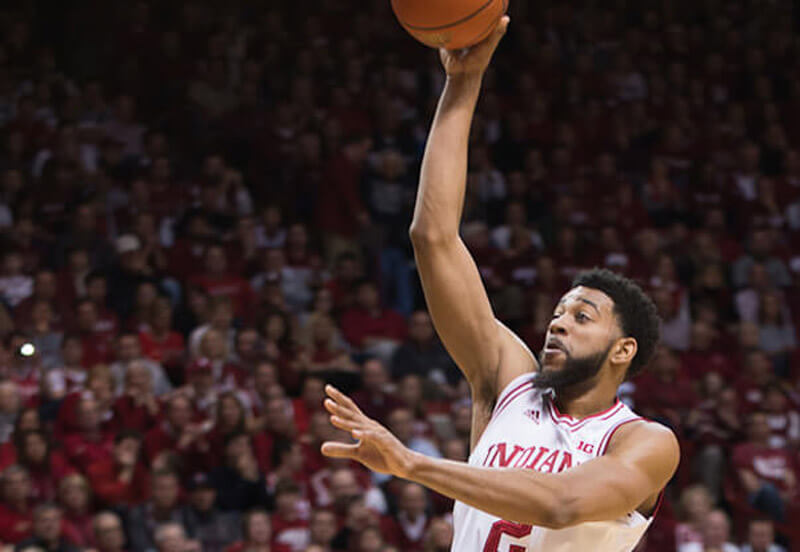 For the third consecutive year, a team chock-full of former Hoosiers has advanced to the Super 16 of The Basketball Tournament.
Armored Athlete, which stars Will Sheehey, Christian Watford and Jordan Hulls, made it all the way to the final eight in 2015. Saturday, they have an opportunity to equal their success from two years ago.
The 64 team, single-elimination tournament pits teams full of former college and NBA stars against each other, with the winning team sharing a prize of $2 million.
Armored Athlete won their first two games of the 2017 edition of TBT while playing without both Jordan Hulls and Christian Watford. The duo spent the past weekend at Watford's wedding in Alabama.
Sheehey picked up the slack in the opening round, scoring 22 points for the No. 4 seed in the West region in a 119-74 drubbing of No. 13 The Pearl 31's. In the second round, Xavier alum Jalen Reynolds poured in 25 points for Armored Athlete in an 84-77 win over No. 5 Team 23.
In the Super 16, Armored Athlete will meet a more formidable foe in No. 1 Team Colorado, which lost in the championship game a year ago. 11 of the 12 players listed on the Team Colorado roster played collegiately at the University of Colorado, including former NBA player Chris Copeland.
"Team Colorado plays well together," Hulls said in a phone interview. "They have two guys who shoot most of the shots in (Chris) Copeland and (Marcus) Hall. We're going to have to find a way to keep those guys contained, as well as the other guys, to make sure none of them go off."
Although Watford and Hulls didn't play in the first two contests, Hulls said chemistry won't be an issue.
"I don't think there are any worries (about chemistry)," Hulls said. "Everybody is going for the same goal, whether you score two points or 20, it's not a huge deal as long as we win. So I don't think chemistry will be a big issue. Christian (Watford) and I have played with most of the guys anyway, so it's not too big of a worry for us."
Much of the core of Armored Athlete remains in tact from previous years, but the additions of big men Jalen Reynolds and Julian Gamble (University of Miami) have helped the squad excel inside the key.
"Julian Gamble and Jalen (Reynolds) provide that inside presence," Hulls said. "I think we're playing a lot more inside-out rather than just being guard oriented. We still have a lot of guards who can score, but we have a bigger inside presence, defensively and offensively."
The Super 16 contest between Armored Athlete and Team Colorado is scheduled for 6 p.m. ET in Brooklyn and will be televised on ESPN2.
The winner moves on to the regional final on Sunday at 4 p.m. ET on ESPN2.
Filed to: Christian Watford, Jordan Hulls, Will Sheehey