Best of Inside the Hall: Will's Rise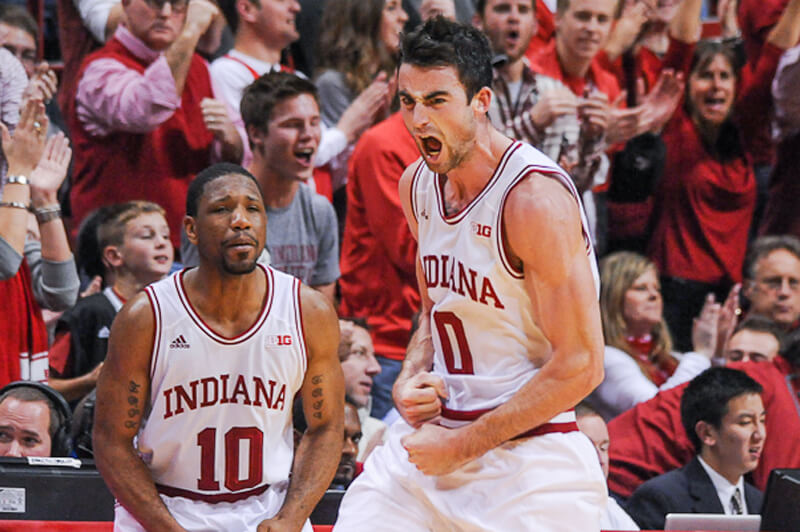 Editor's note: In celebration of the 13th anniversary of Inside the Hall's launch next month, we will periodically be republishing some of our favorite stories from over the years. 
Originally published: March 5, 2014 by Jordan Littman
Indiana coach Tom Crean walked into the locker room and saw Will Sheehey getting mobbed by his teammates.
It was Feb. 27, just six days ago, and the Hoosiers had just defeated then-No. 20 Iowa, 93-86, in Assembly Hall. And Sheehey, Indiana's lone fourth-year senior on scholarship, had just recorded a career-high 30 points, along with three assists, against the Hawkeyes.
As Crean walked in only minutes after the buzzer, he saw his players "going crazy" for Sheehey. They were so excited, Crean recalled, for his career-best performance in one of his final games in Assembly Hall.
"He deserved it more than anyone," sophomore Austin Etherington said.
But what caught Crean's eye as the players congratulated Sheehey was the senior's reaction to the attention. He deflected the praise to guards Evan Gordon and Yogi Ferrell for their passing and getting the Hoosiers open, controlled looks on a night in which a high-tempo game could have resulted in an ugly offensive effort. It's exactly what Crean wanted to see.
As a role player and sixth man in Indiana's offense in his first three years in Bloomington, Sheehey has taken on an expanded role in the 2013-2014 season: starting forward and reliable scorer are just a couple of the roles he's assumed. But most importantly? He's had to become a team leader.
And on Feb. 27, that is exactly what Crean saw in his captain.
"I would say that he's playing like the Will Sheehey that everybody has come to know, love and respect over the past couple years," he said.
*****
When Crean recruited Sheehey to Bloomington for the fall of 2010, Indiana was coming off a 6-25 season — the worst in program history. But what Indiana was getting in the No. 131 player in the 2010 class extended far beyond what Crean and his staff had seen on tape.
As a senior at The Sagemont School in Weston, Fla., Sheehey received little attention at first from colleges. When he made his decision, he only chose between Indiana and George Washington. Sagemont coach Adam Ross had no idea why he received such little interest.
His first-year player that had transferred from South Fork (Fla.) High School already changed the culture of his program.
"Sheehey's work ethic is what separated him from everybody else," Ross said. "We've had some hard workers come through our program. But Will Sheehey is the gold standard."
There were players who would come into the gym and work out every day. But nobody did it to the depth and length that Sheehey did. He would come to the gym at 5 a.m. and work on his shot two hours before school. He would stay long after and work on his game — outside of practice — in the weight room.
Sheehey's effort rubbed off on his teammates, too. After seeing what Sheehey was doing, they, also, started working harder in the gym. They finished the season with a 25-8 record, ending the season in the Florida Class 2A semifinal game.
But here's the thing about what Sheehey did at Sagemont: His efforts in his one season there had a lasting effect on the program. One that remains to this day.
"He was a total culture-changer for us," Ross said. "In a lot of ways, he changed our program in the way we go about working every day, individually and as a team. Will had a tremendous, lasting impact here."
*****
On a summer day in 2012, after Sheehey's sophomore season at Indiana, rising senior Jordan Hulls had arrived at a workout with news that he had broken his personal record in the VO2 Max treadmill test — an exam that tested how much endurance one had at full speed.
Players were thrilled. Coaches were thrilled.
"And Will was so pissed off," Cody Zeller recalled. "He said, 'I'm going to shatter your record! I'm going to shatter your record!' The dude was trash talking the whole day."
Such is the style of Sheehey, the fiery, determined and competitive type that helped give the Hoosiers a spark time and time again in his first three years on campus.
The next day, Sheehey took the VO2 Max test. He passed Hulls. He passed everyone in program history, in fact.
Sheehey broke a record that had stood since the 1980s, and he did it more than a minute longer than anyone else — he ran for 14 minutes and six seconds at full speed. And he said he could have run for a minute more.
"He shattered it," Zeller said. "That is kind of how Will is. If he says he's going to do something or if anyone challenges him to do anything or says he can't do it, he's going to do it. And he's not going to break anyone by 10 or 15 seconds, he's going to shatter it."
Throughout Sheehey's first three seasons on campus, he continued to challenge his teammates, whether it be Hulls or Christian Watford or Derek Elston or Victor Oladipo or Cody Zeller — all of whom are now playing professional basketball. The work ethic around the program started to change. He was an integral part of the team's corps of players that emphasized the overall hard-working mentality associated with turning the program around.
"There were always competitions between us," Sheehey said, "but (the VO2) was not a competition."
In his freshman year, the Hoosiers went 12-20. The Hoosiers would obtain a 56-16 record over the next two years, with Sheehey playing more than 22 minutes per game off the bench. His scoring totals, assists, rebounds and steals increased.
He dunked over Iowa's Melsahn Basabe. He hit the game-winning shot over VCU in the 2012 NCAA tournament. He was named the 2013 Big Ten Sixth Man of the Year. But Sheehey's impact extended far beyond highlight-reel plays and on-court performances.
"He's one of the best teammates I've ever had," Hulls said.
Following the 2012-2013 season, Hulls, Watford and Elston graduated, and Oladipo and Zeller left the program to pursue NBA careers.
Heading into this season, only Sheehey remained from the corps of veteran players that helped change the tide of the program. And he would be on a team with eight freshmen and five sophomores.
"We need his leadership," Crean said. "We need his courage."
*****
In his first three seasons at Indiana, Sheehey lived to a certain standard of performance. And with an inexperienced team this season, he wouldn't let that standard not apply to the younger players on the roster.
There have been times, senior transfer Evan Gordon said in December, when Sheehey would stop practice because his teammates weren't doing something right. He wanted to get it corrected, and it didn't matter even if they got a stop.
"Will has done a great job explaining things," Gordon said. "Helping out with switches, just having the whole team on the same page."
And on the court, during games this season, Sheehey hasn't been shy about getting into his teammates' faces when he has seen something he doesn't approve of. And on most of those occasions, he has shown them what to do, how to get better. He will not let the work of he and his teammates from his prior three years fade away.
"It was guys like Will that changed that culture with their work ethic, with their energy, with their edge," Crean said. "And he continues to do that to this day."
During Indiana's game against then-No. 10 Michigan on Feb. 2, the Hoosiers wanted to implement continuous switches on the Wolverines' offense. Michigan coach John Beilein admitted it was something he had never seen before. The Hoosiers won, 63-52. At the center of that defense, the one who made it all happen: Sheehey.
"Wouldn't have worked without him, no question," Crean said. "In this game you really had to have a captain of the defense, and he did a phenomenal job."
In fact, all season, Sheehey has been instrumental in becoming the Hoosiers' vocal leader — giving them a sense of communication on how to operate on defense: where to be and when, how to execute certain plays. The Hoosiers rank No. 30 in the nation, according to KenPom.com, in defensive efficiency.
But on offense, in his new starting role, Sheehey struggled. His efficiency numbers plummeted. He wasn't scoring as often. He was turning the ball over and playing more minutes than ever.
"He's a really good player," Crean said. "Every once in a while people forget it. Well, I don't care if people forget it. I care when he forgets it. I think the most important thing is that he didn't need to forget he was a good player. He didn't need to think that he was anything less than being a tremendous leader."
Which is why, after the game against Iowa on Feb. 27, Indiana's players went wild for Sheehey. He had finally found the offensive groove and efficiency he had been lacking of all season.
"That's what a senior leader does," Ferrell said. "He steps up to the challenge. He's done that for us. He's pretty much carried us."
Only three nights later, Sheehey would follow that 30-point performance with a 19-point effort against No. 22 Ohio State. The Hoosiers, again, would win that game.
And heading into tonight's final home game of the season, on Senior Night against Nebraska, the 17-12 Hoosiers are back on life support for an NCAA tournament bid.
"Obviously, we're taking it one game at a time," Sheehey said. "But if we win our next two games and we make a run in the Big Ten tournament, I think we have a pretty good resume."
*****
On his weekly radio show this past Monday night, Crean was asked about to talk about his four seniors on his roster. He said Taylor Wayer helped teach guys how to stay the same through adversity. He said Jeff Howard was a play-on-demand guy. He said he wished he had more time to work with Gordon.
But when Crean spoke about Sheehey, the long-time coach paused.
"When it's all said and done, long after this is done and years pass and decades pass," he said, "everyone will remember Will Sheehey for being a huge part of the comeback of this program. Not just the comeback of the team, but the comeback of a program.
"The program always stayed strong because the foundation was so strong — because of the tradition, because of the fans, because of the former players, because the winning was there. But the culture had dropped, I think everyone knows that. And it didn't come back easily. And it was guys like Will that changed that culture with their work ethic, with their energy, with their edge."
When Sheehey arrived in Bloomington in 2010, the Indiana men's basketball program was floundering. Sheehey helped restore it to a No. 1 ranking and two straight NCAA tournament appearances. And when he was assigned the role of de facto captain heading into this season, he did not back away.
He might be the only one left from an era that changed Indiana basketball, but he has carried the torch into 2014 and beyond.
"He walked into the doldrums of this place and changed the culture of this program, and there is no doubt about it," Crean said. "He is the only one left, and that culture is still moving in a great place because of what he does."
Filed to: Will Sheehey