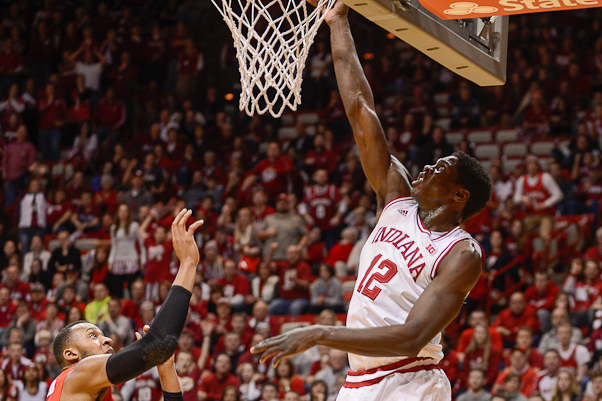 Welcome to offseason storylines, a look into some of the biggest storylines surrounding the 2014-2015 Indiana Hoosiers. Next up, a look at the potential role of Hanner Mosquera-Perea as a junior. (Previously: A look at Indiana's youth and how it got here, Is Troy Williams ready to make a leap?, Where can Ferrell grow as a junior?)
Indiana will enter the 2014-2015 season with one of the Big Ten's best backcourts. Yogi Ferrell returns with a legitimate shot to challenge for first team All-Big Ten honors. James Blackmon Jr. arrives with numerous accolades, including a selection to the McDonald's All-American team. Stanford Robinson will bring a year of experience and the ability to get to the basket. And Robert Johnson arrives with a college ready body and shooting stroke.
The frontcourt situation, however, is far less certain and full of questions.
The loss of Noah Vonleh to the NBA and the midseason transfer of Luke Fischer to Marquette leaves the Hoosiers with very few options up front. IU did add a bit of depth last spring with the signing of Jeremiah April, a 7-footer from Phoenix, Arizona, but the majority of the frontcourt minutes figure to go to sophomore Devin Davis and junior Hanner Mosquera-Perea.
At 6-foot-9, Mosquera-Perea is much more of a center than the 6-foot-7 Davis, although IU did use Davis at the five situationally last season against teams with similar size up front, like Michigan. But against teams with size, it stands to reason that Mosquera-Perea should get the first crack at the minutes that were mostly taken by Vonleh a season ago.
So what does Indiana need from Mosquera-Perea, largely unproven through his first two collegiate seasons, as a junior? In comments last week, Tom Crean said that it starts with consistency for the Colombia native.