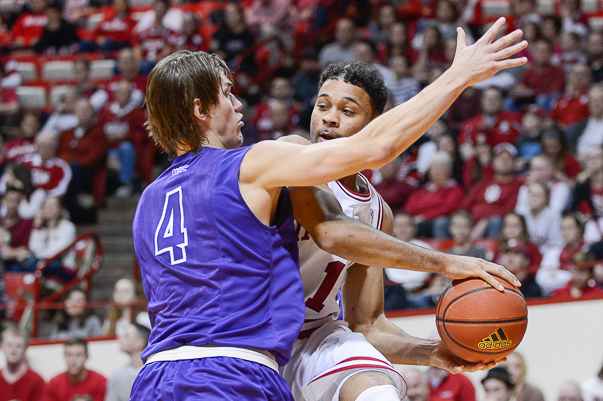 Indiana moved to 8-2 on Saturday night with a comfortable 94-66 win over Grand Canyon at Assembly Hall. Here's a look at five takeaways from the win over the Antelopes:
· The Hoosiers delivered a remarkable performance in taking care of the ball: Four total turnovers for a turnover percentage of 5.7. Those are numbers that would have been unthinkable a season ago, but Indiana has made significant strides in curing a problem that was the storyline of last season.
Through 10 games, Indiana ranks 37th nationally in turnover percentage according to KenPom.com and fourth among Big Ten teams (Illinois, Wisconsin and Michigan). Saturday's performance in taking care of the ball included zero turnovers in the second half and earned strong praise from Tom Crean.
"Crazy. Beyond belief," Crean said. "We'll have to go back through the tape, see if that's actually accurate, because, man, I never coached a team that had that few."
· Troy Williams bounced back from a tough game against Louisville: Sophomore wing Troy Williams, who struggled in Indiana's loss to No. 4 Louisville, came back with one of the better games he's played in an IU uniform.
Williams was under control while still being aggressive and finished with 14 points, eight rebounds, two assists and no turnovers in 21 minutes. The raw, natural ability of Williams has never been questioned, but his decision making has been and after the win, he said it felt good to not be a "turnover machine."