Notebook: Hoosiers stay 'locked in', hang on for 70-67 win over Michigan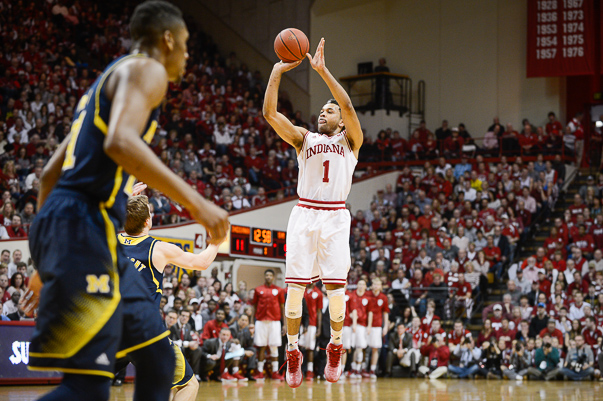 Indiana had been in this position more than once this season.
The Hoosiers led by a single possession in the closing seconds on Sunday and were on defense with Michigan holding the ball without the shot clock.
A stop, like the Hoosiers did against Ohio State and Penn State earlier this season, meant a win. A Wolverines 3-pointer could have meant overtime.
Once again, the Hoosiers held strong. After Michigan got the ball to Zak Irvin, its intended shot-taker, Hoosiers defenders closed on Irvin — who was forced to give up the ball. It found Muhammad-Ali Abdur-Rahkman, a 30-percent 3-point shooter who took a corner three as the game clock read less than five seconds. It missed.
With that, Indiana (17-7, 7-4) escaped in a 70-67 win after losing three of its previous four. And the Hoosiers are now tied for second place in a wide-open Big Ten.
"I don't think any of us would take these games and call these our best games of the year," Indiana coach Tom Crean said. "But I know our guys fought and his guys fought. I think that's the bottom line. Fortunately we were able to have the ball one last time and we were able to get one more stop."
Heading into Sunday's game, the Hoosiers were coming off a 92-78 loss at Wisconsin — the most points they have allowed in a Big Ten game in more than four years.
The start against the Wolverines was not much better. Although Michigan was missing often, the Hoosiers turned the ball over and allowed the Wolverines to get to the free throw line at just as high of a pace. Their 23.5 percent turnover rate was their third-highest this season, and the Wolverines had a free throw rate of 65.0 percent by halftime.
But after Michigan cut a seven-point Indiana lead to three in the opening seconds of the second half, the Hoosiers began to pull away. And they never gave up the lead.
After an ensuing 8-0 run put them ahead by 11, the Hoosiers kept the lead, despite multiple runs by Michigan. The Wolverines cut the Indiana lead to a single possession three separate times in the closing minute — but each following trip down the court the Hoosiers would score.
Spike Albrecht had a layup-and-one, then Collin Hartman responded with two free throws. Albrecht made two free throws, then the Hoosiers responded with a Yogi Ferrell-to-Troy Williams alley-oop. Zak Irvin made a fadeaway three, then Hartman again made a free throw and the Hoosiers forced the final stop.
"We stayed locked in," Crean said. "We stayed focused. We made our mistakes. We recovered from them. That's where our maturity is growing."
With Sunday's win, Indiana is in a four-way tie for second place in the Big Ten with Maryland, Ohio State and Purdue.
They needed another late-game closeout. But the Hoosiers got their 17th win — matching their entire win total from last season.
"It builds anybody's confidence," Williams said. "Some people will break down or whatever, but we stayed with it in practice and we stayed with it on the court and off the court. And the win just makes us feel better."
Blackmon and Mosquera-Perea return to action
For the first time since Jan. 10, the Hoosiers were at full strength as junior Hanner Mosquera-Perea and freshman James Blackmon Jr. made their returns from injury.
The 6-foot-9 Mosquera-Perea, who missed seven games with a knee injury, played four minutes in the Hoosiers' win. Blackmon, meanwhile, played 30 minutes and scored 13 points after missing Tuesday's game against Wisconsin with an ankle injury.
"I was excited to get back out there," Blackmon Jr. said. "It was so hard to sit out, especially since Wisconsin, since they're the top team (in the conference). Coming in I worked hard on the defensive things, the things I had to know to get back into it and that helped me get going."
Blackmon suffered his ankle injury during Indiana's game against Rutgers and missed practice for two days before participating in the Hoosiers' walkthrough in Madison. He was declared out for that game, but Crean said heading into Sunday's game his recovery and ensuing freshness was like "going on a three-week vacation, body wise."
Mosquera-Perea, meanwhile, had not played since he suffered a knee injury during a practice on Jan. 12. He had started in each of Indiana's prior 16 games as its center — a position that 6-foot-7 Collin Hartman had to replace him at.
The Hoosiers knew on Saturday that Mosquera-Perea would be available against the Wolverines, however Crean said after the game that the Colombia native was not ready for extended minutes.
"He just wasn't as fluid with it," Crean said. "But he's been through it now. We'll get a couple days of work and we'll need him on Wednesday night (at Maryland) and next Sunday (against Minnesota)."
Crean: Dean Smith 'always made a coach feel like a coach'
Following the death of legendary former North Carolina coach Dean Smith Saturday evening, Crean recalled after Sunday's game what made the 83-year-old man so special.
It was not just his 879 wins at UNC. It was not just the 11 Final Four appearances and two national titles. It was not just the tactical innovations he made to the game in his 36 seasons in Chapel Hill. Smith made other coaches feel like a peer, Crean said.
"He always made a coach feel like a coach," Crean said. "That's big-time when you've got a guy that's at that status, because we all know that he's a coach. He would make other people feel like they were a coach just by referencing to you, asking you about your team."
Crean said he did not know Smith very well — he only had interactions with Smith on Nike trips while he was at Marquette or once while the two were on an award committee together — but Smith's impact on him has extended far beyond those meetings.
As a coach, Crean preaches switching defenses and offensive unselfishness. His teams often practice in situational contexts. Those beliefs are based off Smith's former Tar Heels squads.
They did not have much of a friendship. But Crean said he will always have respect for Smith.
"The biggest thing that always stood out to me, one thing I've never forgotten, is reading one time where one of the his former players in a book said that Coach Smith has three or four favorite players, but the difference is every one of his former players think they're one of those three or four," Crean said. "I thought that was the greatest thing you could ever say about a coach.
"Certainly he'll be missed. Like I say, I don't profess to know him remotely close to what other coaches and his players know. But our respect is high. Our condolences are with his family, his wife, all the players and coaches that were with him. He brought so much, so much to sports and to basketball and to coaching."
Filed to: Hanner Mosquera-Perea, James Blackmon Jr.