Notebook: Indiana's veterans helping Hoosiers stay 'even-keeled' ahead of NCAA tournament opener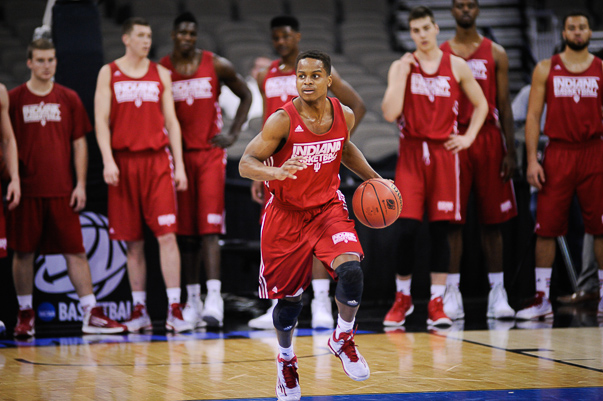 OMAHA, Neb. — A bit less than two years ago, Yogi Ferrell played in his first NCAA tournament game. He was a freshman at the time, one of Indiana's least-experienced players on a No. 1 seed squad.
Yet he was a starter on that 2012-2013 Hoosiers team, playing against No. 16 seed James Madison.
On Friday afternoon, Ferrell will make his return to the "Big Dance" when the No. 10 seed Hoosiers play No. 7 seed Wichita State. He is one of just two remaining Indiana players from that eventual Sweet Sixteen team.
Now he is one of the current Hoosiers' leaders, and Ferrell on Thursday reminisced about his first NCAA tournament game. He said there is plenty he can take from that experience as they prepare for the Shockers.
"I remember the first game we played, JMU, I was going out there and playing for my teammates, really," he said. "I feel like if we can do that, play for each other, play desperate, play like we don't want to go home, we can win."
From the time the Hoosiers' name was announced on Sunday evening during the NCAA tournament selection show, both Ferrell and Hanner Mosquera-Perea knew they could help their teammates prepare for the Shockers.
Being the only two members from that Sweet Sixteen team currently on the Hoosiers, they both told their teammates what the experience of playing in the NCAA tournament is like. "All the things we have been doing, it's for this right here," Mosquera-Perea said.
"What we're trying to teach these guys is not to be nervous," Ferrell said. "Just to go out there and play the game like it's every single game and to go out there and play your hearts out."
What the Hoosiers reiterated they can't do against Wichita State, a team that has been to the NCAA tournament each of the past four years, is let the pressure of the game get to them.
Junior Nick Zeisloft, who played the Shockers three times while he was at Illinois State, told the team of each players' tendencies. Ferrell told his teammates just how great of an experience it is to play under the lights of an NCAA tournament game.
But when it comes time for tipoff on Friday, the Hoosiers with NCAA tournament experience — just Ferrell and Mosquera-Perea — have made their teammates know it simply comes down to being just another basketball game.
It's just one they know they have to perform well in.
"It's a big stage," sophomore Collin Hartman said. "There's no way around it. It's a very big stage, but you can't let it get to you. You can't let your highs get too high or your lows get too low. You've got to stay even-keeled."
Hoosiers enjoying their experience in Omaha
Despite the fact that they are in Omaha for basketball reasons only, the Hoosiers have not let that overwhelm their experience.
On Wednesday, the Hoosiers toured and played catch at TD Ameritrade Park, home of the NCAA College World Series. They also visited an after-school program called Abide Network, a "faith-based nonprofit that's working to transform some of the city's grittiest neighborhoods." And at night, they played games at Dave & Buster's.
"We've had down time just to be kids, really," Ferrell said. "Just to hang out with each other."
This week also is Indiana's spring break, and on Thursday one reporter asked Stanford Robinson if he had found a beach yet.
"If you want to say the hotel pool is, well I walked past it," Robinson said. "I mean, that's the closest to a beach I think I'm gonna get to."
But Robinson also said he wouldn't have it any other way.
That all in all, "it's a good spring break."
"It's a great opportunity to be here," he said. "A great blessing and I'm here with people that I love playing with. So it's fun. It's a good spring break."
Filed to: 2015 NCAA tournament, Hanner Mosquera-Perea, Stanford Robinson, Yogi Ferrell