Indiana hopeful it will have Mosquera-Perea on Friday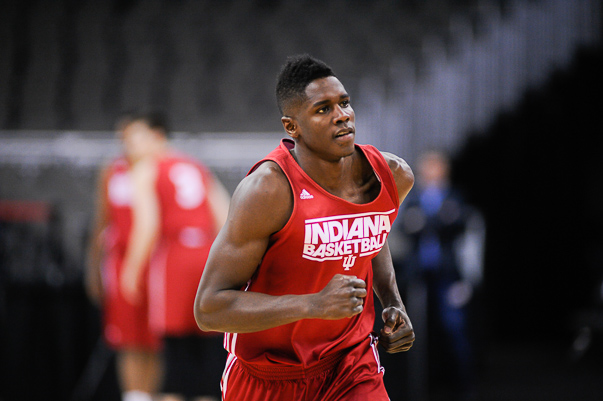 OMAHA, Neb. – If the decision is left up to him, Indiana junior forward Hanner Mosquera-Perea will be on the floor tomorrow afternoon when the Hoosiers meet Wichita State in the 2015 NCAA tournament at the CenturyLink Center.
But Perea, who participated in Indiana's practice on Wednesday at Creighton University as well as the open practice on Thursday afternoon at the CenturyLink Center, won't be making the final call.
"The trainers haven't really told me a whole lot," Perea told assembled media inside IU's locker room. "They've looked at the MRI, the x-ray and all of those things. They haven't really given me a lot of information. Coach Crean told me as soon as this happened to do whatever they tell me to do and that's what I've been doing. Hopefully they clear me by tomorrow."
What happened to Perea last Thursday in IU's 71-56 win over Northwestern in the Big Ten tournament was similar to the injury that forced him to miss seven games earlier this season.
He described that first injury as a dislocation of his knee as well as a hyperextension, but said Thursday that this time it was "basically the same thing, but just not as bad."
Perea was wearing a brace on his right knee when Northwestern center Alex Olah took a charge and fell into his knee, forcing him to miss the final stretch of IU's win over the Wildcats and Friday's quarterfinal loss against Maryland.
The Colombia native said he was able to participate in Wednesday's practice, but added he wasn't really able to test things in terms of his ability to run.
"I (just did some) moving around, doing some defensive things, running a little bit, trying to see how it feels and to see if they're going to be able to let me go," he said. "We didn't do a lot of running yesterday for me to be able to tell because we're trying to save our legs."
Perea, who is averaging 6.5 points and 4.3 rebounds in 19.4 minutes per game, has come up big in a couple of IU's key wins this season. On Dec. 20 against Butler, he had eight points, nine rebounds and four blocks in 30 mins and on Dec. 31 at Nebraska, he contributed 12 points and 10 rebounds in 22 minutes.
While Indiana coach Tom Crean stopped short of saying Perea would play tomorrow, he did share his player's optimism about his potential availability against the Shockers.
"Really where we're at is every day it's let's try to do this, let's see how he responds to it," Crean said. "He's responded every day, and there is no reason to believe that he's not going to be available to play, but, again, in all honesty, that will not truly be substantiated until probably tonight and tomorrow, depending on how he continues to respond to the treatment and to the practice.
"We have not really had him in an all-out scrimmage, up-and-down-the-court situation, but he looks good; he's been monitored closely, his attitude is great, his energy is really good, and he's anxious to be there, but we will follow Dr. Ahlfeld and Dr. Rink and Tim's (Garl) recipe there as we go, but it's been as good as we could possibly hope for."
Filed to: 2015 NCAA tournament, Hanner Mosquera-Perea